Kendall Jenner Just Announced a Kylie Cosmetics Makeup Collab, Teases They're 'Going Big'
It was the announcement Kylie Jenner makeup fans knew was coming — but now it's official. Kendall Jenner announced that she and Kylie are finally teaming up for a cosmetics collab. Needless to say, there's some excitement ahead of this dream team Kylie Cosmetics makeup collab.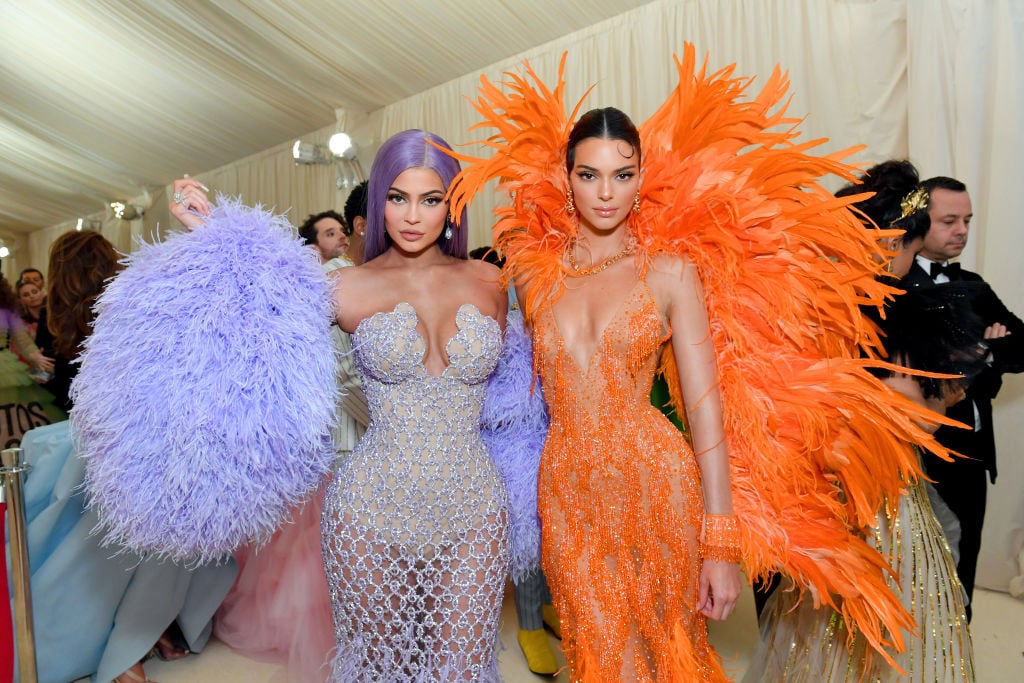 She's the last sister to team up with Kylie
Kim, Khloé, and Kourtney Kardashian have all collaborated on Kylie Cosmetics collections, but Kendall is finally getting her moment — and she's promising big things.
During a January 30 interview on The Ellen DeGeneres Show, Kendall shared the exciting news after the talk show host congratulated the model about her Versace Spring/ Summer 2020 campaign.
"And you're doing a makeup collab with Kylie as well, which is very cool," DeGeneres noted," which Kendall confirmed, noting, "Yes, we're very excited about it."
When she explained, "We've actually not said anything, that we're doing it, yet," DeGeneres asked, "Oh this is an announcement?"
Kendall happily shared some of the details, sharing, "We haven't done one yet. I'm the last sister — or the last family member — I think. I had a contract before with another makeup company, so now I'm able to do it."
"And I might be wearing some of it tonight, right now," the model shared, adding, "I'm excited."
"You look fantastic, you look great! That's going to be very cool… the two of you together," DeGeneres responded.
Kendall shared that they want to go "big" on the collab, saying, "I feel like we're really going big because I'm her full blood. We're taking it seriously."
Kendall couldn't team up with Kylie Cosmetics until now
As she mentioned during the interview, Kendall had a contract with Estée Lauder from 2015 through 2017 that prohibited her from working with another makeup company.
During an Instagram Live last year, Kylie shared with fans why she and her sister hadn't yet teamed up. "You know Kendall was in a contract for a really long time, so I couldn't do a collab with her," she said at the time, adding, "That's the only reason why I didn't collab with her. But, you know, we worked it out."
Fans have been patiently waiting and are bursting with excitement for their collection, with people taking to Twitter to share: "I'm so ready for the Kendall x Kylie Cosmetics collection! TAKE MY PENNIES" and "I hope after Kylie's collab with Stormi, Kendall's collection will be out already."
Kylie collaborated with her daughter Stormi
Kylie loves to work with her family and on February 1, 2020, her makeup collaboration with daughter Stormi hits the market.
To celebrate the Stormi Collection launch, Kylie had a big party, naturally, with her daughter wearing a beautiful butterfly dress to the shindig that was created by party planner Mindy Weiss. The backyard became a gorgeous butterfly-themed event, complete with stunning floral arrangements and landscaping, as well as a "pixie dust" table with fun crafts for the kids.
In a collection of photos Kylie posted on Instagram of the launch party, she noted: "each day is a blessing with you, thank you God for these moments. it was beautiful celebrating stormi x @kyliecosmetics launching 2.1.20."
The Stormi Kylie Cosmetics collection features butterfly packaging and includes mini lip kits, blush, a mini eyeshadow palette, and mini lip gloss set.