Why Kendall Jenner Is Not 'Labeling' Her Relationship With Devin Booker
Kendall Jenner and Devin Booker may be Instagram official, but don't expect to hear the reality star call the NBA player her boyfriend anytime soon.
Less than a month after making their love official on social media, insiders now report that Jenner is not yet putting a label on her relationship with Booker, even though their romance continues to heat up.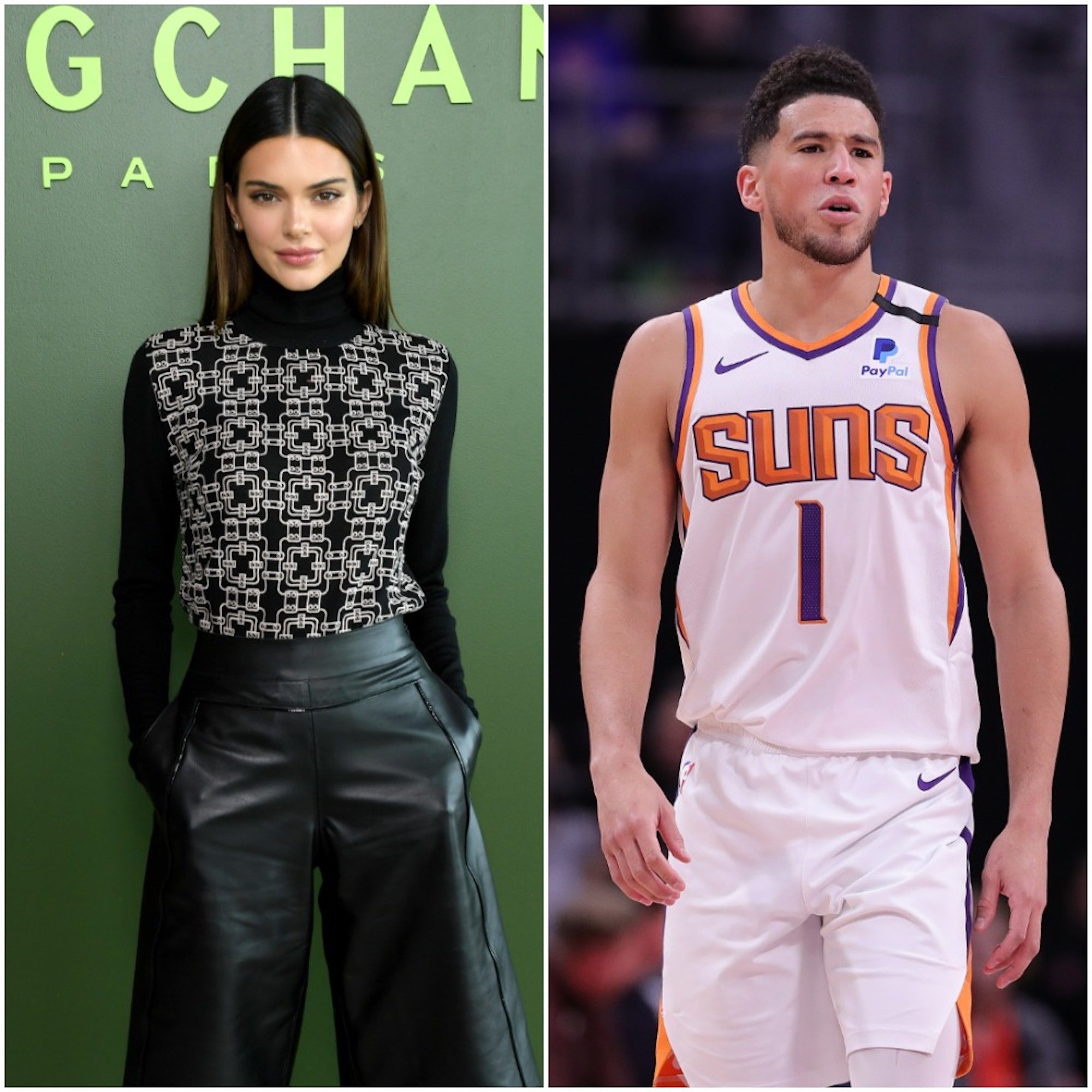 Kendall Jenner just confirmed her romance with Devin Booker
Love was definitely in the air for Jenner this past Valentine's Day.
Much to everyone's surprise, the supermodel went Instagram official with her long-rumored boyfriend, Booker, by sharing an adorable photo of the two of them together on her Instagram Stories. 
The post showed Booker lying on top of the Keeping Up With the Kardashians star near the kitchen sink while she had a big smile on her face. Though Jenner didn't caption the cute snapshot, she did include a simple white heart, seemingly confirming that she is, indeed, dating the athlete.
Jenner and Booker first sparked romance rumors in April 2020 when they were spotted taking a road trip from Los Angeles to Arizona.
Since then, the two have frequently been spotted together at his Phoenix Suns games, taking lavish vacations with her family, and enjoying romantic date nights.
Now that the pair have publicly confirmed their romance, you would think that they call each other boyfriend and girlfriend. However, a new report states that Jenner and Booker aren't to that level just yet as they're holding off on labeling their relationship for the time being.
Kendall Jenner and Devin Booker aren't 'super serious'
According to HollywoodLife, the supermodel isn't looking to label what she has going with Booker, even though their relationship appears to be getting stronger.
Though she likes the NBA player, Jenner doesn't see a need to defined their relationship. Well…not yet, at least.
"Kendall and Devin are still not super serious," a source tells the outlet. "She travels a bunch for work but when she has time, she enjoys seeing him. She has a lot fun with Devin and he makes her laugh! It just won't be some big relationship that makes a baby."
Although they're constantly spending time together and appear to be in a serious relationship, the source mentions that Jenner isn't one to use the term "boyfriend" loosely.
"That's a big deal for her," the insider continued, mentioning that the pair is "more than fling status. They're not quite labeled yet."
Kendall Jenner's fame is likely impacting how she's handling her relationship with Devin Booker
Unlike most celebrities who shout their relationship status from the rooftops, Jenner is very private when it comes to her personal life.
Though she's dated her share of high-profile men over the years, the supermodel has never publically confirmed any of her relationships due to her family's experiences with love and fame.
Since many of her older sisters' relationships have played out in the public eye, Jenner has avoided bringing attention to her love life at all costs.
"I got a glimpse of how my sisters dealt with [the attention] and it's cool to learn from that," Jenner said during an interview with Vogue Australia in 2019. "For me, a lot of things are very special and very sacred, like my friends and relationships, and I personally think that bringing things into the public makes everything so much messier."
Being a public figure, Jenner knows how easily the media can negatively impact a relationship, which is why she chooses to keep her dating life to herself.
"I'm very young and right now I feel like relationships aren't always super-certain and I don't want to bring too much attention to something if you don't really know long term [what it's going to be]," she explained. "A relationship is only meant to be between two people, and the second you make it the world's business is when it starts messing with the two people mentally. Like once everyone is let in, you're letting all these opinions into your relationships, and I don't think that's fair."
From what it sounds like, Jenner prefers going at her own pace when it comes to relationships. And even though she just went public with Booker, it could be a while before we hear any new information about their romance.