Kerry Washington's Green Smoothie Recipe Is Her Beauty Secret
Along with being a well-known celebrity, Kerry Washington is a lover of all things health, nutrition, and beauty. The 44-year-old actor still looks flawless as ever and has shared one of her top beauty secrets: a green smoothie recipe. It seems like Washington's smoothie recipe is so good that even Reese Witherspoon has begun incorporating it into her daily routine. Read on to learn more about Washington's acting career thus far and what her magical smoothie recipe entails.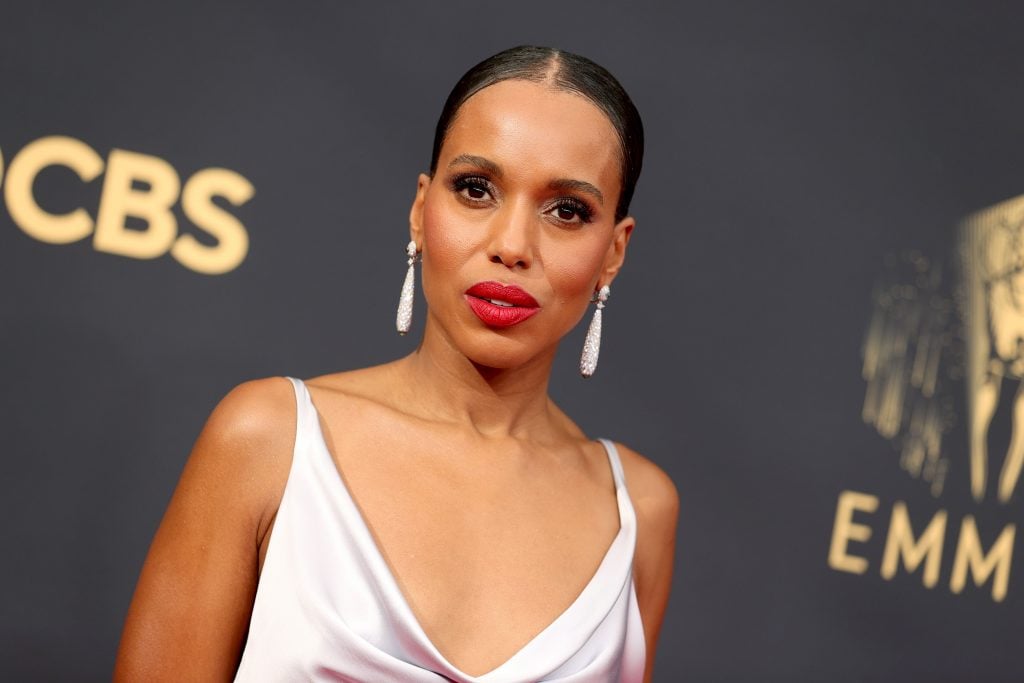 Kerry Washington landing the leading role on the hit show 'Scandal' 
After years of waiting for her big break, Washington landed the leading role on Shonda Rhimes's television drama Scandal. According to IMDb, the political drama first aired on ABC in April 2012 with Washington starring as the lead character, Olivia Pope.
Washington would play this groundbreaking character for seven seasons, with her last portrayal of the political relations expert airing during the series finale in April 2018.
Throughout her seven seasons portraying Olivia Pope, Washington was twice nominated for the Emmy Award for Outstanding Lead Actress in a Drama Series and once nominated for the Golden Globe Award for Best Actress in a Television Series Drama.
While Washington didn't win these awards, her time on Scandal helped the actor gain wide public recognition for her talents. During her time on the show, Washington also gave birth to her first child. While the showrunners got creative with hiding her pregnancy on screen, it was Washington's diligence to her health and nutrition that kept her looking flawless throughout her pregnancy.  
Finding the perfect pregnancy smoothie with Kerry Washington 
It was two years into the filming of Scandal that Washington fell pregnant. The actor and her husband, former NFL cornerback Nnamdi Asomugha, welcomed their first daughter, Isabelle Amarachi Asomugha, into the family in April 2014. According to People, Washington was able to stay fit and healthy throughout this pregnancy by using her magical green smoothie recipe.
Washington told People that her magical green smoothie blend is a recipe she got from Kimberly Snyder, a nutritionist who has been a long-time fan. The smoothie is jam-packed with leafy greens and sweet fruits, perfect for everyone looking for a delicious and nutritious drink. Washington swears by this smoothie, as it helped her stay in good health throughout her second pregnancy too. According to Prevention, the actor gave birth to her second child and first son, Caleb Kelechi Asomugha, in 2016.    
Trading beauty secrets with Reese Witherspoon
The famed Scandal actor certainly has a lot of good things to say about her favorite green smoothie recipe, so much so that she's been sharing her secrets and dropping the recipe around Hollywood. One celebrity Washington turned on to her magical green smoothie recipe was fellow actor Reese Witherspoon. 
In an interview with Insider, Witherspoon revealed that she's been drinking celebrity nutritionist Kimberly Snyder's glowing green smoothie every morning for nearly a decade. Witherspoon also said that she had Washington to thank for turning her on to the magical smoothie. 
The two actors were sitting next to each other at an awards show when Witherspoon asked Washington what her secret was to maintaining such beautiful skin. That's when Washington dropped her favorite green smoothie recipe, and the rest is history. The recipe might be something to check out as both of these actors are 40+ and still looking as fabulous as ever. 
RELATED: 'Scandal': Kerry Washington Made History In Her Role As Olivia Pope