The 'Keto Guido' Returns to Chippendales
The cast of Jersey Shore used to live by the credo gym, tan, and laundry. Today, their Jersey Shore ways have shifted, with a focus on marriage, babies, and in Vinny Guadagnino's case, stripping. While going to the gym, tanning, and doing his laundry are all presumably a critical part of Guadagnino's lifestyle, he has added a new profession to his resume: Host of Chippendales Male Revue. 
If you missed Guadagnino stripping down to barely nothing the first time around, fear not! He's back for a limited time hosting the widely regarded male revue. Here's everything we know about Guadagnino's latest Chippendales residency.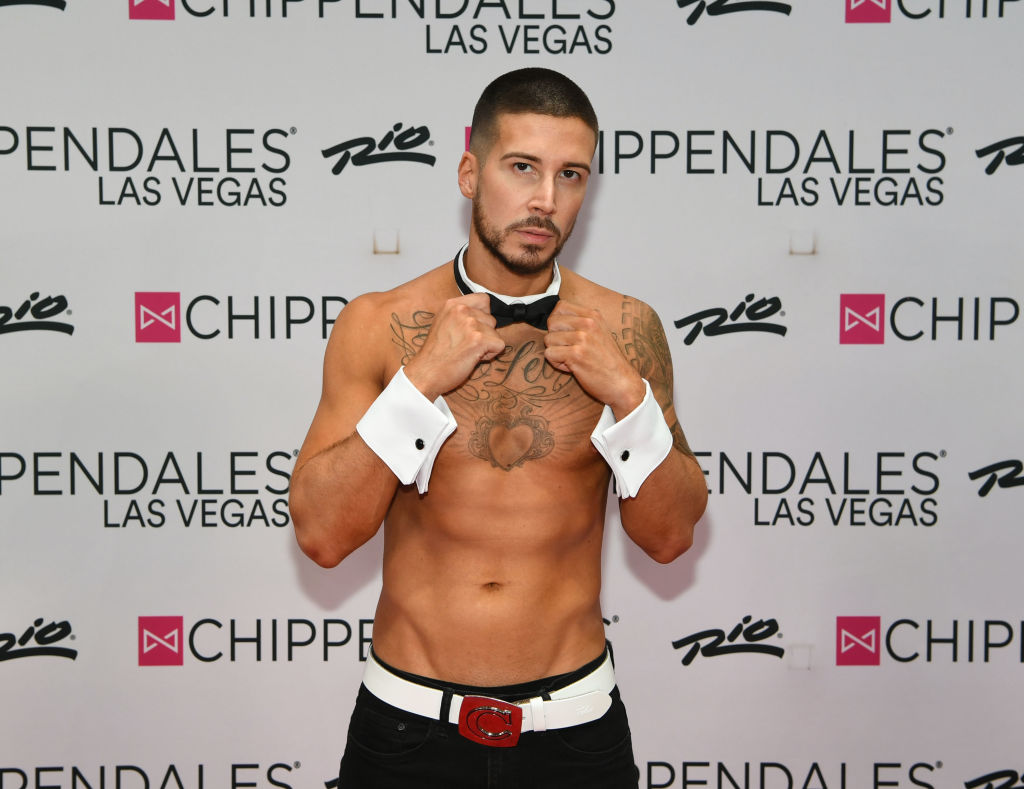 Vinny's success at Chippendales
Thanks to his ketogenic diet, Guadagnino fits right in with the rest of the jacked all-male cast at Chippendales. His physique and celebrity status have allowed Guadagnino to have one of the most successful experiences as a celebrity host for the male revue. Thanks to Jersey Shore and Guadagnino's other venture, Double Shot At Love, fans came in droves to see the "Keto Guido" perform the first time around. A representative for Chippendales told Page Six, "He was definitely one of the best-received guest hosts we have had. He basically sold out almost every performance." Guadagnino's second stint with the Vegas show was just as successful. His ability to sell tickets and his natural penchant for performing are why Guadagnino is back for a third run with show.
Jersey Shore: Family Vacation fans first got a glimpse of Guadagnino's stripping skills in the "Gym, Tan, Strip" episode last season. The Jersey Shore gang were shocked when Guadagnino got completely naked during the infamous shower scene of his act. Chippendale's credits this as one of the reasons the show has consistently done well when Guadagnino is in town. 
The 'Keto Guido' is born
Guadagnino wasn't always known as the "Keto Guido." During the early days of Jersey Shore, Guadagnino would partake in carb after carb during family dinners. He never worried about what kind of alcohol he was consuming, and he certainly didn't have what Pauly DelVecchio refers to as "keto farts." In an interview with the New York Post, Guadagnino says he was yo-yo dieting at the time and "…not in good shape." After hearing Adam Carolla's podcast in 2015, Guadagnino converted into a "keto evangelist."
It wasn't until Family Vacation that he unleashed his ketogenic ways upon his roommates. Now, Guadagnino's habits have become a running joke amongst the Jersey Shore family, even inspiring Guadagnino's nickname, "Keto Guido." 
Vinny's performing career
Before Guadagnino was a famous guido and member of the Chippendales troupe, he was a law student and a performing artist. "People don't realize I've done a lot of comedy and improv," Guadagnino explained in an interview with the Las Vegas Review Journal. Guadagnino said he was waiting for a "…door into the Vegas show scene," so when the opportunity to host Chippendales came up, he said "'Let's do it.'"
In an Instagram post, Guadagnino praised everyone involved in making the Chippendales show possible. Proud of his castmates, Guadagnino called their performance a "…highly produced Vegas show with talented dudes, comedy, and a fun space for people to party and have a fun night."
Guadagnino will return to perform with Chippendales the Rio Hotel and Casino in Las Vegas starting Apr. 24. His third appearance with the male revue will run through June 7.