Kevin Durant Was Briefly Engaged to a WNBA Player
Kevin Durant is one of the biggest superstars in the NBA. Everything he does on the court gets scrutinized to no end, and his life off the court is met with similar behavior thanks to his social media presence. It might come as a surprise, then, that he once was engaged to be married to another professional …
Kevin Durant is one of the biggest superstars in the NBA. Everything he does on the court gets scrutinized to no end, and his life off the court is met with similar behavior thanks to his social media presence. It might come as a surprise, then, that he once was engaged to be married to another professional athlete. Monica Wright was a role player in the WNBA for several years, and at one point was the future Mrs. Kevin Durant. That future, unfortunately, never came to be after the couple broke it up.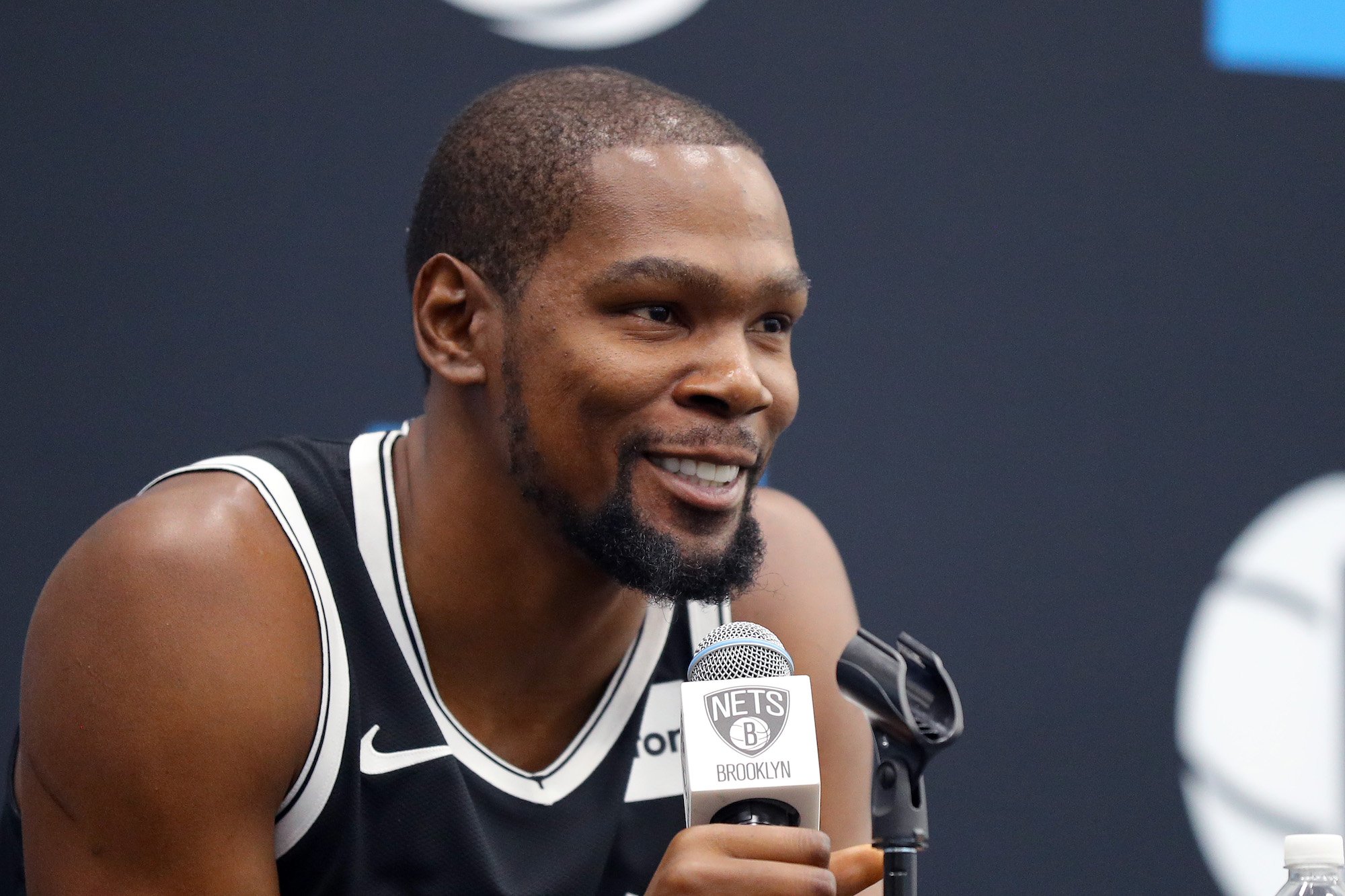 Kevin Durant's career
Durant came into the NBA out of Texas in 2007-08, according to Basketball-Reference. While that draft was meant to be the Greg Oden draft, Oden's injuries, combined with Durant's dominance, said that Durant stole the show. He spent his rookie year scoring 20 points a game in Seattle and moved with the team to Oklahoma City when they rebranded as the Thunder. 
While it took a couple of years for the Thunder to find their winning ways, they never looked back once they did. Durant was one of the best players in the NBA in just his third season, and by his fifth season, he was the leader on a team that was poised for greatness. Durant, along with Russell Westbrook and James Harden, made it to the NBA Finals in 2012 despite their core being younger than 24. 
Despite falling to the Heat, many presumed that this would be the start of many similar years, but those years never came. Harden demanded a trade the following year after extension talks fell-through, and while the Thunder got close to the Finals in 2016, they blew a 3-1 lead to the Golden State Warriors. That offseason, Durant made waves when he joined the same Warriors team that beat his Thunder. 
In Golden State, Durant won two rings in three years, but an Achilles injury in 2019 took him out of the current NBA season. Now a member of the Brooklyn Nets, he's awaiting his return to the court. 
Monica Wright's career
Wright came into the WNBA in 2010 after a great career at Virginia. Like Durant, she was the second pick in her draft class. However, as a member of the Minnesota Lynx, Wright didn't have the lofty expectations of her ex-fiance. She averaged 11 points off the bench as a rookie and made it onto the All-Rookie team. However, she broke out of her bench role. She spent the next six years in Minnesota and won an NBA Championship with the team. She also played overseas in the offseasons.
Wright was a consummate role player for the Lynx, and while she never reached superstar status, she was a valuable contributor throughout her career. Unfortunately, a 2015 knee injury put her career in jeopardy, and while she came back as a member of the Seattle Storm in 2016, she was never the same. After giving it a go overseas, she focused herself on coaching, where she remains until this day. 
Wright and Durant's relationship
The origins of Durant and Wright's relatively are shockingly obscure given the star power he possesses. The pair met at the 2006 McDonald's All-American game but kept a low profile when they began to date years later. Wright is a deeply religious Christian, and Durant appeared to content to live his life as is. She spoke about this after their engagement, which ESPN reported in July of 2013, was broken off. 
"I was engaged last year and it kind of changed that relationship big time because I was going in a direction that unfortunately a lot of people aren't willing to sacrifice their lifestyle for," she said in a video for the Lynx's faith and family night (per The Christian Post).
The engagement may have been rushed, according to Durant. He spoke about it with GQ: "I had a fiancée, but…I really didn't know how to, like, love her, you know what I'm saying? We just went our separate ways," Durant told the magazine. "We was just hanging out, chilling. And I felt the energy. I felt, I need to do this right now. And I just did it. I was like… We're engaged right now? We're about to get married? So I was just like, cool! I love this girl. But I didn't love her the right way."
Both have since moved on. Wright is happy coaching, and Durant is waiting to get back next season. For a time, however, the two were in love. That love, however, quickly fizzled out.