Kevin Feige Fought for the Avengers We Know and Love Today
It was around 20 years ago that Kevin Feige started working at Marvel. He was a young and idealistic junior producer back then, working with the professionals on the X-Men sets. Since then, he's grown into his current position as the head of Marvel Studios. And in hindsight, he played a major role in how the Marvel Cinematic Universe took shape.
Kevin Feige says he was a movie nerd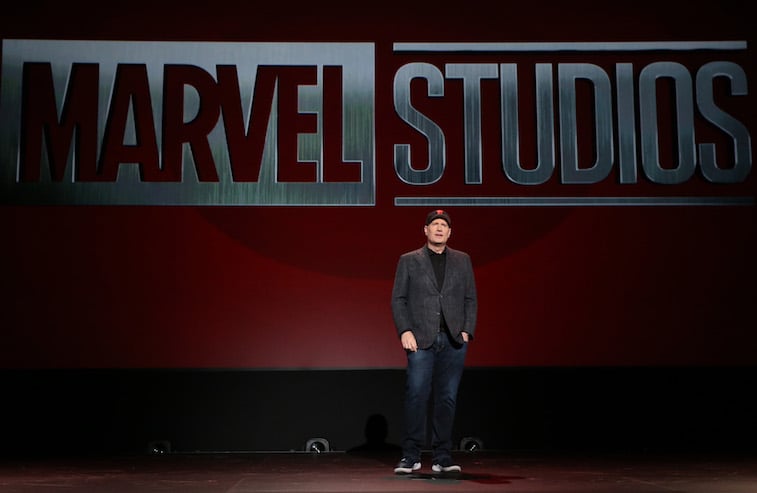 Even before he headed up Marvel Studios, Feige was a self-proclaimed movie nerd, according to Variety. In the interview, he talked about how he used to keep a journal in which he would jot down titles of every movie he watched.
"I'd write down every movie that I saw and where I saw it and how many times I saw it," he said. "I'd record what the sound system was like. It was all very nerdy."
Having been a child of the 1980s in suburban New Jersey, Feige grew up appreciating sequels and long-running franchises, such as Star Wars and Indiana Jones.
"I was always excited to see how characters I loved would change," he said when referring to his take on sequels.
It's this love of movies — and comics — that Feige brought with him to his job with Marvel.
Feige advocated for lesser-known superheroes and an expansive Marvel Cinematic Universe
Early on, Feige liked the idea of an expansive MCU, weaving the heroes' tales across storylines. He told Mashable he used to love when characters crossed over in the comics.
"Any time that happened, I used to think it was the greatest thing ever. The greatest!" Feige said. "We just wanted to replicate that and have that as a unique aspect to the Marvel Studios films, which the other films up to that point, where each studio had only individual character rights, couldn't do."
One major challenge was securing the budget to sustain such an endeavor. The early films had to prove they could be successful before more would get the green light. Plus, there were concerns over making films with "bottom-of-the-barrel" characters, as Feige put it — i.e., the superheroes who weren't yet mainstream.
Some people just weren't sure lesser-known characters, such as Iron Man, Thor, or Captain America, would be strong enough to carry their own movies. But Feige persisted with the goal of making great individual movies, hoping it would pay off.
"I was hoping Iron Man would make enough money that we could make another movie," Feige said. "We were a new studio. If it didn't work, that would've been it. But it was during production on that movie, which is what led to the Sam Jackson cameo at the end credits of that movie, that it occurred to us, 'Oh.'"
That cameo, of course, set the scene for what would become the Marvel Cinematic Universe.
Kevin Feige's latest projects
Despite all of the success he's already achieved, Feige isn't sitting idle these days. He's working on developing a Star Wars movie, according to The Hollywood Reporter, which seems like an ideal fit given his fandom of the franchise and ability to tell stories within a universe.
Rumor has it Feige might be considering some MCU actors, including Brie Larson, for roles in the Star Wars project, though no official details have been released.
Feige is also expected to have a hand in developing new characters for the MCU, including the X-Men. It looks like this movie nerd will be influencing our cinematic experiences for years to come.