Kevin From Pentatonix was Actually Pre-Med at Yale Before Joining the A Capella Group
There are five members in Pentatonix. There's only one, though, who left Yale University to perform with this a cappella group. Here's what we know about Kevin Olusola, the beatboxer and cellist from the Grammy-award winning group.
There are five members in Pentatonix, with Kevin being the beatboxer
All of the Pentatonix members are super talented. There's only one beatboxer, though — the multi-instrumentalist Kevin Olusola. Before he was even a member of Pentatonix, though, Kevin Olusola was showing off his cello skills. (He even whipped out the cello for select songs with Pentatonix, including their cover of Robyn's "Dancing On My Own.")
According to Distractify, "he was a lead cellist for the Yale Symphony Orchestra and has appeared on stage at Carnegie Hall playing both piano and alto saxophone." Every once and awhile, Kevin showcases his "cello boxing" skills live for fans, doing his own rendition of classical songs.
"I lived in China for my sophomore year of college, and in the summer of [that] year, I was in a class where… I would always talk about beatboxing and… the cello," he said during an interview with Popcrush.
"My Chinese teacher asked, 'Have you ever thought about combining the cello and beatboxing together?' And I thought she was crazy. I was like, 'I would never do that!' That would tarnish… the instrument to me," he continued. "[Then] I actually said, 'You know what? I don't think it's really been done before…' So I started there… and then it's progressed to what it is today."
Kevin was actually pre-med at Yale before joining Pentatonix
This performer is an incredible beatboxer and cellist. He's also fairly smart, attending Yale University with a pre-med track. He also speaks Mandarin, a trait that came in handy when studying overseas.
The performer did somewhat of a 180 turn, jumping from a pre-med track to joining an a capella group. The group first performed on The Sing-Off, won the competition, and went on to tour the world, proving that Kevin Olusola's decision was the right one.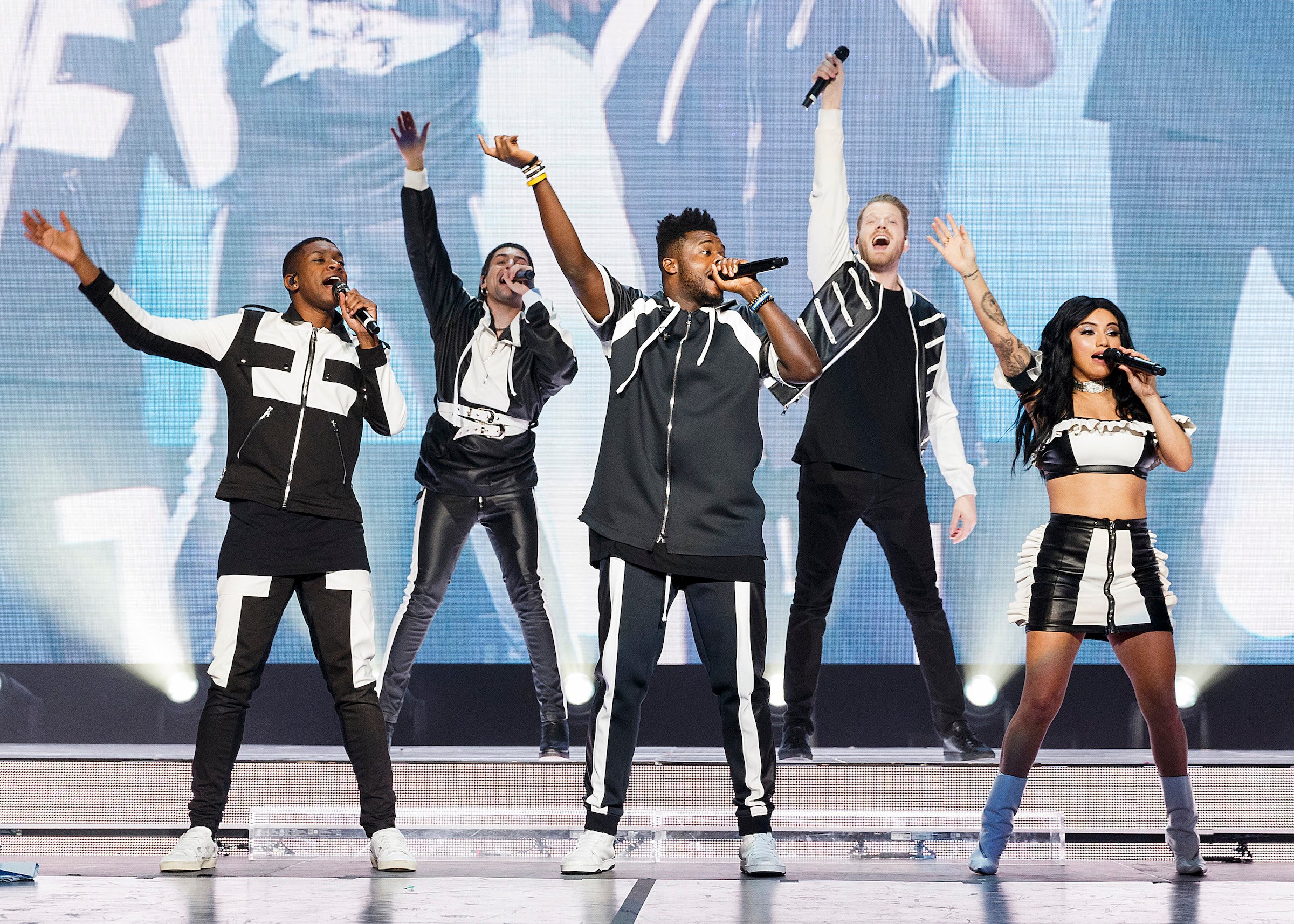 Now, Pentatonix is a Grammy Award-winning group, releasing Christmas albums and original songs
Even though they had a lineup change during 2017, Pentatonix continues to release unique, original a capella music. Together, they earned Grammy Awards, performed at Walt Disney World, and earned their own Christmas special.
The current members of Pentatonix are Scott Hoying, Mitch Grassi, Kirstin Maldonado, Kevin Olusola, and Matt Sallee, although these performers sometimes work on solo music. That includes Kevin Olusola, who releases music under the name KO.
Fans can learn more about Kevin Olusola from his social media platforms. Music by Kevin and the rest of the Pentatonix members, including their "Daft Punk" medley, is available on most major streaming platforms.
RELATED: Scott Hoying From Pentatonix's 'Let's Go Live' Song Perfectly Sums up How We're All Feeling Right Now
RELATED: Pentatonix Features Whitney Houston on New Album, 'The Best of Pentatonix Christmas'