Here's Exactly What Khloe Kardashian Eats To Stay In Shape
Khloe Kardashian has the ultimate revenge body. When Keeping Up With the Kardashians first aired, Kardashian was bullied for not being as skinny as her famous sisters. Eventually, she met and married former NBA star Lamar Odom, but the couple's relationship ended in divorce when Odom had trouble kicking his battle with addiction. Kardashian then decided to get her "revenge body" and essentially completely transformed herself to be even more beautiful than she already was. Today, her diet plays a major role in keeping her in shape.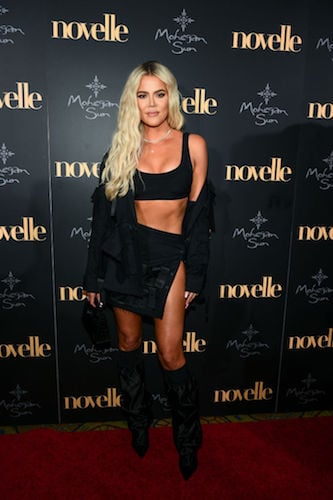 Kardashian puts her health above her work
One of the biggest changes Kardashian made when she started on her wellness journey was to put her own health first. Philip Goglia, the family's nutritionist, told People there would be times when Kardashian would need to fill up her water bottle or something of the sort, but she would decide she had to take a meeting first. Once she switched her lifestyle, she started hitting pause and taking care of that nutrition factor prior to taking care of work; she made a complete lifestyle change, which led to a physical change.
Kardashian eats seven meals per day
Seven meals a day sounds like way too many. However, everyone's body works differently, and Goglia has said in the past that what works for Kardashian doesn't work for everyone. Certain people might need three meals per day, and others might need six. Kardashian eats six meals minimum, but it's usually seven, and they contain a combination of different nutrients. Most meals involve healthy fats and protein, along with fruits and vegetables. Snacks are involved as well.
She makes sure to incorporate plenty of fruit
According to Stylecaster, Kardashian starts her day with a protein shake featuring whey, almond butter and fruit. She then has another piece of fruit as a mid-morning snack. Lunch is also protein-focused, featuring chicken, salad, and vegetables. (She makes sure the salads have plenty of iron and often uses spinach instead of regular lettuce.) Later in the day, she has a snack consisting of something simple, such as celery or tomatoes with almonds — it's an interesting combination, but if it works for her, then who are we to judge?
Kardashian has a late-afternoon snack, which could be either another cup of celery or more tomatoes; this time, she pairs the tomatoes with a fried egg for some extra protein. For dinner, she typically eats fish (salmon or sea bass are common choices) paired with more veggies and a salad. She finishes off her food-filled day with a piece of fruit.
Kardashian also has an intense workout regimen
Not only has Kardashian developed strict eating habits, but she also gets plenty of exercise. Her workouts, which are created by personal trainer Gunnar Peterson, involve the full body and are actually fairly quick. According to Women's Health, the routine includes jumping jacks, dead lifts, jogging in place, and other well-known exercises all wrapped up into one workout. Peterson suggested that this full-body workout can be done more than once, depending on how much time you have on your hands. He then says to supplement days off with either a cardio workout or a favorite sport. It's clear that Kardashian puts a lot of effort into the way she looks and feels — and it has totally paid off.