Khloé Kardashian Fans Still Think She's Pregnant Despite Her Twitter Rant
It wasn't too long ago that Khloé Kardashian found herself in headlines after a rumor circulated that she having more kids with Tristan Thompson. Thompson, who is the father of Kardashian's only child, True Thompson, is known as a serial cheater, so the rumor that Kardashian was pregnant again was met with tons of backlash. People criticized Kardashian for having another baby with Thompson, especially after he cheated on her while she was pregnant with their two-year-old daughter.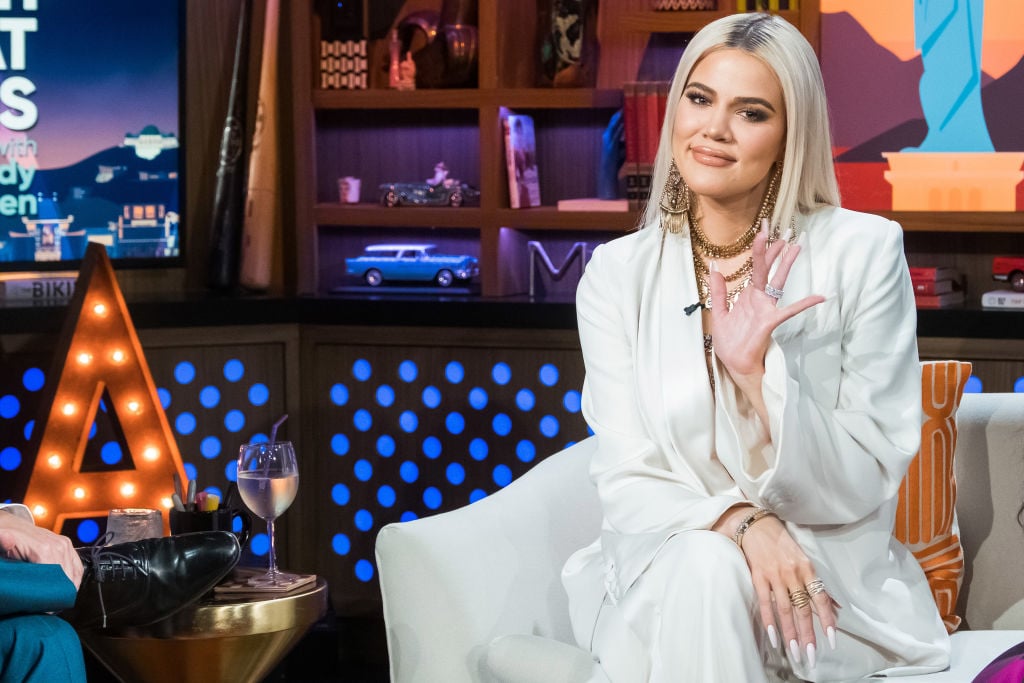 But, just how did these rumors circulate in the first place? Kardashian and Thompson may have inadvertently fueled said rumors themselves. On a recent episode of Keeping Up with the Kardashians, they discussed potentially having more kids together because "True needs a sibling." The Good American co-founder shared that she might steal some sperm from Thompson in the future if she decided to have more kids.
Khloé Kardashian and Tristan Thompson talk about having more kids
Rumors escalated when hawkeye fans noticed Kardashian's stomach wasn't showing in many of her recent pictures. They argued that the 35-year-old was hiding a pregnancy. Seeing that the rumor mill was getting out of control, Kardashian took to her Twitter page to dispel any rumors that she was pregnant once more.
"I don't go on social platforms much these days AND this is one of the main reasons as to why I stay away. The sick and hurtful things people say. I am disgusted by so many things I am seeing. SMH people swear they know everything about me. Including my uterus. Sick," Kardashian began.
The 'KUWTK' star shuts down pregnancy rumors on Twitter
The Keeping Up with the Kardashians star then went on to share that even if she did decide to have more kids with Thompson, that was her prerogative. "The nasty things you're saying about me over A RUMOR! I have seen so many hurtful/despicable stories and tweets about me over a false story. And if it were true… it's MY LIFE, NOT YOURS," she continued.
Finally, the reality TV star concluded by urging people to focus on their own lives and kids rather than hers. "Funny how picky&choosy some can be with who and how you feel others should live their lives. I believe people should focus on their own lives/families, put energy into bettering the scary world we are currently living in, and try projecting positivity as opposed to nastiness," she shared.
Fans on Instagram are still convinced Kardashian is pregnant
Of course, Kardashian received further backlash for her Twitter rant. But, things have died down since then. However, Kardashian fans still aren't convinced she isn't pregnant. On May 19, 2020, Kardashian took to her Instagram page to post a photo of her abs. "@goodamerican (pre quarantine abs 😔)," she captioned the close-up.
After seeing the photos, some people began speculating that Kardashian was sharing photos of her flat stomach to convince people that she wasn't currently pregnant. "Ok, sis u 'not pregnant' we get it," one person wrote sarcastically. Other people declared that there's a reason that the Kardashian shared a throwback picture. They believed a current one would prove that she has a baby on the way.
Are the KarJenners trying to hide a pregnancy again?
"They're good at hiding pregnancies! I don't doubt she's pregnant! Why lie when everyone knows already,…" one Instagram user wrote. "I still think she is pregnant," another person chimed in. Who knows why these pregnancy rumors about Kardashian continue to persist or if there's any truth to them. But, if and when Kardashian chooses to have more kids and she wants the world to know about it, we're sure she'll let her fans know.