Does Khloé Kardashian Still Have Her Lamar Odom Tattoo?
Khloé Kardashian has always been known to wear her heart on her sleeve. For years, the Keeping Up with the Kardashians star was the most down-to-earth and beloved Kardashian. While her sisters often struggled with romance, the Good American designer always made her standards known and she didn't take crap from anyone.
Then in 2009, Kardashian married former NBA star Lamar Odom exactly one month after meeting him. The pair seemed super into one another so fans were cautiously optimistic. Unfortunately, Odom was secretly battling with drug addiction which, along with cheating, destroyed his marriage to Kardashian. The pair separated in 2013 and finalized their divorce in 2016.
Since then Kardashian has moved on. She is currently in a relationship with her daughter's father, NBA star Tristan Thompson. But does she still have her tattoo tribute to Odom?
Khloé Kardashian has several tattoos
Unlike her older sister, Kim Kardashian West who hates tattoos Kardashian adores them. As a teenager, the mom-of-one got the word "daddy" tattooed on her lower back as a tribute to her late father Robert Kardashian, Sr.
On her right hand, in the space between her thumb and pointer finger, Kardashian had the initials "LO" tattoed on her hand as a tribute to Odom whom she was married to for almost seven years. Since Odom has been sober, the pair have only had nice things to say to each other.
On the inside of her wrist, Kardashian has the words "I love you" inscribed in her father's handwriting.
RELATED: Why Kim Kardashian West Will Never Get a Tattoo
This is why Khloé Kardashian got her tattoo tribute to her father removed
Though the Revenge Body host still has her wrist tattoo in writing that she took from a birthday card her late father gave her, her "daddy" tramp stamp is a thing of the past.
Kardashian got the tattoo when she was just 16, and she was teased mercilessly about it. Kardashian West even told her it was like putting a bumper sticker on a Bently. In Sept. 2015, Kardashian West finally got the ink removed.
"The end of an era," she shared on Instagram. "Got this bad boy when I was 16…. Not so cute anymore🙊 I should've listened to Kim when she told me 'you don't put a bumper sticker on a Bentley.' Bye-bye bumper sticker!!! Thank you Dr. Ourian!!!! You are the best!"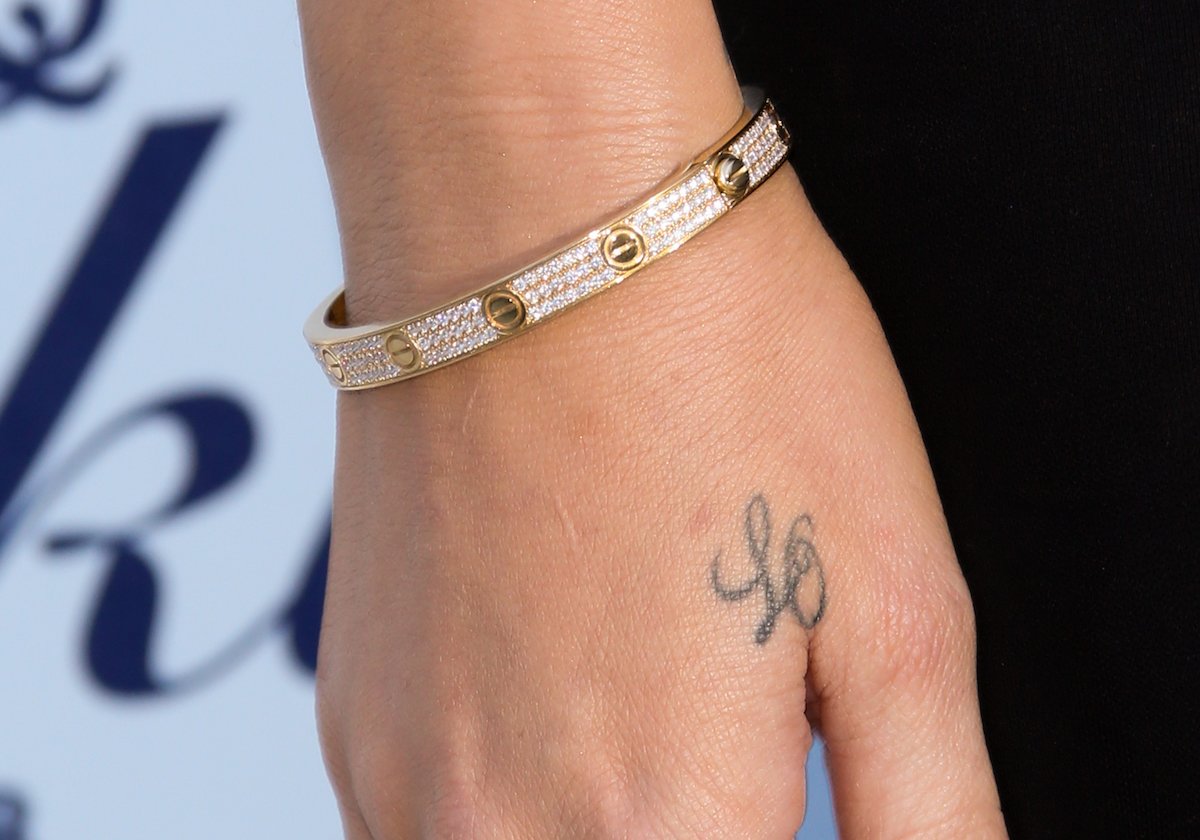 Khloé Kardashian removed Lamar Odom's initials that were tattooed on her hand
Kardashian has always said that she's very sentimental but that didn't stop her from getting her ex-husband's initials removed from her hand.
Not only has she moved on with Thompson, but Odom is also engaged to a personal trainer, Sabrina Parr. The KUWTK is really happy for her ex. An insider told E! News,
Khloe wants Lamar to be happy. She has always had hope that he would find his way and live a long and healthy life. She's happy for him if he has found happiness again. The chapter of her life that she shared with Lamar is closed and she has moved on. She harbors no ill will or jealousy. She wishes him nothing but the best.