Khloé Kardashian Reacts to Sexy Photo of Tristan Thompson
Tristan Thompson just dropped a racy photo on his Instagram page that has everyone talking. On March 5, he shared a shirtless photo of him during a workout session, showing off his abs, muscles, and chiseled physique — and simultaneously racking up a countless amount of likes.
When a fan tagged Khloé Kardashian in the post, she reacted with a fun and playful comment that gives insight into where their relationship stands.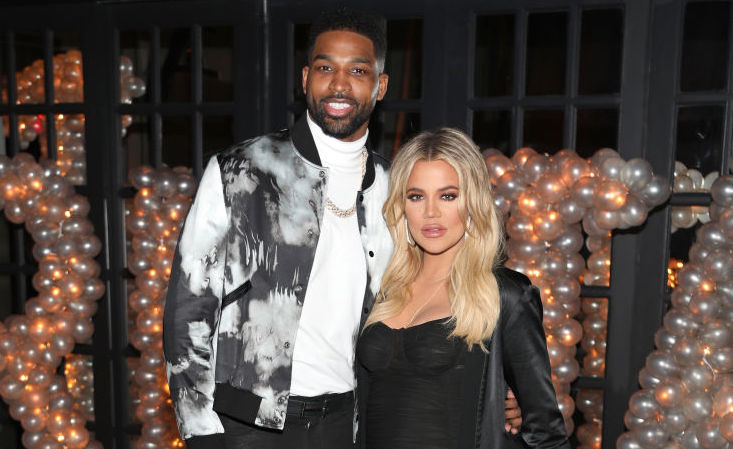 What did Khloé Kardashian say about Tristan Thompson's Instagram photo?
As fans gushed over the steamy photo, one took to Twitter and told Kardashian that they now understand the reality star's rocky relationship with Thompson and why she stuck around throughout the drama.
"You know what…I understand now girl @khloekardashian," the fan mused in a tweet to the Good American designer.
Kardashian didn't offer up any words, only leaving a trail of laughing emojis in her response.
Kardashian generally doesn't leave comments on Thompson's page, but the same cannot be said for the NBA star. Ever since Kardashian dumped him following his February 2019 cheating scandal with Jordyn Woods, he has consistently left flirty comments on her Instagram. He's done everything from calling her "stunning" to posting a series of romantic emojis.
Tristan Thompson seems to really want Khloé Kardashian back
Thompson's apparent efforts to win Kardashian back extend beyond his Instagram compliments.
"Tristan's Instagram compliments are only what the world sees. In real life he comes on even stronger," a source previously told HollywoodLife. "He sends her flowers all the time. Her house is filled with flowers and a lot of them are from Tristan. He sends her sweet texts and never stops telling her he wants her back."
While Kardashian appreciates the love, she reportedly still has reservations about Thompson, who also allegedly got caught cheating just days before she gave birth to their daughter, True, on April 12, 2018.
But a source told Hollywood Life back in January that they had been "talking more" and trying to get on better terms.
"Khloé and Tristan are taking things extremely slow and just talking more," the source continued. "They are not at all back together, but are taking small steps to see if they can get there. They are not trying for a baby at all right now. Everything they're doing is at an extremely slow pace. They're talking and communicating a lot more and often. It seems they'd both like to try to make things work."
Tristan Thompson and Khloé Kardashian are just co-parenting… for now
Despite their rocky romance, Thompson and Kardashian have tried to put their personal issues to the side and commit to raising True together.
"She deserves to have a loving and awesome father," Kardashian wrote on Twitter in December 2019. "Tristan is amazing to her. She deserves that. We all make mistakes in life and none of us are perfect. I'm not gonna hold on to that negativity because it will only hurt myself and the energy that I get to my child."
She also promised in a March 16 tweet: "My sweet and special baby True will NEVER be put in the middle of him and I. I can promise that."
It's good to see that she has stuck to her word and can even laugh at their relationship.
Read more: Kylie Jenner Gives a Rare Glimpse of Her $12 Million Home