The Hilarious Way Khloe Kardashian And Scott Disick Troll Their Fans
Khloe Kardashian and Scott Disick know that you secretly ship them, and honestly, they think it's ridiculous and funny. Kardashian and Disick have a long-standing friendship that started when Disick began dating Kardashian's sister, Kourtney Kardashian. Despite the fact that Disick is no longer dating Kourtney Kardashian, he is the father of Kardashian's two nephews, Mason and Reign and niece, Penelope. Though Kardashian and Disick have had some tumultuous times together, they now consider each other family and maintain a close friendship.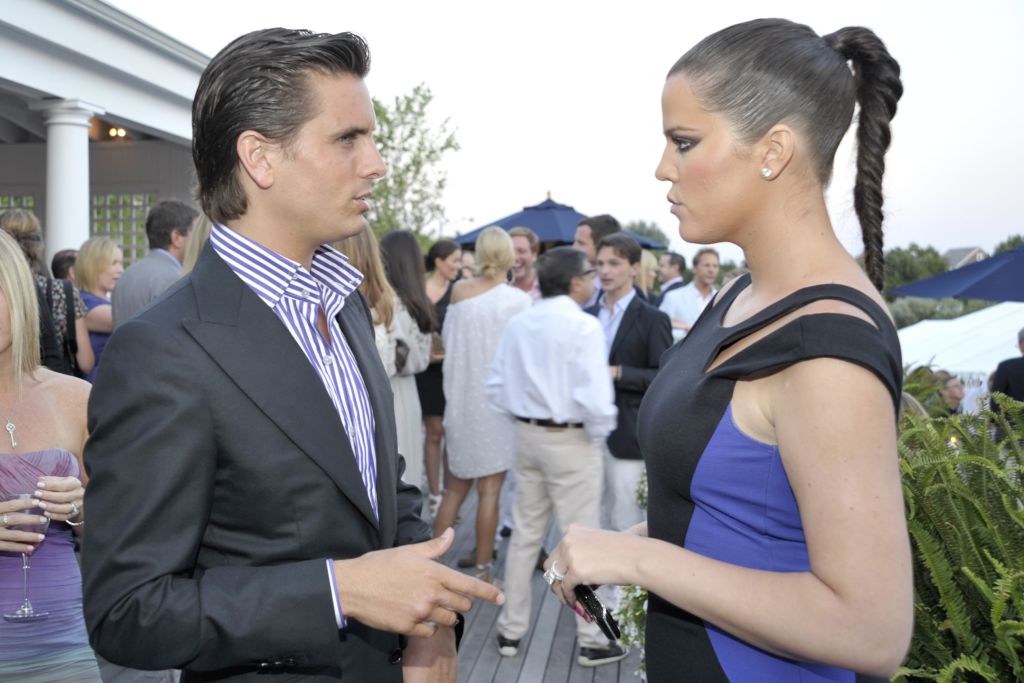 Khloe's sweet Instagram message
On Disick's birthday, Kardashian took to her Instagram to post a heartfelt message about him. In the post, she shared her appreciation and love for the Talentless founder. "Happy birthday to my brother!!! I am so thankful to have such an incredible addition such as you to our family! We have come such a long way, you and I! I am so thankful for the person that you have grown into. I am thankful for every highs and lows because we have been through it all and we are closer than ever. I am proud to say that you are my brother and also one of my best friends! Have the best birthday Lord!! FOREVER the Lord and the Lady" the Revenge Body host wrote.
The Lord and the Lady
But, despite having a completely platonic relationship, many conspiracy theorists believe that romance is brewing between the two. Because the pair are openly supportive of each other and seem very comfortable around each other, many fans believe that they may have hooked up. In the past, Disick and Kardashian have gone out of their way to squash those rumors, but lately, they've been having fun trolling those who believe they're dating by embracing it.
In an effort to poke fun at the conspiracy theorists, the pair posts pictures of each other with cutesy captions and even have given each other a celebrity couple name "the Lord and the Lady." Disick has posted a picture of Kardashian calling her his "Woman Crush Wednesday" and also posted this caption on a picture of Kardashian donning his clothing brand. "My little angel pie wearing my brand @talentless and looking 2 damn good." But perhaps the funniest thing the pair does to troll fans and paparazzi alike is when they hold hands in public.
Are Disick and Kardashian dating?
If you happen to see Kardashian and Disick out together in the street, you may be shocked to see them holding hands. Many fans have cited it as inappropriate, but Kardashian recently opened up about the real reason they choose to hold hands. What began as an honest mistake is now a way for Disick and Kardashian to bond while pranking everyone.
Trolling 101
In a recent interview with AOL, Kardashian explained why she is often seen holding hands with Disick. "Scott and I, the reason why we started holding hands was because in Vegas, we were going for Kim's birthday, and we were walking down the red carpet and Scott went to grab Kourtney's hand, but he accidentally grabbed mine and everyone got pictures. It was for, like, a second, but everyone got pictures and thought we were, like, together or whatever — over a hand hold! — so then we just started f*cking with everyone" the 35-year-old joked.
However we may feel about the KarJenner clan, we can't help but find humor in this particular situation. We love any opportunity that celebrities take to troll their fans and the media. We're also happy to hear that this pair is strictly platonic, because dating a sibling's ex is over the line, even for a Kardashian.