Khloé Kardashian's 1 Sister Just Convinced Her to Completely Change Her Look
Khloé Kardashian is about to switch it up, thanks to one sister.
The Kardashians love switching up their look. Since the women first rose to fame back in 2007, they've gone through some major appearance changes. Some are more intense, such as lip injections and facial filler, while others are easily changed, such as nail style and hair color.
Middle sister Khloé Kardashian has recently been considering changing up her hair color to something she hasn't done before — and fans, including her younger sisters, totally want her to make the switch. But one sister might have convinced her.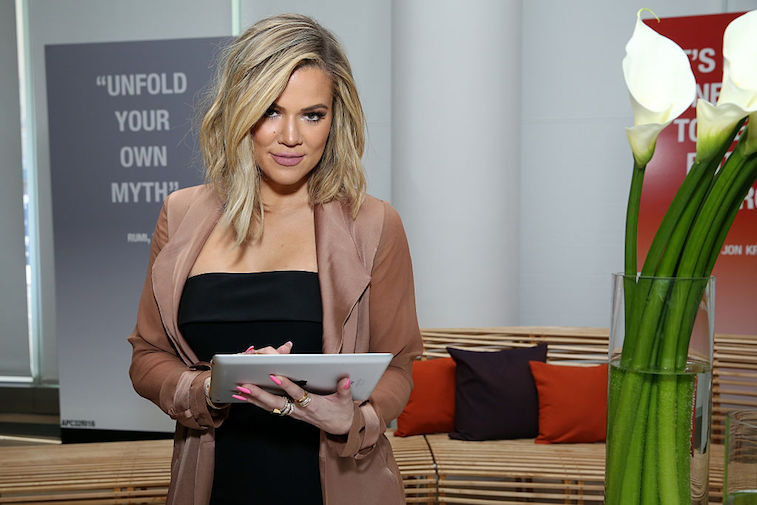 The Kardashians focus a lot on their appearance
Ever since the Kardashians gained notoriety, they've focused more than ever on their appearance. Though it's not necessarily a bad thing, some fans have become concerned that the women are changing up their bodies too much. But still, they love to experiment with less permanent changes, such as new hairstyles and hair colors.
Kylie Jenner, specifically, loves to rock wigs; she hasn't been shy about it. She often posts looks with wild hair colors, such as bright yellow and lime green.
Khloé Kardashian has been blonde for a while
Though naturally a brunette, Kardashian wend blonde several years back and hasn't changed up her look in quite a while. If anything, she's only become more blonde. Several years ago, while going through her divorce from Lamar Odom, Kardashian decided she needed a change and wanted to become the best version of herself.
Kardashian began focusing a lot on her workouts and grew stronger and more confident each day. In that time, she also made the switch from brunette to blonde, and she seems to have grown even more confident in her own skin. But now, she's thinking of changing up her color once again.
Fans want Kardashian to dye her hair 'bronde'
Kardashian posted a photo to Instagram wearing a "bronde" wig (as she called it). "Loving this Bronde pony! Do I go back to bronde???" part of the caption read. Kardashian clarified that "bronde" is a combination of brunette and blonde.
Fans were quick to comment that they wanted to see Kardashian with the new hair color. Though people have always loved her blonde locks, it sounds like they're ready for a change. "Yes to the bronde!!!!" one user wrote, complete with heart emojis. "Yaaaaaaas," another user commented. "Love this color!!" someone else wrote.
Kardashian said Kendall Jenner might have convinced her to make the switch
Aside from thousands of fans obsessing over the look, plenty of celebrities adored it, too. Adrienne Bailon said she was "obsessed" and called the look "stunning." Olivia Pierson wrote that Kardashian looked "sooooo beautiful" in the new color. And Kylie Jenner said a simple "yes baby." But it was Kardashian's other sister who might have convinced her.
"100% yes," Kendall Jenner commented, and Kardashian was shocked. "You rarely comment on my photos LOL so I feel like I have to do this just because you commented," Kardashian replied. It's unclear if she'll actually make the switch, but now that she knows Kendall approves, she just might do it.