Khloé Kardashian's Beliefs Prove She Shouldn't Be on 'KUWTK' Anymore
For the last 13 years, Khloé Kardashian has been a key player on the hit reality TV show Keeping Up with the Kardashians (KUWTK). The 35-year-old (alongside her famous family) has shared countless personal memories, moments, and experiences with millions of people across the globe. Khloé Kardashian has even been a part of a few failed spinoff shows based on the popular show. But now, Twitter users are questioning if Kardashian should continue filming KUWTK.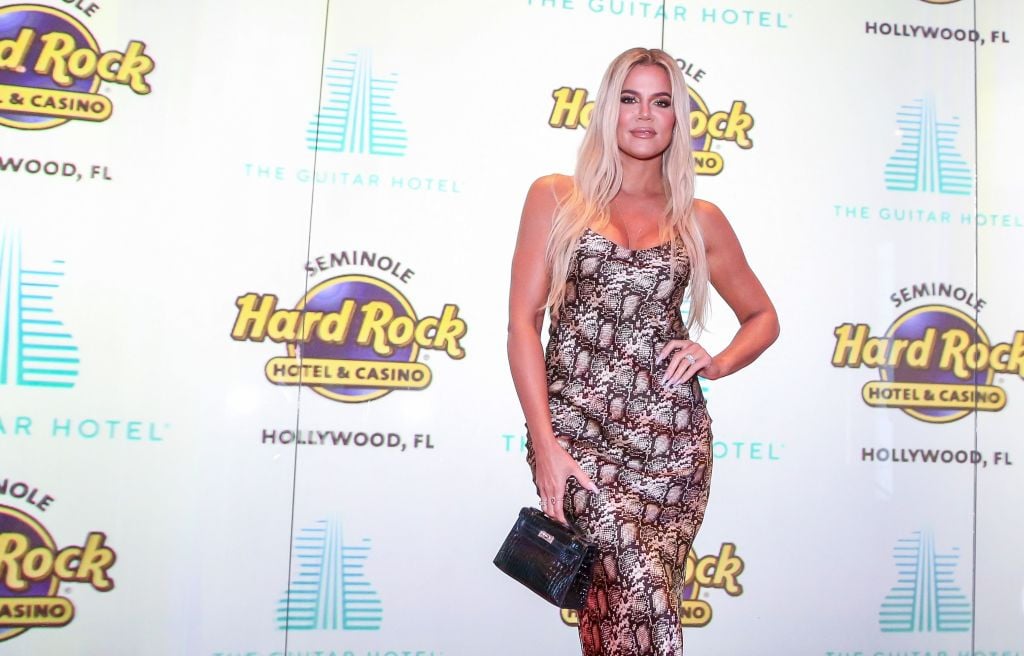 Thanks to her parents, Kardashian has always led a life full of privilege. However, KUWTK has allowed the mother of one to take her privilege to the next level. Because of the reality TV show (which Kardashian also co-produces), Kardashian has been able to grow her net worth exponentially. Furthermore, the celebrity status she's gained from the show has given her the platform to launch her own brand, Good American.
Khloé Kardashian and Tristan Thompson spark dating rumors
Kardashian has also become one of the world's biggest influencers. With 110 million followers on Instagram and 27.9 million on Twitter, brands will pay big money to collaborate with her. But, with increased fame comes increased scrutiny. Recently, Kardashian came under fire because of some false pregnancy rumors. Fans believed that she was, once again, pregnant by her baby daddy and rumored boyfriend, Tristan Thompson.
RELATED: 'KUWTK' Fans Are Pissed the Show Is Postponed Until September
Thompson cheated on Kardashian multiple times. Once, even when she was pregnant with their two-year-old daughter, True. Thompson also famously kissed Kylie Jenner's ex-best friend, Jordyn Woods, and Kardashian blamed Woods for her family falling apart on Twitter. But, while the KarJenner clan hasn't reconciled with Woods, they have with Thompson. In fact, during a recent episode of KUWTK, the pair spoke about having a second child together.
'KUWTK' fans believed the Good American owner was having more kids
Amidst the coronavirus (COVID-19) pandemic, Thompson and Kardashian have also been quarantining together. Those factors, combined with a few recent photos of Kardashian "hiding" her belly, led people to believe she was pregnant by Thompson yet again. Immediately, people began weighing in on the rumors. Many Twitter users called Kardashian a clown for getting back with a man who had embarrassed her publicly and repeatedly.
Seeing the rumors about her, Kardashian took to her Twitter page on May 13, 2020, to address them. "I don't go on social platforms much these days AND this is one of the main reasons as to why I stay away. The sick and hurtful things people say. I am disgusted by so many things I am seeing. SMH people swear they know everything about me. Including my uterus. Sick," the 35-year-old began.
Kardashian goes on a Twitter rant denying she has another baby on the way
Kardashian then continued her Twitter rant by stating that she was allowed to live her life in whatever way she chooses. "The nasty things you're saying about me over A RUMOR! I have seen so many hurtful/despicable stories and tweets about me over a false story. And if it were true… it's MY LIFE, NOT YOURS. Funny how picky&choosy some can be with who and how you feel others should live their lives," the reality TV star continued.
RELATED: Kylie Jenner Is Trolling Khloé Kardashian on Twitter
Finally, Kardashian concluded by stating some of her personal beliefs. "I believe people should focus on their own lives/families, put energy into bettering the scary world we are currently living in, and try projecting positivity as opposed to nastiness," she ended before logging off Twitter.
Twitter users feel Kardashian's beliefs don't match her actions
But critics, and even some fans, weren't willing to accept Kardashian's Twitter rant. They felt that if she truly believes that everyone should focus on their own families and lives, instead of hers, she shouldn't be broadcasting hers weekly for the world to see. "Okkkkkkk Khloé Kardashian, ily but if you wanted people to focus on their own lives, you wouldn't have cameras following yours around," one person wrote.
"I mean, sis you can't have a reality show of your life for more than 10 years and then ask people to not care about your life… make it make sense," another Twitter user chimed in. "But you made your business our business Koko. We just keeping up," another person wrote, citing the reality TV show that made Kardashian a household name.
Will the reality star quit 'KUWTK'?
We can't fault Kardashian for being upset about people saying less than kind things about her. But, we also can't expect people not to be curious if she continues to broadcast her life for the sake of a TV show. If she really wants people to butt out of her personal business, perhaps it's time for her to say goodbye to KUWTK. But, seeing as Kourtney Kardashian hasn't even left the show completely, we highly doubt that will happen.