Khloé Kardashian: Every Detail We Know About Her First Child
Khloé Kardashian is a mom! She finally welcomed her baby girl, which she couldn't have been more excited for. She shared in an Instagram post three days before giving birth to her first child, "We are ready whenever you are little mama."
Here's everything we know about Kardashian's new baby girl, including who was in the delivery room at the time of her birth (page 5) and how Kardashian is reacting to the news of her boyfriend's ill-timed cheating scandal (page 7).
1. Kardashian delivered her baby girl on Apr. 12, 2018
Kardashian welcomed her baby girl on Apr. 12, 2018. According to TMZ, she delivered around 4 a.m. EDT.
Kardashian already let fans in on the news that she was expecting a girl, with a planned gender reveal on Keeping Up With the Kardashians' Season 14 finale.
Next: Kardashian announced her baby's name.
2. Her baby's name is True Thompson
Four days after giving birth, Kardashian announced her baby girl's name: True Thompson. She shared in an Instagram post, "Our little girl, True Thompson, has completely stolen our hearts and we are overwhelmed with LOVE. Such a blessing to welcome this angel into the family! Mommy and Daddy loooooove you True!"
Kardashian certainly followed in her family's footsteps by choosing a unique name for her baby. Kim Kardashian and Kanye West welcomed Chicago West via surrogate in January 2018, and Kylie Jenner welcomed baby Stormi Webster in February 2018 with boyfriend Travis Scott.
Next: They took these measures for her birth.
3. Kardashian had extra security for her birth
Kardashian delivered her baby at the Hillcrest Hospital near Cleveland, where she arrived the night before her delivery. The hospital was sure to provide extra security for Kardashian, "with a security officer assigned to stand guard outside her room," according to Page Six.
Next: Her birth comes at a scandalous time.
4. Her birth comes days after Thompson's cheating scandal
Kardashian gave birth just two days after her boyfriend and baby daddy, Tristan Thompson, was caught in a cheating scandal. According to Us Weekly, "Daily Mail published photos and videos on April 10 of the Cleveland Cavaliers player appearing to kiss another woman at a New York City club."
TMZ also released a video the same day of Thompson kissing two women in October 2017 at a hookah bar. A source told Us Weekly, "None of his friends are surprised." Apparently, "They all know he cheats."
Next: Was Thompson there for the delivery of his daughter?
5. Thompson joined Kardashian's close family for the delivery
Page Six revealed that Kardashian was surrounded by close family during her daughter's birth. Mom Kris Jenner, along with sisters Kim Kardashian and Kourtney Kardashian, were reportedly by her side.
Thompson was also there for the birth, a source told Page Six. "The Kardashians are furious with Tristan, but despite what happened in New York, Khloé really wanted him there for the birth of their daughter," the source claims.
Next: This makes Thompson's cheating scandal extra shocking.
6. Kardashian previously raved about Thompson's love and support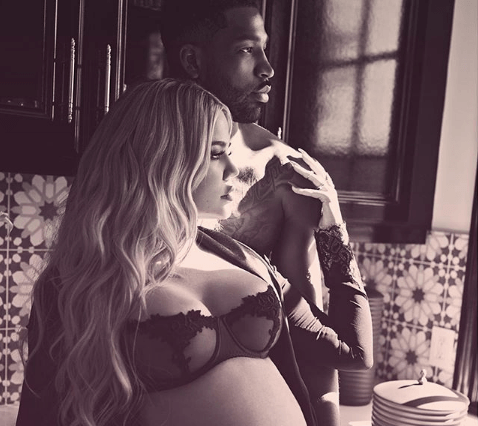 Even if sources close to Thompson aren't surprised by his cheating scandal, Kardashian clearly didn't see it coming. Since they made their relationship official in September 2016, she hasn't stopped gushing over him.
Kardashian even dedicated much of her Instagram pregnancy announcement to her beau:
I still at times can't believe that our love created life! Tristan, thank you for loving me the way that you do! Thank you for treating me like a Queen! Thank you for making me feel beautiful at all stages! Tristan, most of all, Thank you for making me a MOMMY!!! You have made this experience even more magical than I could have envisioned! I will never forget how wonderful you've been to me during this time! Thank you for making me so happy my love!
Next: This is how Kardashian feels about Thompson's behavior.
7. Kardashian was devastated by Thompson's behavior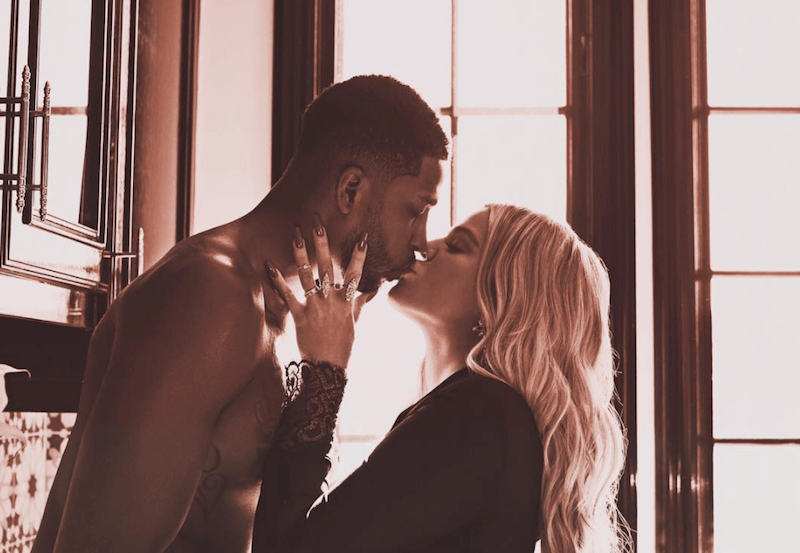 Thompson's cheating scandal is unsurprisingly hitting Kardashian pretty hard. A source close to the Kardashians told Page Six that Khloé "was devastated when she saw the pictures of Tristan with that girl, she went absolutely ballistic at him."
The source added, "She is not only hurt, she is humiliated and worried for their child. How could he do this, and so publicly, when their baby daughter could arrive within a week?"
Now that their baby is here, we'll have to wait and see how Kardashian and Thompson choose to move forward in their relationship.
Check out The Cheat Sheet on Facebook!