Khloé Kardashian's Instagram Photo Immediately Sparked Pregnancy Rumors
The Kardashian-Jenner family is one of the most-watched families in the world. Not only does their reality show Keeping Up With the Kardashians have millions of viewers, even those who don't watch can't help but get a little (or a lot of) Kardashian news from time to time. T
here's even a Reddit group with 10,000 of some of their most committed fans, and sometimes, those fans go a little off the rails with their speculations about the family. This time, it's Khloé Kardashian's turn.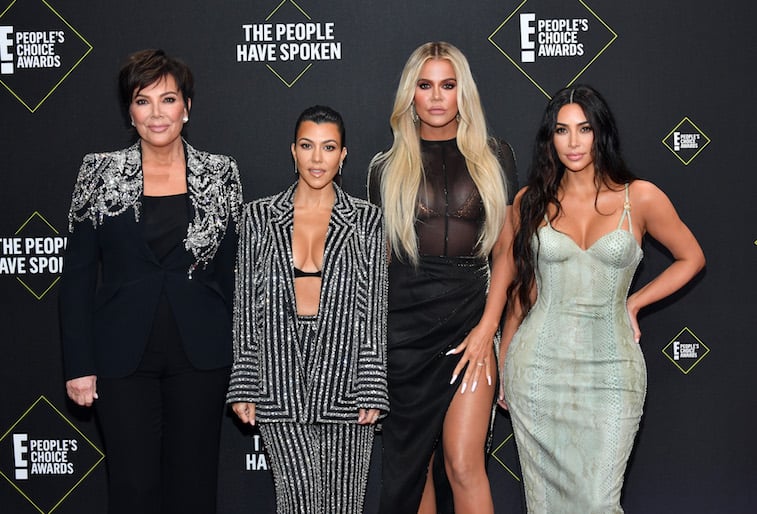 Why do some fans think Khloé Kardashian is pregnant again?
On the KUPTK subreddit in a post titled "Baby No. 2? Interesting hand sign", one fan took a large reach guessing that Kardashian is currently pregnant based on nothing but her recent Instagram photos. In one, she can be seen sitting with her daughter, True, and a beautiful arrangement of flowers on the table. She's holding up her hand in celebration in what could be the number two or a peace sign.
The original text of the post has since been deleted, but fans took the theory and ran with it in the comments: "Between the flowers from her favorite sisters (Kim and Kylie), the weird post from Tristan on VDay w the double hearts on Khloe, and now this post w the two fingers…. I am definitely Team Pregnant. Time will tell but I think we are on to something," one commenter wrote.
Another commenter was even more confident writing: "Our predictions were correct guys. She is totally preggers." When pressed for proof, and shown evidence to the contrary, however, the commenter took a step back from that prediction.
Fans also speculated on why Khloé Kardashian was sent flowers
Around this time last year, Kardashian was dealing with the cheating scandal between True's father, basketball player Tristan Thompson, and Kylie Jenner's best friend at the time, Jordyn Woods. One fan posited that the flowers were to show support to Kardashian in the wake of the year anniversary of the event.
Others assumed it was for Valentine's day, while others still pointed out that the Kardashians usually have flowers around anyway.
It seems some fans enjoy the rumors for the sport of it but do know better: "Lmaooo I love the wild speculations, who the fuck would send flowers for such an occasion, let alone your whole family."
Fans were quick to point out Khloé Kardashian's flat abs
This wasn't the first Khloé Kardashian pregnancy rumor to go floating around, and fans were quick to point that out: "But wait, people have been speculating for months now that she could be preggers but she isn't showing at all? In fact, she keeps posting up-close shots of her abs…" one fan wrote.
Indeed, Kardashian's abs are as flat as ever, and she's not shy about showing them off with tight-fitting dresses and midriff baring tops. It's also worth pointing out that she is only co-parenting with Thompson and is not dating anyone at the moment. Perhaps fans are just getting baby fever because Kardashian DID just have a baby shower.
Khloé Kardashian planned a baby shower for Malika Haqq
Kardashian's best friend of over 20 years is LA native Malika Haqq. Just days before Kardashian's Instagram post that sparked the pregnancy rumors, Kardashian posted photos from the baby shower she planned for Haqq. The event had a bear theme and a color palette of muted browns and tans, common in the Kardashian realm.
"A BEARy beautiful Baby Shower!! I have been planning Malika's baby shower in my head for quite some time," she wrote in her post and added many thanks to the people that helped her plan and put it together.
Kardashian also shared a photo of her and her mother, Kris Jenner, from the event. Viewing the photo on her feed, the square crop makes it appear to say "having a baby!" but the full image says "Malika's having a baby!"
Perhaps the fans were subconsciously influenced?