Kid Rock's Concerts Feature a Special Message From Donald Trump
For years, Kid Rock has been an outspoken supporter of former President Donald Trump. He even once visited the White House and plays golf with him. And now, Trump is a part of Kid Rock's concerts.
Before he was the President of the United States, Donald Trump was a businessman-turned-celebrity; in recent years, he's gained the appreciation of other celebrities, including country music star Kid Rock.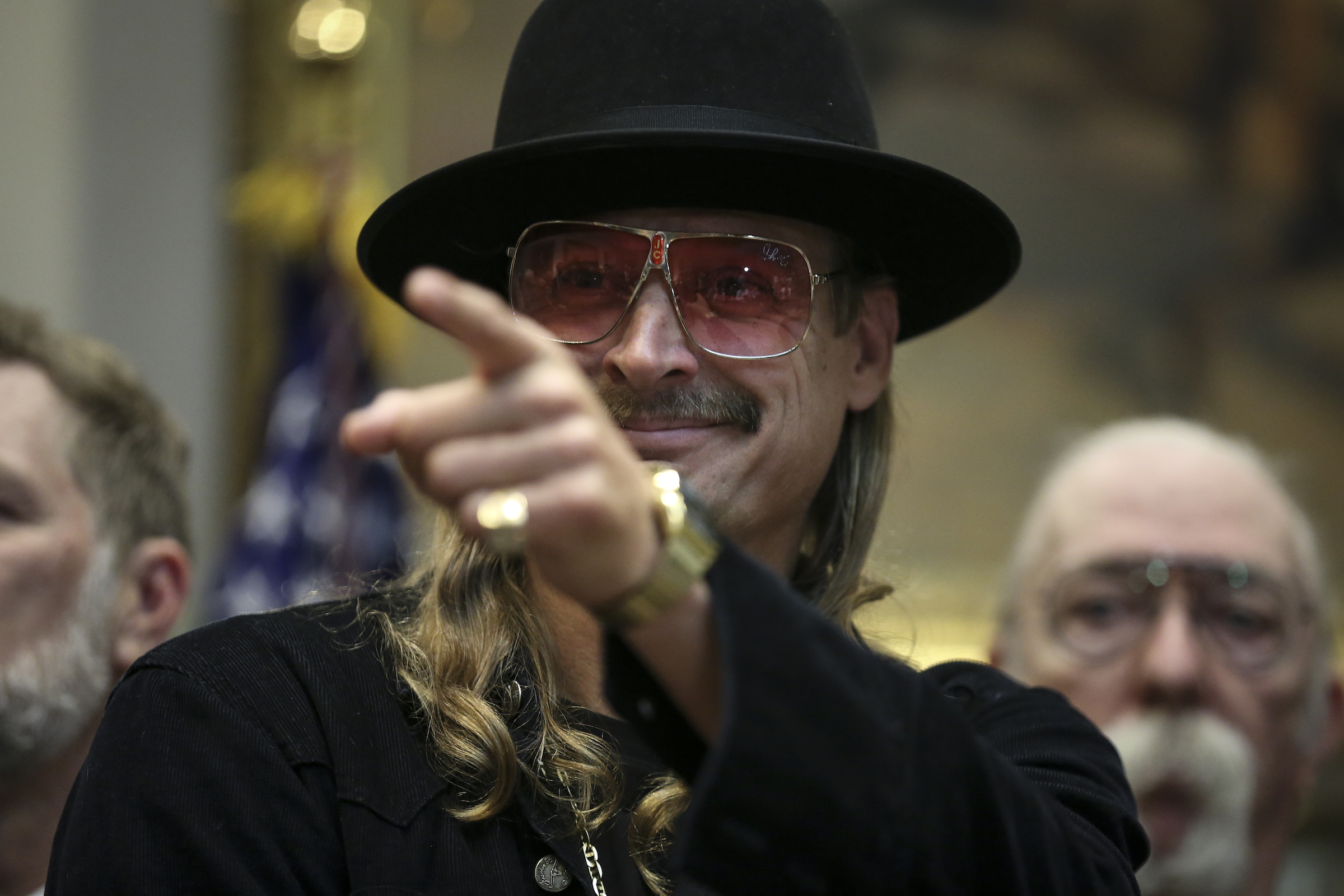 Kid Rock is a strong supporter of Donald Trump
In the past decade, Kid Rock has been an outspoken supporter of Republican nominees for president. In 2012, he campaigned for nominee Mitt Romney, who used Rock's song "Born Free" as his campaign theme song.
In 2016, Kid Rock supported Donald Trump in his campaign for president. In December of that year, after Trump won the election, Rock began selling T-shirts at his concerts in support of Trump, including one depicting a map of the United States that labeled the states that voted against Trump as "Dumbf***istan."
Rock supported Donald Trump in 2020 as well, hitting the campaign trail with the former reality TV star.
Kid Rock includes a message from Donald Trump at his concerts
Kid Rock embarked on his Bad Reputation tour in April 2022. At the opening concert in Evansville, Indiana, Trump was a part of the festivities — at least for a few seconds.
According to USA Today, the speakers at the Ford Center broadcasted a message from the former president right before Kid Rock took the stage.
"Hello, everyone! I love you all," Trump said in the announcement. "You're going to have a great time at the Kid Rock concert tonight. Quite frankly, he's amazing. All of you in attendance are the true backbone of our great country: hard-working, God-fearing, rock 'n' roll patriots."
Trump called Kid Rock "one of the greatest entertainers of our time," and went on to tease him about his golf skills, as the two have hit the links together several times over the years. "Not the best golfer, by any means. His golf game could use a little work. But a great, great entertainer, and that's why you're there."
"Let's all continue to love one another, fight for our God-given freedoms, and most of all, let's make America rock again!" he concluded.
Kid Rock went to the White House in 2018
Kid Rock has a friendly relationship with Trump, and that has even led to real-world changes. In 2018, Trump invited Kid Rock to the White House to stand behind him as he signed the Music Modernization Act. The legislation brought music copyright laws into the 21st century with the advent of streaming services.
"They've been working on this for years and years and years, and I guess certain entertainers have been taken advantage of for a long time, but no longer, because of Trump, can you believe it?" Trump said before signing the bill into law.
Trump is 'proud' of Kid Rock
In advance of his Bad Reputation tour, Kid Rock released the song "We the People" from his Bad Reputation album. In a tweet, he confirmed that he still talks to the former president (whom he hopes to see back in the White House one day), and that he's happy with the song.
"I just got off the phone with our 45th President (hopefully 47th) and he expressed how proud of me he was over 'We The People' being the #1 song on iTunes!" he said. "Suck on that, you trolls, critics, and haters!