Kiernan Shipka Had the Most Hilarious Response to Being Mistaken for Emma Watson
When Kiernan Shipka isn't busy being Queen of Hell in her professional life, she seems content to being Queen of comedy on Instagram. The Chilling Adventures of Sabrina star has captured the hearts of millions with her impressive acting chops and her charming personality. This infectious charm can be felt in interviews, on press tours, and on social media. Just last year, Shipka and the Netflix Instagram account had a "best friend" bit going where they frequently claimed each other as besties, entertaining millions of people.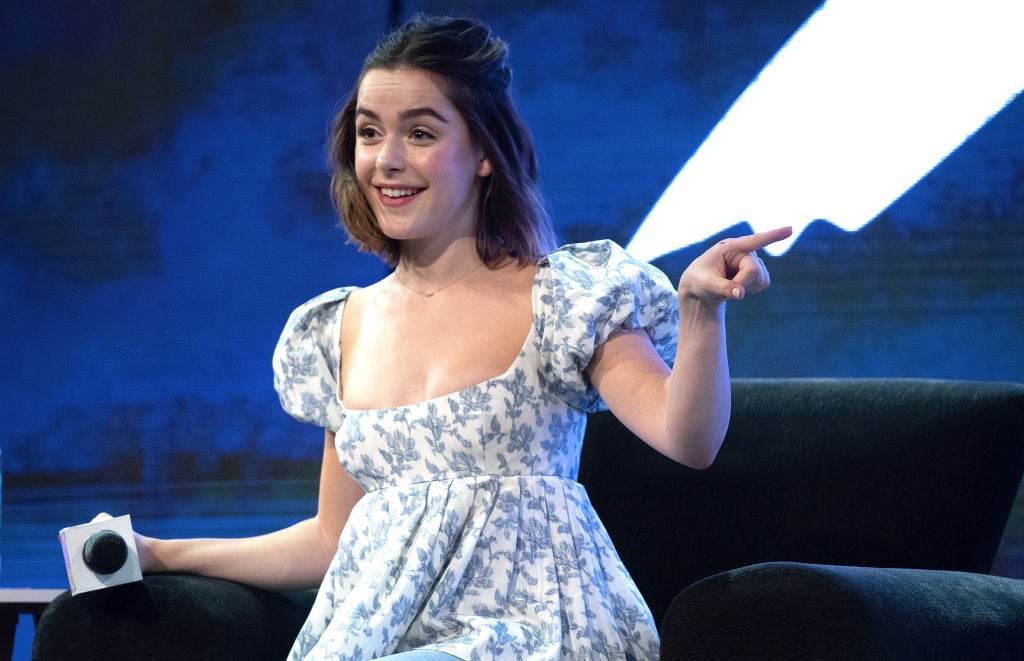 The Chilling Adventures of Sabrina star is mistaken for Emma Watson
Shipka certainly seems hell-bent (pun intended) on keeping her fans entertained on and off-screen. On January 29, 2020, the 20-year-old took to her Instagram page to post a sweet picture of herself and a dog. "Taking a break from #caos content for DOG CONTENT," the Mad Men alum captioned the photo. The photo quickly racked up a million likes and thousands of positive comments. However, one comment that stood out was from a fan who mistakenly confused Shipka for another actress who, coincidentally enough, also played a famous witch. "So pretty Emma Watson," the Instagram user wrote.
Kiernan Shipka delivers the perfect response
The comment didn't take long to catch Shipka's attention. But, rather than ignore it, she decided to respond with some of her trademark humor. Though Watson and Shipka are nearly a decade apart, are of different nationalities, and look pretty different, she still played into the fan's mistake. "Thank you. I had an amazing time filming Harry Potter & am really thrilled about all the new projects I'm doing now," Shipka wrote, joking that she was truly the actress who played Hermoine Granger in all eight Harry Potter films.
Shipka's fans were in hysterics over her brilliant response. They were quick to comment about how funny they found her to be. "Kiernan Shipka is the GOAT for that comment 😂😂😂 I'm 💀," one fan wrote. "Omg, I'm speechless. That answer! 😂 " another one co-signed. "I AM LITERALLY HOWLING AT MY PHONE I FU*KING CAN NOT, 😂😂😂😂" another Instagram user wrote, seemingly in hysterics.
Fans make Harry Potter references
Other fans were quick to make co-sign Shipka by making Harry Potter jokes and references. "You're a wizard, Kiernan," one Harry Potter fan wrote, citing the moment when Hagrid revealed to Harry that he had magical powers. "This is why I love you, when's the next Harry Potter movie coming out?!" another fan joked, knowing the last Harry Potter filmed debuted nearly nine years ago in 2011. Another fan even referenced the dog Shipka had with her, citing that it must be Animagus, Sirius Black, as Padfoot. "It's because you have Padfoot with you. Honest mistake, really. 😄 Plus, you're both beautiful and clever witches, so that's that, 🥰" another person added.
A tale of two witches
Other fans of Shipka were quick to share that they too could see the resemblance between the two actresses. "Actually when I saw you the very first time I thought "wow, this girl looks like @emmawatson , they could just pretend they're related and everyone would believe it" 😂😂😂 I think you have similarities in a good way, even in acting,❤" one person wrote. "Well yeahhh she does look like Emma Watson in some angles,😍" another Instagram user added. "Hahahaha no but foreal you really look so much like Emma. Both of you are gorgeous queens ❤️❤️❤️❤️❤️ " another person declared. Whether Shipka and Watson resemble each other or not, let's hope that Sabrina is as victorious over her dark lord as Hermoine was over hers.