'Killer Inside: The Mind of Aaron Hernandez': Former Pro Football Player Claims the NFL 'Is in the Violence Business' in Netflix Documentary
The untimely death of NFL player Aaron Hernandez left many family members reeling, and even more questions lingering. Recently, Netflix produced a three-part documentary series about Hernandez's alleged suicide, as well as the murders of which the athlete was convicted. In the docuseries titled Killer Inside: The Mind of Aaron Hernandez, producers interviewed several former friends and teammates of Hernandez.
At one point in the docuseries, former NFL player Chris Borland says that the football league is in the business of "violence." In light of the reporting and research about CTE in the past few years, it's an argument that makes sense.
Who was Aaron Hernandez, the football player convicted of murder?
Hernandez was a promising athlete from a young age, growing up in the town of Bristol, Connecticut. After playing football for the University of Florida with Tim Tebow, The Patriots drafted Hernandez in 2010. However, soon after that, as Killer Inside: The Mind of Aaron Hernandez points out, Hernandez got himself into quite a bit of trouble.
Eventually, he was convicted of first-degree murder in April 2015. The judge sentenced Hernandez to life without parole, separating him from his fiance and baby daughter. Two years later, on the charges of two other murders, the jury found Hernandez not guilty. (For context, he hired Casey Anthony's lawyer for the second trial). But only a few days after this verdict, prison guards found Hernandez hanging in his cell. He was pronounced dead later that day.
What is CTE? 'Killer Inside: The Mind of Aaron Hernandez' Says it's the NFL's Kryptonite
The Netflix series The Mind of Aaron Hernandez goes in-depth on the topic of CTE, or chronic traumatic encephalopathy. Many football players have been diagnosed with the brain trauma-related illness–mostly after death.
The show talks about how a few years before Hernandez's tragic end, former NFL player Junior Seau also died by suicide. His brain scan showed he suffered from CTE.
Symptoms of CTE include impulsiveness, making rash decisions, and memory loss–all things Hernandez experienced, according to friends and family.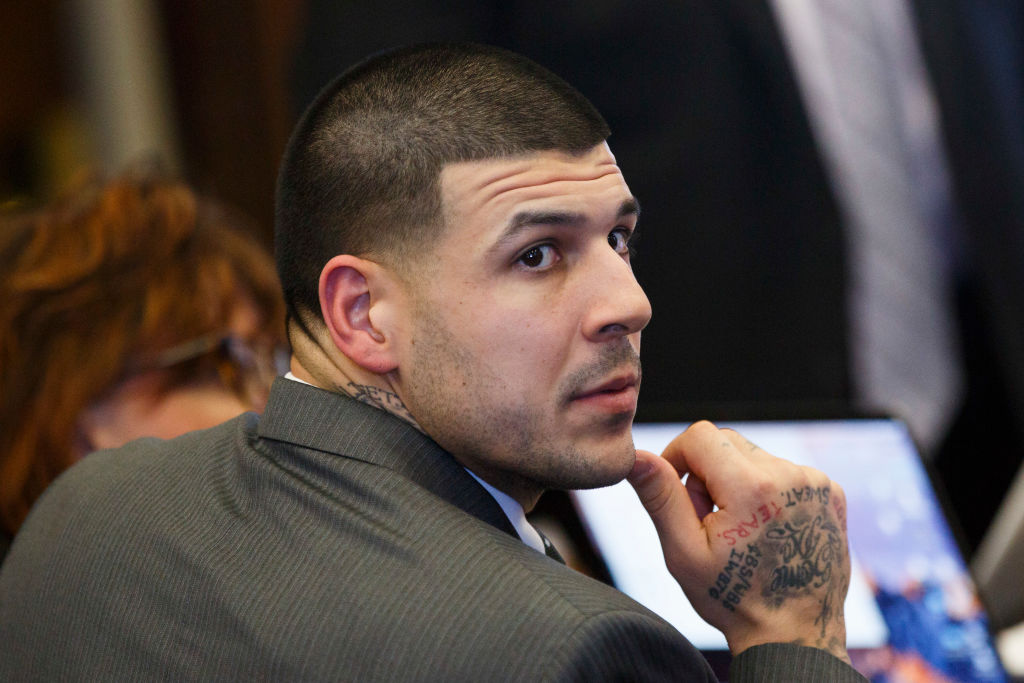 After his death, Hernandez's family donated the former Patriot's brain to science. Sure enough, the medical examiner found a ton of evidence of the brain condition. The late football player's case was, in fact, record-breaking in terms of the severity of damage for his age. (Hernandez died at age 27.)
Hernandez's and others' horrific ends have caused many in the football field to rethink their approach to the sport. The doc shows a clip of Cris Carter speaking about Hernandez on First Things First.
"I knew Aaron Hernandez from Bristol Connecticut, an All-American," Carter says. "And to think this is a game that we encourage young people to play and the end result was that, I'm conflicted. I really am."
However, this is not to say that CTE leads to murder. As some in Killer Inside: The Mind of Aaron Hernandez, point out, several football players get through a successful career without killing anyone.
"We've never seen an NFL guy in the middle of his success go out and start murdering people," sports journalist Dan Wetzel says. You can't blame it all on the NFL. "But," Wetzel offers, "would Aaron Hernandez be in this situation if he were a concert pianist? Probably not."
'The Mind of Aaron Hernandez': Former NFL player Chris Borland quit football due to CTE concern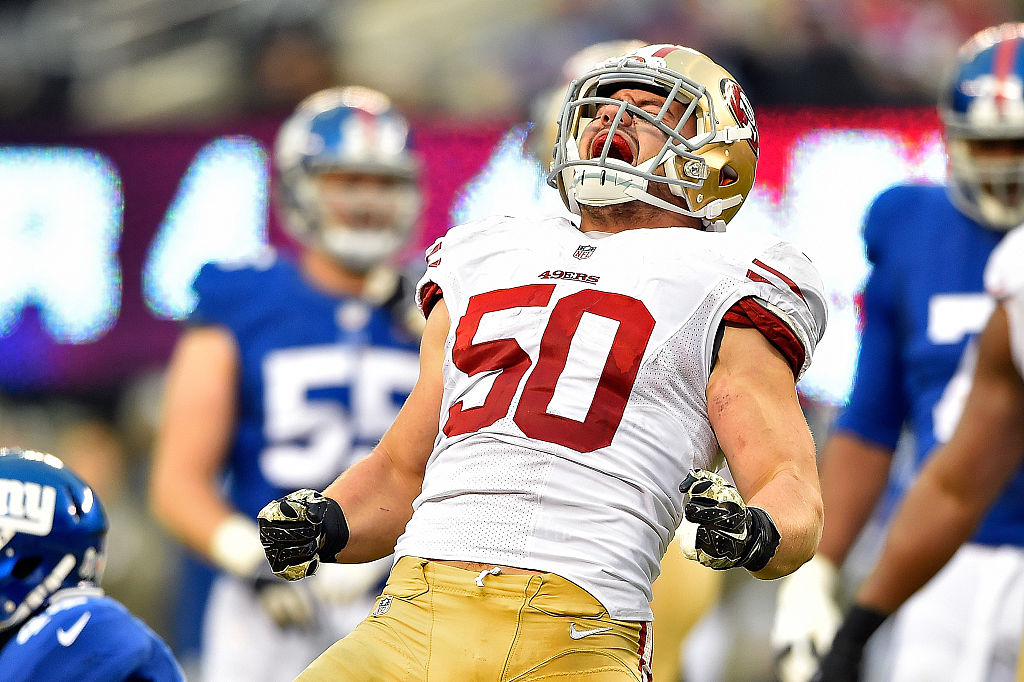 In the docuseries, former NFL rookie Chris Borland admits he experienced symptoms of concussions weekly when he was a player. This included "ringing in the ears, imbalance," you name it.
"Then I really began to question my role in the NFL," he continues. "Ultimately, I decided it was brain health first. I quit after one year."
"The NFL is reeling," we hear a news anchor say in The Mind of Aaron Hernandez. Borland's decision was unique, to say the least. But NFL Commissioner Roger Goodell and other league leaders did everything they could to portray the image of health among their teams.
"Our game has never been more exciting, has never been more competitive, and I don't think it's ever been safer," Goodell says in a clip.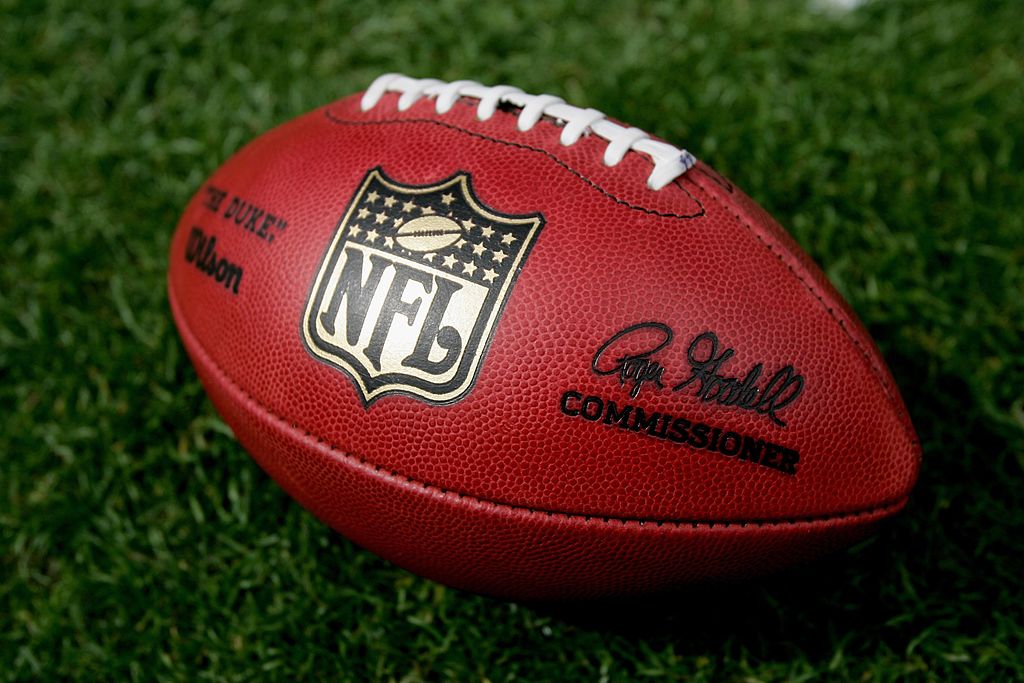 However, it's haunting how many times throughout Killer Inside: The Mind of Aaron Hernandez, the topic of painkillers comes up. Many current and former players of both college and professional teams allege that coaches drug their injured teammates so they can keep playing. Because football stars are assets that make the teams millions of dollars, owners and coaches are incentivized to put players in games at the cost of their health.
No one drives this point home better than Borland.
Football player in the Netflix series about Aaron Hernandez says the NFL runs on violence
"I think there's a certain degree of hubris," Borland says of the NFL higher-ups. "They own a day of the week. Football is a religion."
Borland argues that the "safety measures" the NFL takes are all for show.
"No matter whether or not they're throwing a flag or claiming concussions are down, or taking players into the blue tent, the reason football is the most popular sport is because it's violent." His most powerful claim about the NFL in The Mind of Aaron Hernandez is this: "They're not in the health business, they're in the violence business."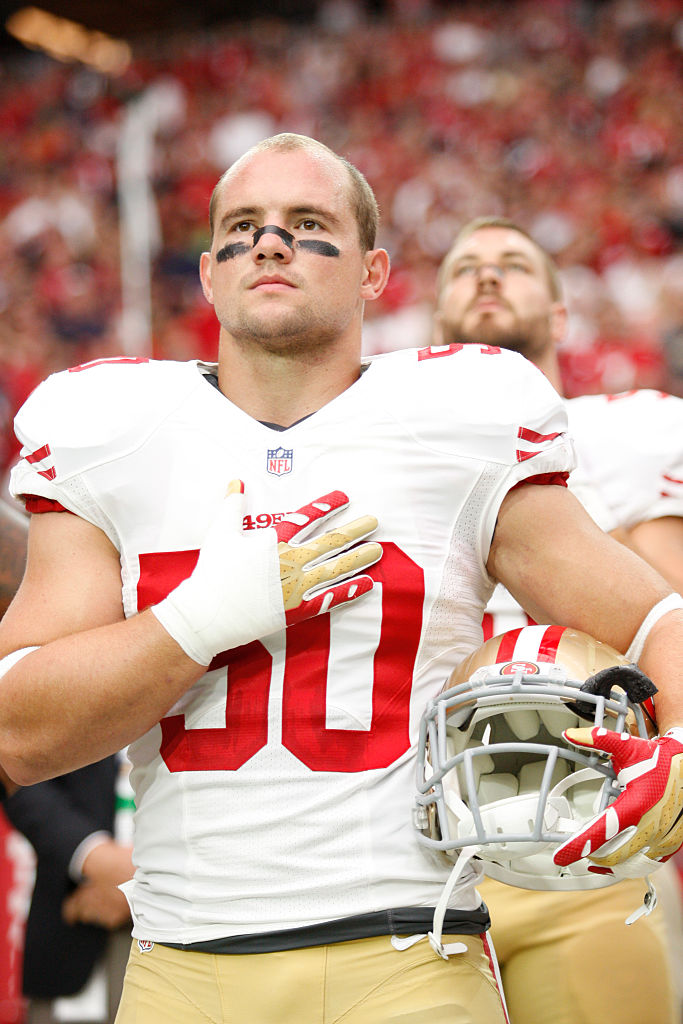 "It's all about the business of football," attorney George Leontire agrees, "and very little to do with what ultimately become an expended asset of the business, which are these players, in the end."
Here's to hoping that The Mind of Aaron Hernandez opens the public's eyes about the real consequences of extremely violent sports.
How to get help: In the U.S., call the National Suicide Prevention Lifeline at 1-800-273-8255. Or text HOME to 741-741 to connect with a trained crisis counselor at the free Crisis Text Line.