'Killing Eve' and 'Agent Carter' Basically Have the Same Plot
It's not often that Marvel finds one of its movies or shows getting less attention than another similar show. Marvel has had so many hits, it's easy to forget they're not infallible. As much success as they've had with movies, They've had less success on the TV side, with Agent Carter being one of their short-lived shows.
So some fans are wondering – how come a similar show like Killing Eve succeeds while hitmaker Marvel fails with Agent Carter? The short answer is that not enough people were watching Agent Carter, while so far, enough have watched Killing Eve. The upside is that Hayley Atwell's Peggy Carter will be back for at least a little while next year.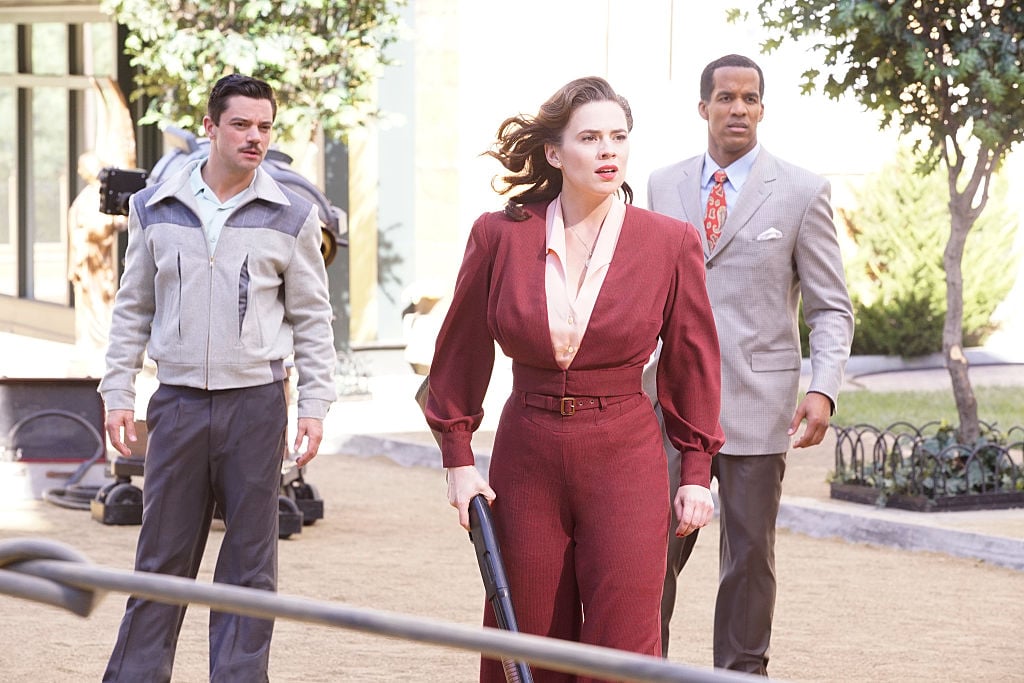 What is Killing Eve?
Killing Eve has been running on BBC America and AMC for two seasons so far. It stars Sandra Oh as Eve Polastri, a British intelligence officer on the trail of an assassin named Villanelle. In many stories like this, the "good guy" becomes obsessed with the "bad guy," but in Killing Eve, the opposing sides become obsessed with each other. 
The show has been both a critical and commercial hit. The Rotten Tomatoes consensus on season 1 states "Seductive and surprising, Killing Eve's twist on the spy vs. spy conceit rewards viewers with an audaciously entertaining show that finally makes good use of Sandra Oh's talents." The show has also been nominated in top categories at the Emmys, with Jodie Comer winning Outstanding Lead Actress in a Drama Series for 2019.
Over on Reddit, one fan wrote, "If any of you have seen (Agent Carter) and Killing Eve they are surprisingly similar. Evil Russian assassin. She and the main character have a very flirtatious fun relationship even though they oppose each other. In the second season they work together. Both really good shows I would recommend."
What happened to Agent Carter?
The Agent Carter series was actually not the first time Peggy Carter had been seen outside of the MCU theatrical films. According to IMDb, there was a short film with Peggy shown at San Diego Comic-Con and that became the basis for the series, which was about Peggy's life after World War II. 
The theme was that women got to have their moment in the sun during the war, but after the war was over, they were expected to stop being in the workforce and go back home to be full-time wives and moms. Didn't matter if you were Rosie the Riveter or one of the founders of SHIELD. The show went to ABC, which, like Marvel, is owned by Disney and was also the home of the hit show Agents of SHIELD. 
However, Agent Carter never found its sister show's audience, with the ratings being consistently low. Atwell told the AV Club, "It's a shame the network canceled it and wanted to put me in something more mainstream. You know, Marvel didn't want it to end. There's lots of online campaigns to bring her back. Fans loved her. I think it was just a network economical thing:"
Agent Carter will briefly return
Despite the show's short life, the character was so important to Marvel that she got to share the very last shot of Avengers: Endgame, which saw her finally sharing that long-awaited dance with Steve Rogers. However, fans only have to wait a year before Peggy graced their screens again.
Sometime in 2021, Marvel Studios is expected to release its first animated feature called What If …? which imagines twists on familiar stories. The series first episode will pose the question, "What if Peggy Carter took the super-soldier serum?" She would become a Captain America-like hero with her own shield. It is not known if we'll see more of Peggy after that, but even if we don't. Atwell feels fulfilled with the character. 
She told the Hollywood Reporter, "It was a great time, and I think they ended it beautifully with Endgame. It feels like a fitting end to that narrative … I feel lucky to have played her, but she's one aspect of my career. She's one part that I've played. With every job that I've done, I've taken the job because I've seen something within the character that I'd love to explore or try and be challenged by."