'Killing Eve': It 'Felt Natural' To Have Female Protagonists, Says Producer
Killing Eve season 3 is starting on April 12, 2020. Fans are likely excited to see the show again. The cat and mouse game between Eve Polastri (Sandra Oh) and Villanelle (Jodie Comer) is intoxicating. Many people especially enjoy the well-written female characters in the show.
Some would even say that Killing Eve is groundbreaking in its portrayal of women. But what do those behind the show think? Executive producer Sally Woodward Gentle spoke to Parade about the show and the women at the center of it all.
What 'Killing Eve' Is About Going Into Season 3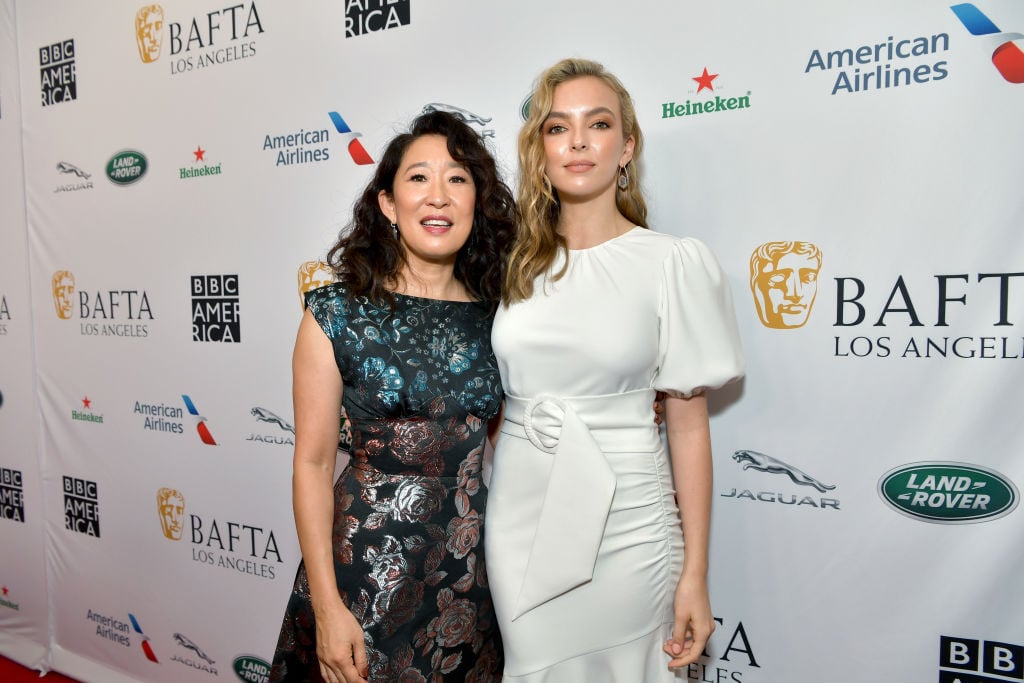 Before getting into the producer's comments, it's important to understand what Killing Eve is about going into season 3. The story mostly revolves around two characters, Eve and Villanelle. Villanelle is an assassin for hire and Eve is the agent who is supposed to find her. As time goes on, Eve and Villanelle meet several times and find each other fascinating.
The two women even end up working together during season 2. Season 2 ends with Villanelle confessing her love for Eve. Eve, of course, is not too happy about it and rejects Villanelle, walking away. As Eve walks away, Villanelle shoots her. 
That cliffhanger is where we leave our two main characters.
The groundbreaking, 'fantastic,' 'brilliant,' show with 'alluring and powerful female leads': 'Killing Eve'
As is mentioned above, Killing Eve is often considered groundbreaking for its portrayal of women, with many fans enjoying the well-written female characters. We'll let the fans speak for themselves. One fan on Twitter appreciates how the show succeeds in "taking a tired spy [trope] and making it fresh, women-centric, and so so…good." This fan goes on to mention the "two lead female characters" and "the power these women had."
Another fan calls the show "a masterpiece." This fan mentions the "bada** women" and "the sexual…tension." Someone else says the show is "fantastic" and says they "love women." This fan goes on to say that they "don't know a better writer" than Phoebe Waller-Bridge.
Waller-Bridge was the head writer for the first season of the show, before passing show running duties on to Emerald Fennell for season 2. Season 3 of Killing Eve will be run by Suzanne Heathcote. Another Twitter user says "the women power in Killing Eve is so strong, I love this show." According to another fan, "there is nothing more glorious than the female rage in Killing Eve."
Someone else calls the show "brilliant" and says it "has two of the most alluring and powerful female leads [they've] seen in a long time." 
'That's the difference that having more women behind the scenes has made' for 'Killing Eve' Season 3
Now that you understand what the show is about and why fans adore it and view it as groundbreaking, it's time to get into producer Sally Woodward Gentle's comments. She told Parade that she and everyone else behind the show "didn't set out to be groundbreaking." Actually, according to Woodward Gentle, "putting two — in fact three, with Carolyn — women at the center of it felt natural."
The show not only has so many female protagonists, but it also has a lot of women behind the scenes. As is mentioned above, so far the head writer duties have been passed from woman to woman each season. Season 3 of Killing Eve is also going to be produced by Woodward Gentle. The producer also spoke to Parade about how the approach on the show differs from the books the show is based on.
"Luke Jennings, in his original novella, had Eve and Villanelle pitted against each other," Woodward Gentle says. "I hope that what feels more original is the truthfulness with which we deal with relationships and life." As Woodward Gentle puts it, "we are working within a familiar genre but what we are really interested in is life in extremis. What we never wanted was sexy, gun-toting assassin who kills people through seduction."
According to Woodward Gentle, "that's the difference that having more women behind the scenes has made."  Of course, there are also "a lot of fabulous men who are signed up to exactly the same vision."