Kim Kardashian Absolutely Hates This Dessert That Kylie Jenner Loves
Kim Kardashian West, Kylie Jenner, and their family might be famous and wealthy, but even they aren't immune to food cravings. The KKW Fragrance owner, in particular, is known for her sweet tooth. She loves ice cream and churros and even credits milkshakes for helping her realize the power of her own influence. And who can forget when she shared her special tip for making M&M's even better with chocolate lovers?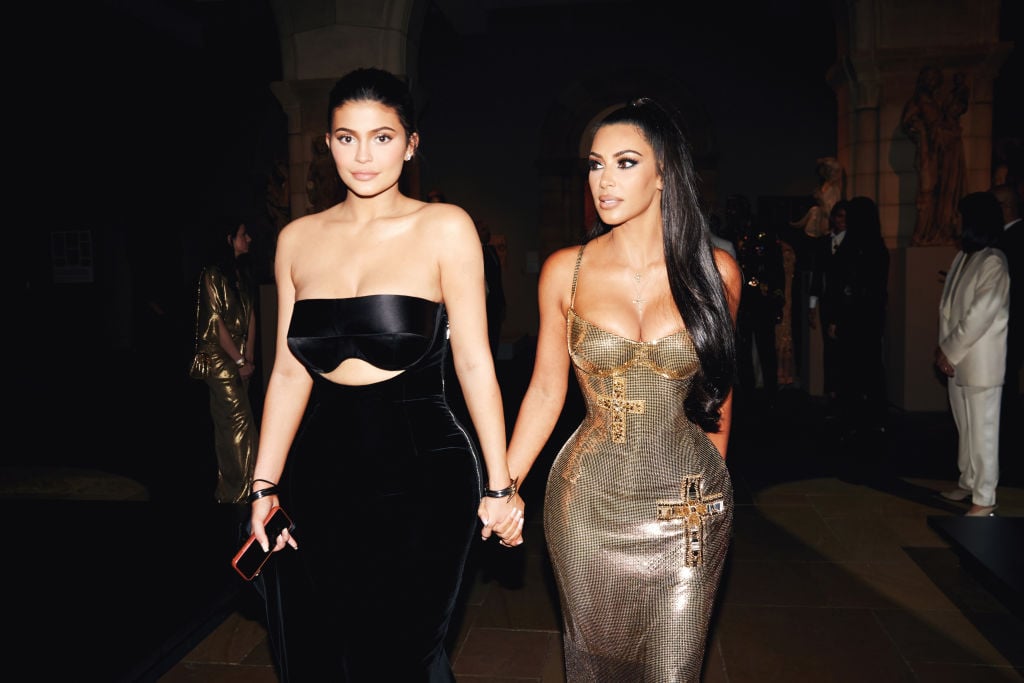 Right before Thanksgiving 2019, Kardashian West took to her Instagram page to share her M&M hack with her millions of followers. The tiny chocolate candies are shown on parchment paper as the mogul fawns over them. "I love it when they crack. Look it, they're just warm and gushy on the inside if you put them in the microwave for 30 seconds. So the goal, look at that," Kardashian West declares, squeezing an M&M before continuing. "is to be warm and melty on the inside but crunchy on the inside, I mean crunchy on the outside. This is my secret of life you guys. It's so satisfying in your mouth. Please try it someone. We'll start a chat about it," the 39-year-old joked.
Kim Kardashian West hates this delicious dessert
While Kardashian West might have a sweet tooth, there are certain desserts that are exceptions to the rule. Back in May of 2019, Kardashian West's best friend, Jonathan Cheban, known socially as Food God, posted a video to his Instagram page about the reality star. Celebrating five years of friendship, he found fun clips to share with his 3.4 million Instagram followers. One of the videos shows him going out early in the morning and bringing back some donuts for the 39-year-old. However, Kardashian West is quick to set the record straight and inform him that she abhors the delicious dessert.
"Morning Princess, you're finally awake?" Cheben questions "You're wearing that shirt for real?" the KKW Beauty owner fires back. "I couldn't find churros, but I brought donuts for you," Food God continues, ignoring the commentary about his attire. "No, I hate donuts," the mom of four responds back. So, while Kardashian West does have a sweet tooth, donuts are certainly not a dessert she enjoys. However, a disdain for the beloved confection does not run in the family by any means. Kardashian Wests's baby sister, Kylie Jenner, absolutely loves the sweet treat, especially the Krispy Kreme brand.
Kylie Jenner is a huge fan of Krispy Kreme donuts
In fact, billionaire Jenner loves donuts so much, that she made an entire Instagram story about them back in September. She even asked her millions of fans to weigh in on which donut of the remaining dozen she should eat next "I'm still getting over my sickness but, serious question. I already had one Krispy Kreme, they just got here, they're warm, you guys. Fresh Krispy Kremes. Which one do you guys think I should eat next? This one? Cause it looks like a perfect Krispy Kreme. I'm gonna say this is the left one. Or should I eat this right one, which kind of looks different from the rest? The hole isn't as perfect but it looks fat and juicy. Whoa," the Keeping Up with the Kardashians star shared.
Jenner's Instagram followers were ultimately split over which donut she should eat. However, her make-up artist and friend got tired of the debate and ate one of them. The young billionaire was left to eat the other one and continued to gush about how delicious the donuts were. "Look how good this looks. They're still warm," Jenner declared. "These Krispy Kremes are on another level today," the makeup artist co-signed. Even though the entire Instagram story was pretty ridiculous, we can't knock anyone for their love of donuts. While Kardashian West might prefer churros, we're siding with the most followed KarJenner on this one.