Inside Kim Kardashian and Kanye West's Secret Valentine's Day Getaway
Kim Kardashian West and her husband Kanye West escaped on a romantic getaway in Cabo San Lucas, Mexico over Valentine's Day weekend.
Valentine's Day may not seem like a big deal to most people, but to Kanye West, it's another instance where he can surprise Kim Kardashian West with a momentous gesture of love. West surprised his wife with a trip this year for Valentine's Day, whisking her away to Cabo San Lucas, Mexico according to People.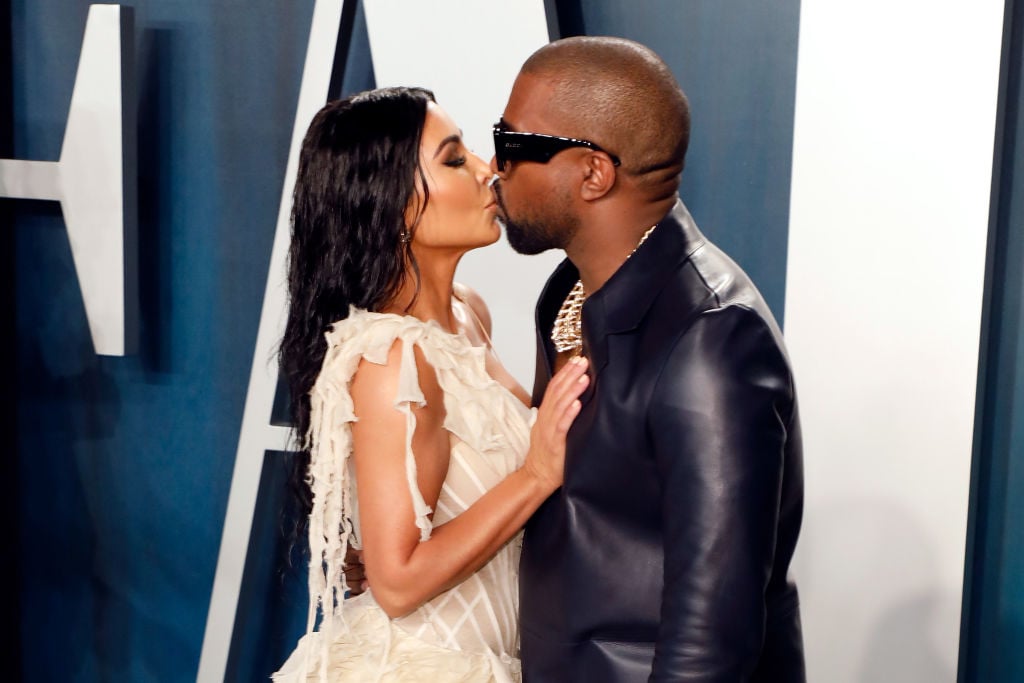 Kardashian West is no stranger to sharing most of her life both on camera and through social media. Valentine's Day weekend was no different. The couple shared a relaxing weekend together overlooking the scenic views their resort had to offer. The Keeping Up With The Kardashian's star documented their getaway, sharing a photo of a sunset on the ocean to her Instagram Story. Kardashian West was relaxing on a bed, her legs outstretched, as her husband sat at the edge gazing out at the ocean. She captioned photos with "Little slice of heaven for Valentine's Day." Later, Kardashian West posted another photo of the infinity pool that overlooked the ocean.
Another glamorous weekend
The weekend prior to Valentine's Day, the couple attended the 2020 Vanity Fair Oscar party, where they each sported gifts they received from each other for Christmas. Kardashian West wore the vintage Alexander McQueen gown that West got her, while West was seen wearing a chain necklace from his wife.
This is the couple's first Valentine's Day as a family of six
Kardashian West and her husband are both extremely devoted to each of the children in their family. The couple's devotion this year was amplified, as it was extra special Valentine's Day for the new family of six. In May 2019, they welcomed their son Psalm. He joined brother Saint and sisters Chicago and North this year as they celebrated this day of love.
Kanye West is a pro at Valentine's Day
This isn't the first time West has surprised his wife with a romantic gesture for Valentine's Day. Last year, he hired Kenny G to perform his saxophone in their home. Kardashian West documented the entire experience on her Instagram Story, capturing the alluring jazz artist as he played in a room filled with red, white, and pink roses.
Kanye West's surprises aren't reserved for holidays
West has become known for surprising his wife not only for Valentine's Day but at any moment. His love for her knows no boundaries, and the ways he chooses to surprise her demonstrate that. From West's marriage proposal at the AT&T Stadium to a necklace inspired by a text message, he takes a lot of time, consideration, and pride in creating these special moments for his wife.
What did the rest of the Kardashian Jenner family do for Valentine's Day?
The Valentine's Day holiday is a big deal to the Kardashian Jenner clan. Khloé Kardashian exchanged gifts with Kardashian West, while Kris Jenner spread the love by surprising her grandchildren with cupcakes and gigantic teddy bears. Kylie Jenner showcased an iconic look on her Instagram. Kendall Jenner celebrated the Valentine's Day holiday with on-again-off-again boyfriend and basketball player Ben Simmons.
With the holiday behind him, West has probably moved on to thoughts of how he can surprise his wife for her birthday in October.