Kim Kardashian West Critics Accuse Her of Projecting Her Insecurities on to Her Kids
With millions of people watching her every move, Kim Kardashian West has no shortage of criticism in her life. This is especially true due to her social media presence. On Instagram alone, the reality TV star boasts a whopping 174.4 million Instagram followers. Every picture or video that makes in on to Kardashian West's feed is scrutinized. Whether it be how she dresses on the way she's raising her kids, she's always called out for something.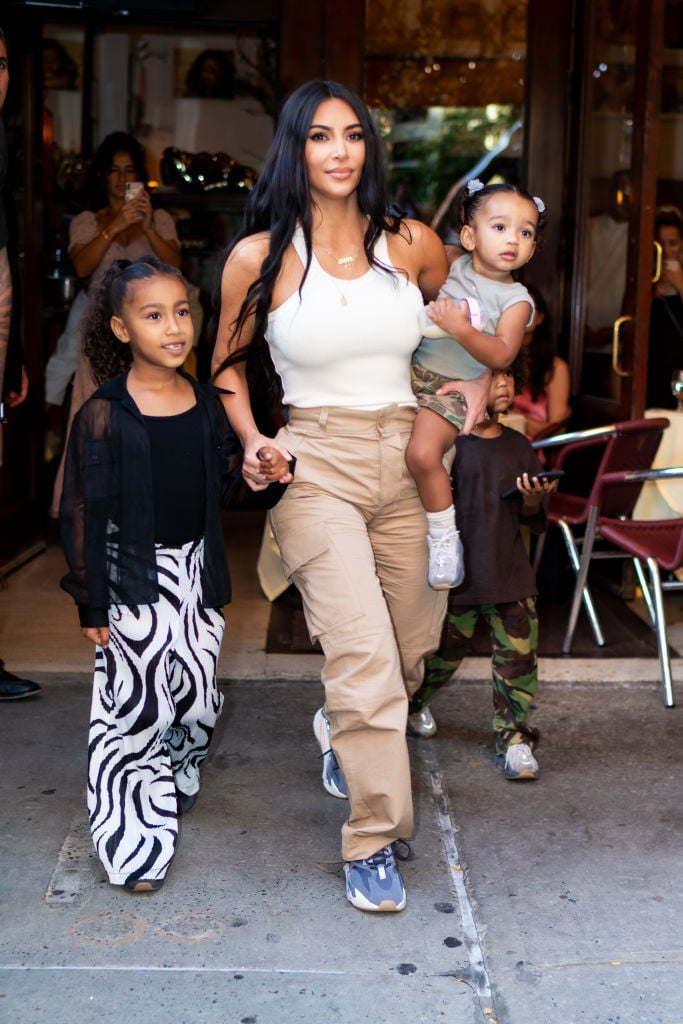 Together with her husband, Kanye West, Kardashian West has four beautiful kids all aged six and under. Her eldest child, North West, is just a few days shy of her seventh birthday. Saint West, her second eldest, is four and known for his sweet demeanor. The 39-year-old's youngest daughter, Chicago West, is two and finally her baby, Psalm West, recently celebrated his first birthday.
Kim Kardashian West posts a photo of her kids to Instagram
On June 10, 2020, Kardashian West took to her Instagram page to share a rare photo of all of her kids together. Miraculously, all four kids are looking at the camera. North is squatting behind Psalm with her arms around him making sure he is well protected. Chicago sits beside them smiling softly toward the camera. Meanwhile, Saint is closest to the camera sporting a huge grin and throwing up a peace sign. "My whole heart," Kardashian West captioned the photo.
Immediately, fans began to gush over the photo. Thousands of people commented on how beautiful the KKW Beauty owner's kids are. Furthermore, the photo has already managed to rack up over 4.7 million likes and counting. But, some people took issue with the picture Kardashian West posted. They accused the mom of four of photoshopping North's face.
The 'KUWTK' star is accused of photoshopping her daughter, North West
Of course, this is far from the first time Kardashian West has been accused of photoshopping her kids in a photo. Last year, the 39-year-old admitted to photoshopping Chicago into their family Halloween photo and photoshopping North into their family Christmas photo. However, that was merely done so that the whole family could be shown. Now, critics have actually accused Kardashian West of altering North West's features with photoshop and other apps.
The adult KarJenners are constantly airbrushing themselves for photos, using apps like FaceTune and Photoshop to erase any blemishes, wrinkles, etc. Kardashian West, in particular, has been candid about how being in the public eye has made her insecure about her looks. In past episodes of Keeping Up with the Kardashians, she even admitted to having body dysmorphia.
Critics think Kardashian West is projecting her insecurities on to her kids
Now, critics believe Kardashian West is projecting her insecurities on to one of her kids. They believe that she is editing North's face because she feels dissatisfied with her own looks. "Kim needs to stop brushing her insecurities on North. She photoshopped that girls face entirely too much…," one person wrote on Instagram. "I agree, North's face was photoshopped/airbrushed," another person chimed in.
"Facetuned to the gods. But notice she left Chicago's face alone…" yet another person added. "Yup, Kim uses the snow app it's so obvious so you can tell she tried to change North's head shape to a v-shape," another Instagram user added. Fans of Kardashian West quickly disagreed stating that North was simply growing up, thus her features are shifting. "Or she's just a growing child whose features are rapidly changing…" a fan countered.
It's unclear to us if Kardashian West is truly photoshopping photos of her kids. But, whether the photos are photoshopped or not, Kardashian West has some truly beautiful children.