Kim Kardashian Fans Are Calling North West the 'Kim K' of Her Friend Group
Kim Kardashian West's millions of fans may be obsessed with her, but they are even more obsessed with her kids. The 39-year-old mogul has four children with her husband, Kanye West, all under the age of seven. Kardashian West often enjoys sharing photos and videos of her kids with her followers. Over the years, fans of the Keeping Up with the Kardashians star have begun to notice the distinct personalities of each of her children. Now, fans are saying that Kardashian West's daughter, North West, is turning out to be a mini version of her.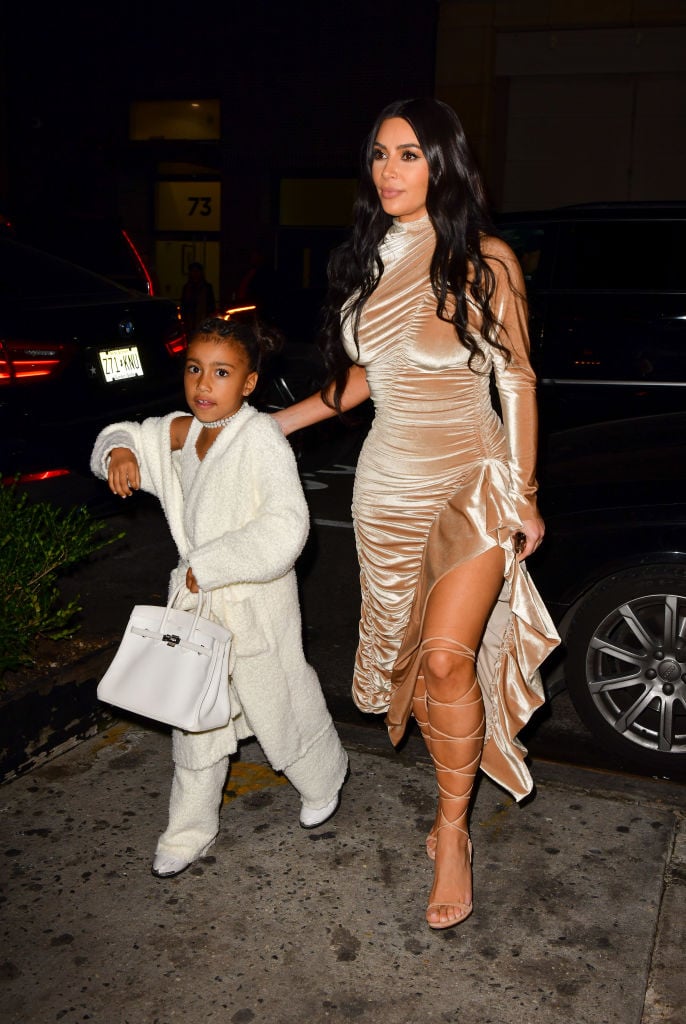 At age six, North West is the eldest of Kardashian West's kids. The KKW Fragrance owner has been very candid about the fact that her oldest daughter loves fashion and makeup. This should come as no surprise to KarJenner fans. Within her first year of life, North West graced the cover of Vogue magazine. Furthermore, she has walked in fashion shows. Kardashian West has also shared that her six-year-old has a love for makeup, even though it caused arguments in their household among her and husband, West.
The Cardi Crew
Since North West has such a love for fashion, fans were unsurprised when Kardashian West posted a new video of her sporting a miniature outfit from the Skims cozy collection. Alongside her cousin, Penelope Disick, and her two closest friends, North West posed gamely and introduced their group name, The Cardi Crew. Whether the kids chose that name because they were wearing matching cardigans in different colors or because of their love of Cardi B remains unclear, but fans found the photos and video cute regardless.
"The Cardi Crew in @skims cozy collection! Should we really make these for kids? Drop a comment below if we should do a mommy and me collection!!!" Kardashian West captioned the post on Instagram. Almost instantaneously, the post managed to rack up millions of likes. It even caught the attention of Cardi B. "This made me feel sooo special. I feel soo happy," the "Bodak Yellow" rapper wrote. Other fans gushed over how cute the girls were and begged the KKW Beauty owner to release the skims cozy collection in kiddie sizes.
Fans praise the eldest of Kardashian West's kids on Instagram
However, many people took note of North West's behavior amongst her best friends. They pointed out her big personality and obvious leadership skills. "North is a true leader she just took charge,👏🏾" one fan wrote. "North is so much personality lol," another fan chimed in. "North is so extra hahah I love it," one Instagram user declared. Other fans praised the child for her ability to model and know her angles for the camera. "North is literally born for the cam. So cute," one person penned.
Fans believe North West is the Kim K of her friend group
Even more people felt that North West's persona reminded them of her mom, Kardashian West. "North is Kimmy all over," one fan stated. "Talk about a mini Kimberly! 💕 Little Cuties," another person co-signed. "North is already the biggest diva. She is absolutely the Kim K of her friend group and she's only six, 😂" one Instagram user penned. "North is literally just like her mom," another added. Clearly, with Kardashian West's kids, the apples don't fall far from the tree. Only time will tell just how much of her mama's personality North West inherited.