Kim Kardashian Reached out to Pete Davidson First, 'Basically DTF' After 'SNL' Appearance
In The Kardashians episode "Never Go Against the Family," Kim Kardashian opens up about her then-new relationship with Saturday Night Live star Pete Davidson. Kim details the surprising way she and Davidson connected after she hosted SNL in October 2021, revealing how she was "basically D.T.F" after working with him.
[SPOILER ALERT: This post contains spoilers for The Kardashians episode 8 "Never Go Against the Family."]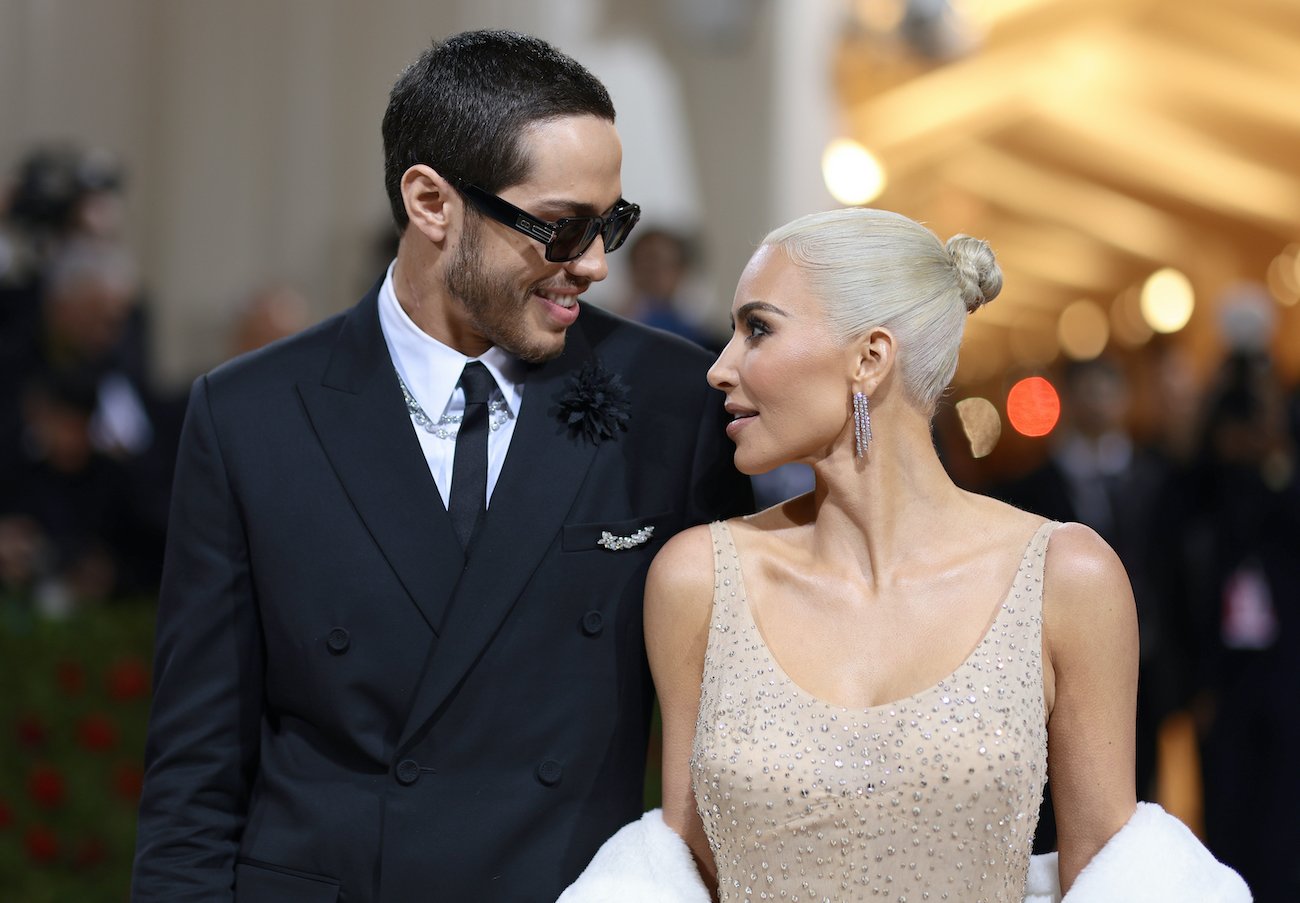 Kim Kardashian talks about the 'laughter' in her relationship with Pete Davidson in 'The Kardashians'
The Kardashians were filming as Kim's relationship with Davidson got started, but she keeps everything under wraps until episode 8. "Can't a girl just be happy and live?" Kim says when Khloé Kardashian asks about her love life. "That's what I'm doing."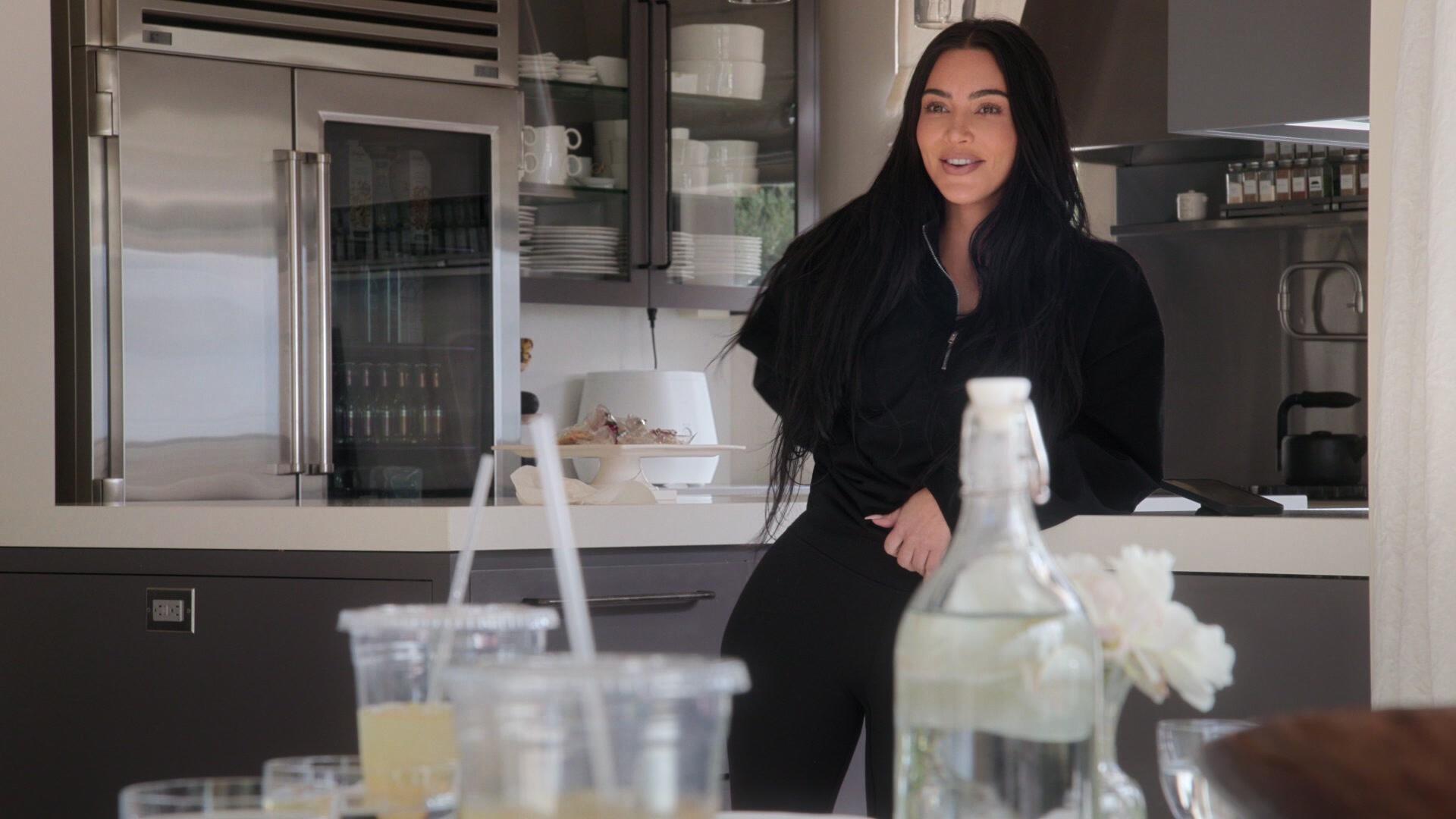 She adds: "That's what I keep on saying: happiness, peace, zen, laughter — that's all I want, and I got it." Kim gushes about her blossoming relationship with Davidson, talking about how much laughter there has been. Later, Kim speaks directly to the cameras, admitting "you guys have stalked me long enough" and revealing "how it went down with Pete." 
Kim Kardashian heard about Pete Davidson's 'B.D.E' and was 'basically 'D.T.F' after SNL
Kim hosted SNL on Oct. 9, 2021. In one bit, she and Davidson share a kiss as Aladdin and Jasmine — a kiss she says was "just a vibe." 
"Oh s***, maybe I just need to try something different," Kim remembers thinking at the time. However, Davidson did not attend Kim's afterparty at Zero Bond, a private members' club. "He does not give me the time of day, so a few days later I called the producer at SNL and [asked for Davidson's number]," Kim continues. 
She texted Davidson, never thinking about entering into a relationship with the comedy star. "I was just thinking, 'Heard about this B.D.E [Big D*** Energy], need to get out there — like I need to just jumpstart my — I was just basically D.T.F," Kim added.
Kim Kardashian and Pete Davidson's relationship is 'normal'
Speaking with Khloé and Kourtney Kardashian in The Kardashians episode, Kim admits her relationship with Davidson is "normal," unlike what the general public expects. "I mean, it's obviously fun and funny," she said, adding:
"Everyone thinks it's a hysterical comedy show at all times. I'm like, 'No it's normal.'" 

Kim Kardashian, 'The Kardashians'
"Pete has got to be literally the best human being I've ever met," Kim continues. "[He has] the best heart." 
Kim admits Davidson is funny, but that's fourth on the list of why she likes him. She elaborates: "He always wants the best for people, can handle anything, always does it with grace, he's really really thoughtful and humble and genuine." As Kim admits to Khloé and Kourtney, she "never knew [she] could be so happy." 
Megan Fox thought Kim and Pete hanging out was a joke
As revealed in The Kardashians episode, Megan Fox texted Kim after she learned she was seeing Davidson. "After we got together and it was a thing, Megan Fox texted me and is like, 'Is this s*** for real because he asked me for your number months ago,'" Kim explains.
At the time, Fox told Davidson he had a better shot of her and Machine Gun Kelly "getting eaten by crocodiles" than ever getting Kim's number. Bet she feels silly now.
Watch new episodes of The Kardashians on Hulu every Thursday.
RELATED: 'The Kardashians': Brandon Bernard's Last Words Were With Kim Kardashian in 'This Is a Life or Death Situation'