Kim Kardashian's Stunning Oscars Party Dress Proved Challenging, But Was 'Worth It'
Kim Kardashian's 2020 Vanity Fair Oscars afterparty dress was beyond gorgeous and, in true Kardashian form, it was so extra that she couldn't even sit in it on the car ride to the event. The beautiful form-fitting gauzy ruffled gown has quite a story behind it, too.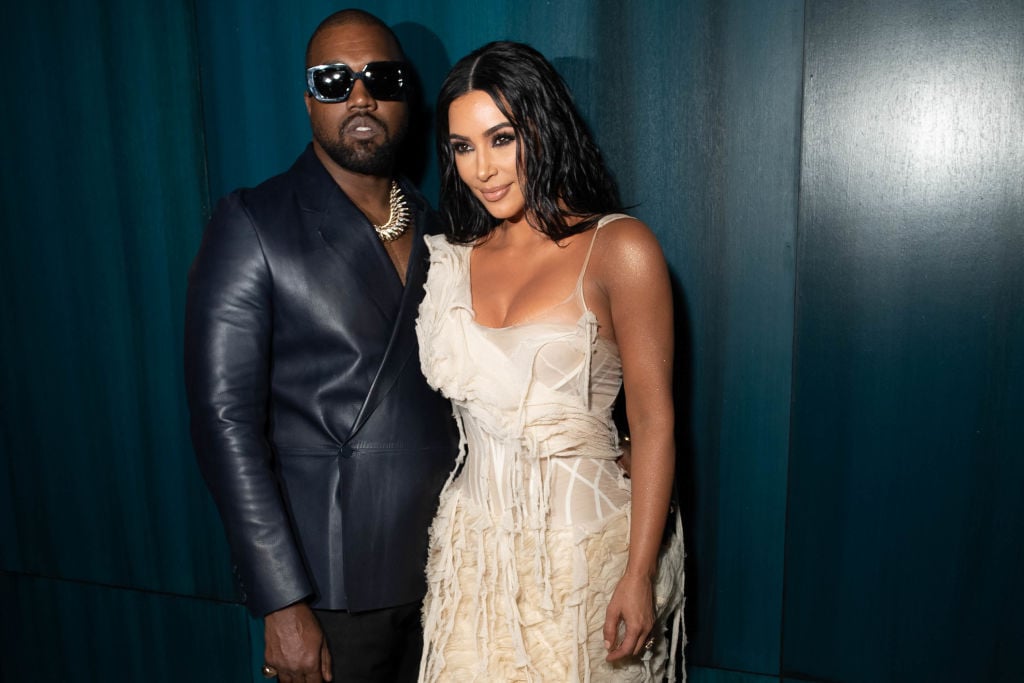 Kardashian's dress was a gift from Kanye West
Kardashian has had this stunning gown hanging in her closet since Christmas, when husband Kanye West gifted it to her — and it was the perfect choice for the event.
The vintage Alexander McQueen Oyster dress, Kardashian shared, was part of a number of things that Kanye filled her closet with. During an interview on the Vanity Fair red carpet, the Skims shapewear creator explained, "Kanye got me this for Christmas. He, for Christmas… kinda filled up my closet with some really vintage, spectacular museum-like pieces."
"I knew I had to wear it to something really special, and I didn't know what, so when we were talking about plans I was like, 'Oh my gosh, we have to do this for Oscar night,'" she added.
The dress is pretty special
The dress is so special, there are only two in existence — and one resides in a collection at the Metropolitan Museum of Art.
The design, according to Metropolitan Museum of Art curator Andrew Bolton, is "arguably the most important dress of the 21st century."
Further, according to the museum, the dress is described as "a poetic rendering of a disaster at sea," with the Metropolitan Museum of Art noting, "The hem of the skirt, like the wavy lip of a giant mollusk, further emphasizes the seashell quality of the gown."
The gown proved to be challenging
Kardashian suffered a bit by wearing the dress, sharing on her Instagram Story that she had to travel to the Oscars party laying down in the car in order to keep the dress perfect for the event.
She shared a video en route, explaining, "I literally have to lay down in the car, like I cannot sit up because my dress will rip or pop or something. But it's worth it — I'm a queen."
She had high praise for her glam team, sharing on Instagram that they "killed it," noting: "God I love my glam team!!!!!! Thank you @chrisappleton1 & @ash_kholm you killed it!!! Big thank you to your amazing assistants as well."
The beauty mogul shared that her rapper husband and the kids didn't watch the Oscars, explaining to E! News: "They were watching Spider-Man — that's what Saint [West] is into."
Kardashian also noted that one of her favorite parts of the awards show was Eminem's surprise performance of "Lose Yourself." "I thought it was amazing," she explained. "I loved when Eminem came out. I thought it was so cool that everyone knew all the words and was having such a good time."
The Vanity Fair party was a family affair
At the Vanity Fair party, Kardashian posed with sister Kylie Jenner, who shared a similar issue as her sister when it came to her fashion choice. "Couldn't really sit in this," Jenner wrote on Instagram, but also said it was "worth it."
Caitlyn Jenner was also at the event and she and Kardashian were able to catch up and share a hug.