Kim Kardashian West and Tia Mowry Have 1 Surprising Behavior in Common When it Comes to Their Kids
Parenting is no easy feat, and there are seem to be many universal struggles for moms and dads all around the world.
Kim Kardashian West and Tia Mowry both became parents several years ago, and the two ladies are still learning how to handle their growing children. Because of the coronavirus (COVID-19) pandemic, Kardashian West and Mowry are quarantining with their respective families. Surprisingly, they actually have a parenting behavior in common when it comes to their kids.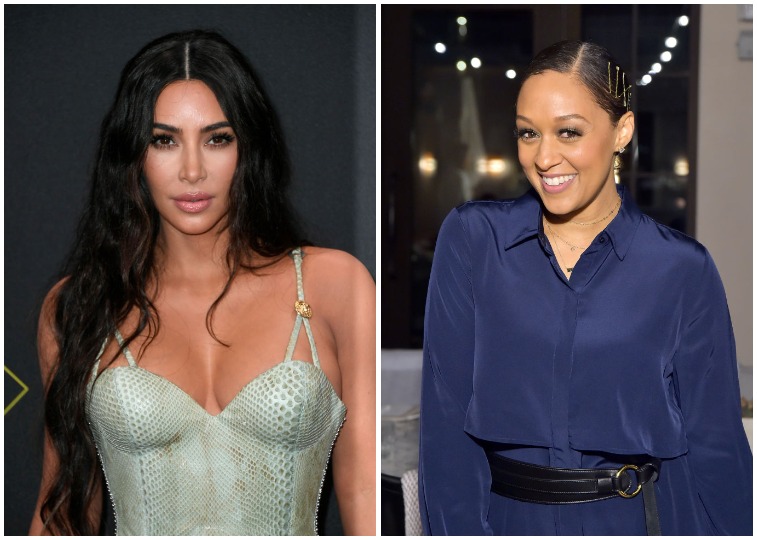 How many kids does Kim Kardashian West have?
Kardashian West is currently married to rapper Kanye West. The two of them met in the early 2000s and became friends. They started dating in 2012 shortly after Kardashian West ended her short marriage to Kris Humphries. Kardashian West and West tied the knot in 2014.
The couple has three children together: North (b. 2013), Saint (b. 2015), Chicago (b. 2018), and Psalm (b. 2019).
How many kids does Tia Mowry have?
Mowry is married to actor Cory Hardrict. They first met when Mowry and her twin sister, Tamera, decided to give Hardrict a ride after seeing him at a bus stop. Mowry and Hardrict admitted to taking things slow in their relationship, and they got engaged in 2006 after six years together. They tied the knot in 2008.
Today, they are raising two children: Cree (b. 2011) and Cairo (b. 2018).
What surprising behavior do Kim Kardashian West and Tia Mowry have in common?
Both Kardashian West and Mowry have been trying their best to juggle work and family responsibilities while in quarantine. However, sometimes things can get a bit too much for the two mothers, and at that point, they have one reaction in common: Going into hiding.
In April, Kardashian revealed in a makeup tutorial video she was hiding in a bathroom to get a few minutes of alone time.
"I'm hiding in the guest room, you guys. I'm hiding in the guest room because my kids will not leave me alone," Kardashian told viewers.
After six-year-old North said her comment "was mean," Kardashian responded: "North, can I please just do my little tutorial? It's all I want to do—is one little fun thing for myself."
Meanwhile, Mowry recently shared that she herself also used the hiding tactic to steal some moments to herself.
Speaking to Us Weekly, Mowry said: "I locked myself in the bathroom with a glass of wine. There's a picture of me on Instagram with a glass of wine. I was hiding from my children and my husband. So there have been many of those moments."
Mowry also admitted wine has been helping her get through the day. She would do "half a bottle every other day," but the 41-year-old has since tried to cut back because of her acid reflux problems.
Additionally, during her chat with Us Weekly, she shared a message to other moms out there who are finding themselves "overwhelmed."
"This is the first time you're being put in this situation," Mowry said. "It's normal for all of us to want to be the best mom that we can be, but you don't have to put too much pressure on yourself during this time because this is new. So don't judge others and don't judge yourself."