Kim Kardashian West's Eggplant Parmesan Recipe Has A Plant-Based Twist
Kim Kardashian West is known for her curvy figure and her ageless skin. For years, she has followed a plant-based diet and she has workout out with her trainer, Melissa Alcantara to maintain her figure. Now, she is sharing some of her favorite recipes, including her eggplant parmesan on her sister, Kourtney Kardashian's lifestyle website, Poosh.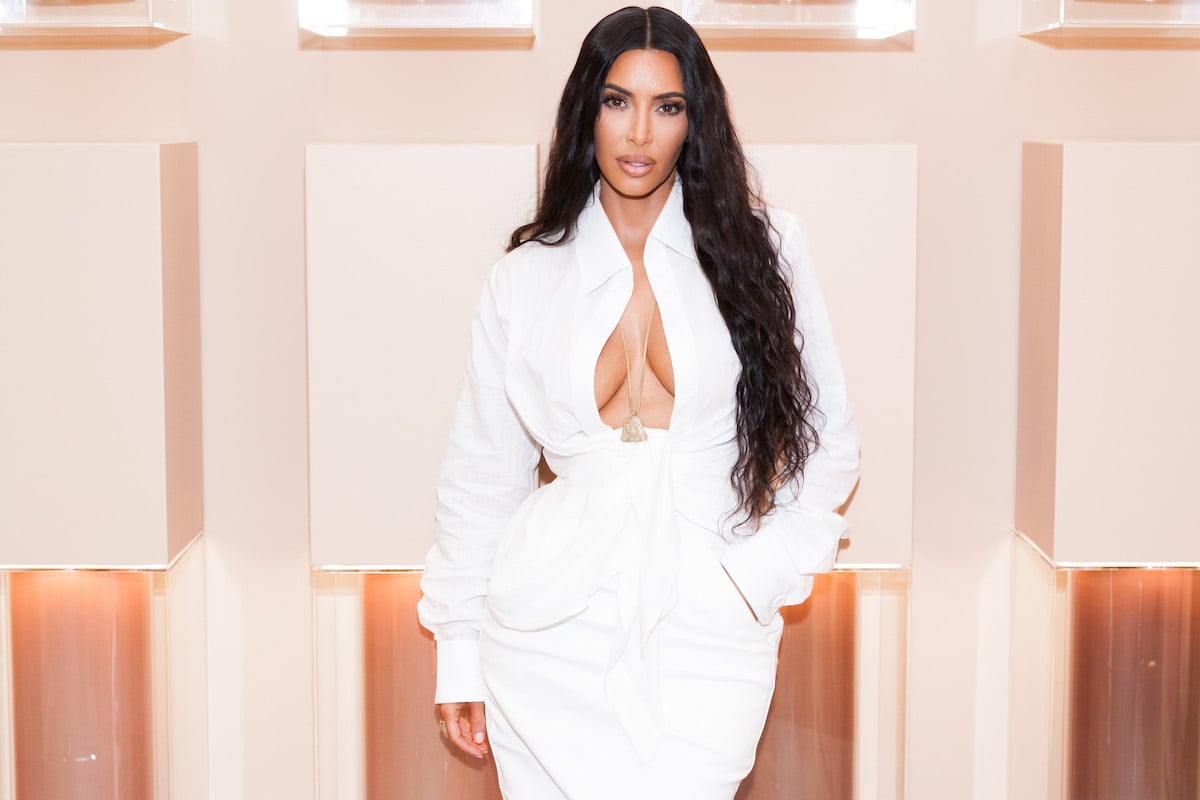 Is Kim Kardashian West vegan?
Though Kardashian West has been following a mostly plant-based diet since 2019, she is not a vegan. "I am eating all plant-based when I am home," she shared in 2019.
Though the Skims founder is concerned with her figure, she also switched her diet for health reasons. She overhauled her diet to minimize flare-ups of her psoriasis. Kardashian has been dealing with the autoimmune disease that commonly results in red patches on the skin for years.
With four children and several business ventures, Kardashian West doesn't have time to prepare her meals, vegan or otherwise. However, her personal chef, Marina Cunningham just shared Kardashian West's favorite eggplant parmesan recipe with Poosh.
Kim Kardashian West's eggplant parmesan ingredients
Though the KKW Beauty mogul's go-to eggplant parmesan dish is plant-based, their ingredients shouldn't be too hard to come by especially if you tend to make plant-based dishes already.
1 large eggplant
1/2 cup chickpea flour (or other GF flour)
1/2 cup JUST Egg
1/2 cup gluten-free panko
1/2 cup grated vegan parmesan
1/2 teaspoon salt
1/4 teaspoon black pepper
1/2 teaspoon garlic powder
1/2 teaspoon onion powder
2-3 tablespoons high-heat cooking oil
You might also choose to substitute the eggplant with zucchini if the eggplant simply doesn't do it for you. For another quick dish, feel free to slice your eggplant into strips to make eggplant fries.
Kim Kardashian West's eggplant parmesan instructions
To make the vegan, gluten-free, and soy-free dish, slice the eggplant into 1/2 inch rounds. It's easiest to use a circle cutter to then cut out the center of your rounds and remove the skin. However, if you don't have a circle cutter, you can easily just peel the eggplant before slicing it.
In a bowl add the chickpea flour. In a second bowl, add the JUST Egg and in the final bowl, add the panko, parmesan, and all of the seasonings. Make sure everything is well combined.
Next, take an eggplant round and coat it with chickpea flour. Be sure to shake off the excess and then place the round in the JUST Egg, coating it thoroughly. Finally, place the eggplant in the panko/parmesan mixture. Press the eggplant down, so the mixture sticks. Place the round on a wire rack and continue with the remaining eggplant rounds.
Heat the oil in a pan on medium heat. Add the rounds and cook until golden brown and crispy. It should take about 2-3 minutes per side. Return the cooked eggplant to the wire rack to dry.
Finally, top the rounds with more vegan parm and mozzarella. Broil them in the oven for a minute or two until the cheese has melted. This dish can be severed with vegan marinara sauce and top with fresh basil if desired.