Kim Kardashian West 'Fought Against' Wearing That Black 2021 Met Gala Outfit: 'Why Would I Want to Cover My Face?'
Kim Kardashian West's 2021 Met Gala look stood out from the crowd and became the subject of countless memes. Here's what the reality star recently said about the iconic outfit and how it relates to her billionaire status and the coronavirus (COVID-19) pandemic.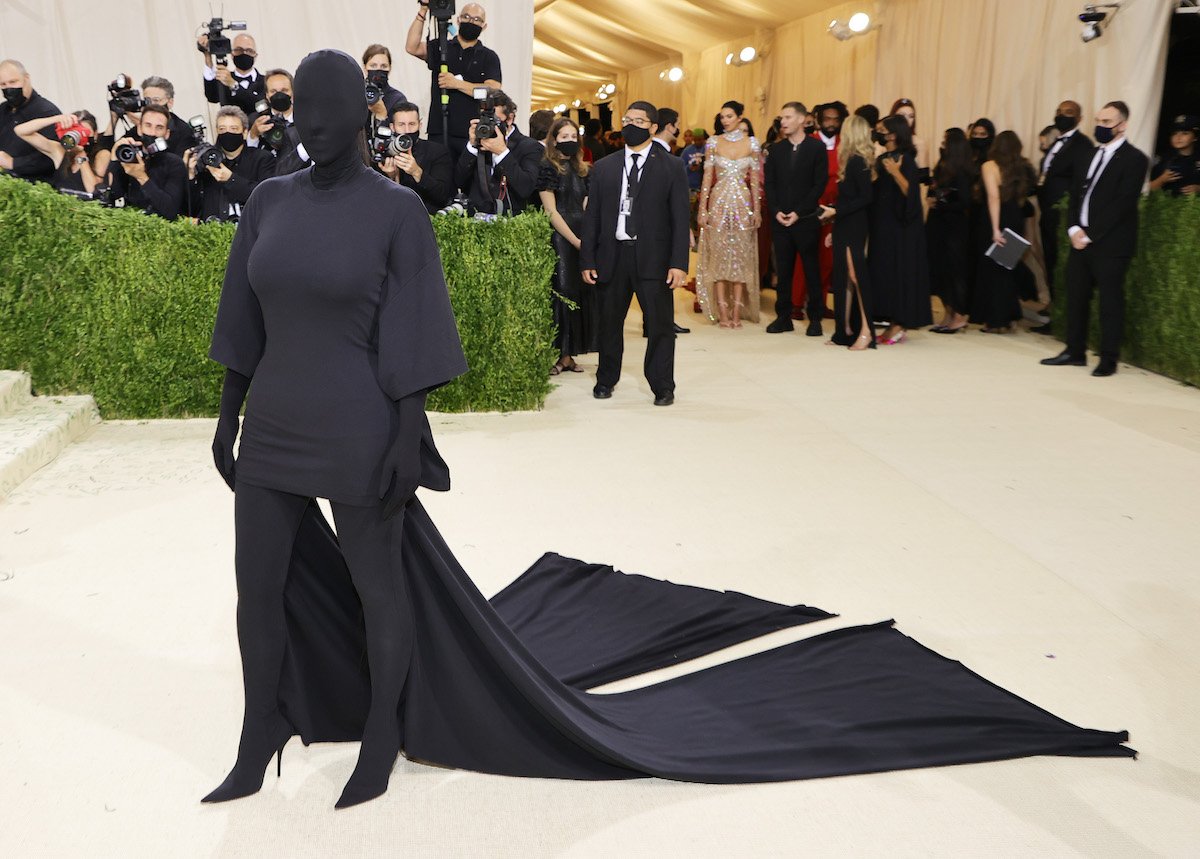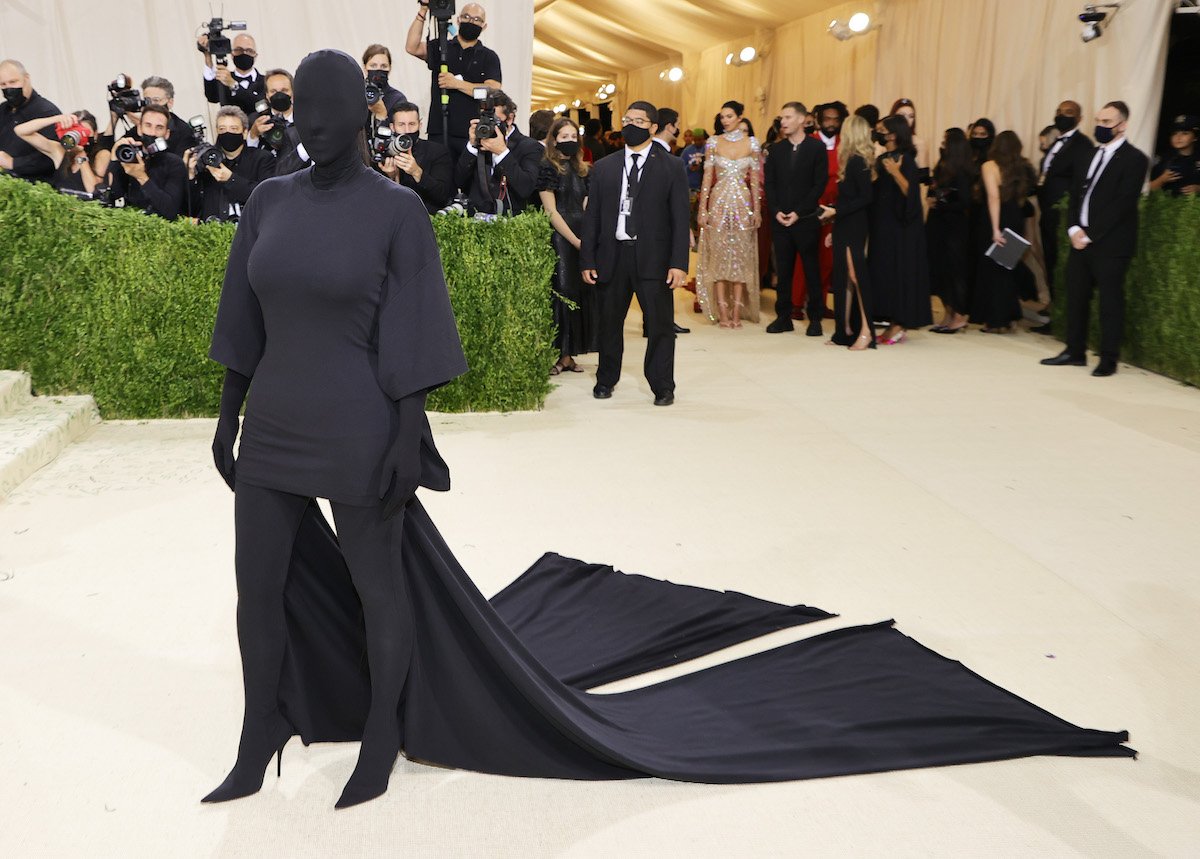 Kim Kardashian West revealed she 'fought against' wearing the masked outfit to the 2021 Met Gala
The Met Gala is one of fashion's most significant events of the year. The theme of 2021's Met Gala was "In America: A Lexicon of Fashion." In a sea of striking looks, reality star Kim Kardashian West managed to steal the show with a head-turning all-black outfit. 
Kardashian West dressed in head-to-toe black Balenciaga, including gloves and a full face covering. Not an inch of her skin was exposed, and the only part of her that showed through the ensemble was her long black ponytail streaming behind her. 
The shapewear mogul revealed to Vogue that she initially didn't want to wear the show-stopping look, particularly the mask. "I fought against it," Kardashian West said. "I was like, I don't know how I could wear the mask. Why would I want to cover my face?" 
But the reality star said she was convinced that the point of the event was to be on theme and make a statement rather than look pretty. "But Demna and the team were like, 'This is a costume gala,'" she described. "'This is not a Vanity Fair party where everyone looks beautiful. There's a theme and you have to wear the mask. That is the look.'"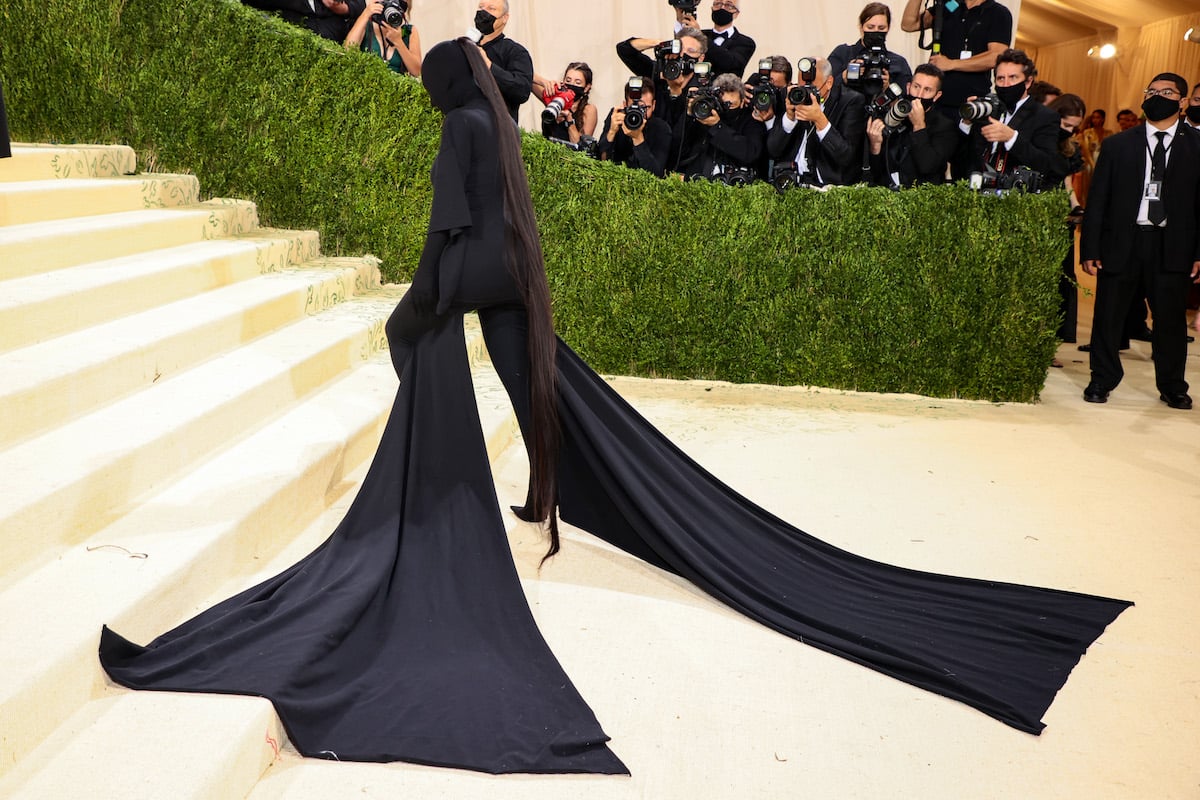 Kim Kardashian West's 2021 Met Gala outfit emphasized her silhouette, which has become an iconic image
Demna Gvasalia, the creative director of Balenciaga and co-founder of Vetements, accompanied Kim Kardashian West to the 2021 Met Gala in a matching head-to-toe black outfit.
Gvasalia commented on the look, saying that the mask was, "conceptually speaking, quite important." He explained that Kardashian's body is so recognizable that people didn't need to see her face, or even an inch of skin, to know it was the reality star wearing the mask. 
"People would know instantly it was Kim because of her silhouette," Gvasalia said. "They wouldn't even need to see her face, you know? And I think that's the whole power of her celebrity, that people wouldn't need to see her face to know it's her."
Kardashian West has even used her body as a mold to make the bottle for one of her KKW brand fragrances. In 2018, she tweeted a photo of herself covered in gray plaster-like material and captioned it, "We took a mold of my body and made it a perfume bottle." 
The reality star's mask outfit is ironic considering the coronavirus pandemic helped make her a billionaire
Forbes declared Kim Kardashian West a billionaire in 2021, the same year as her all-black Met Gala look. The publication noted that her net worth increased dramatically, by about $780 million, due to two of her businesses, KKW Beauty and SKIMS. 
The Vogue article about Kardashian West's Met Gala outfit mentioned that "there was something fitting about wearing a mask to the Met ball during a pandemic defined by mask-wearing," and it was even more fitting considering that the coronavirus pandemic helped make the Keeping Up with the Kardashians star a billionaire.
Her SKIMS loungewear line came out just in time for lockdowns. Everyone in the world was wearing pajamas since they couldn't leave home, and Kardashian West started selling loungewear in December 2019, just before the global lockdowns began. 
"The pandemic hit at like, our first or second drop of loungewear, and we had loungewear designed for the whole next year to drop," Kardashian West said (per Insider). "And it just happened to be the perfect time and the perfect storm of everyone staying home and wanting to just be a lot more comfortable."