Kim Kardashian West Just Gave Fans a Sneak Peek of How She Really Gets Her Famous Butt
Kim Kardashian West's body is an enigma. The 39-year-old model and beauty mogul has always sworn that she's never received plastic surgery on any part of her body, besides the fillers in her lips and face. Though that's hard to believe, we have to take her word for it. And Kardashian just gave fans a sneak peek of the one workout she does to maintain her insane figure.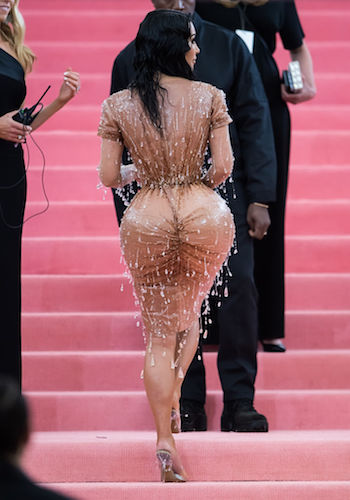 The Kardashian family loves working out
Ever since the Kardashians popped up on our television screens for the first time back in 2006, they've always let us in on their exercise routines. In episodes here and there, the Kardashian sisters can be seen waking up early and working out, sometimes for several hours at a time. Spending so much time in the spotlight means there is some pressure on the women to look a certain way, and Kardashian West has said in the past that she wakes up at 5:30 a.m. just to fit in a workout — and she goes hard at the gym for a full 90 minutes, six days per week.
Kardashian also follows a healthy diet
In addition to working out so often, Kardashian makes sure she's always putting healthy foods into her diet. According to Harper's Bazaar, Kardashian eats simple carbs before a workout, along with a little bit of fat and protein to help her perform her best in the gym. She also makes sure to incorporate vegetables into every one of her meals. Kardashian avoids foods that are processed (for the most part), though, like the rest of us, she needs a cheat day every now and then. 
She posted a video of her walking on a stair climber with ankle weights 
When it comes to Kardashian's figure, people have always wondered how the beauty mogul looks the way she does. There have been nonstop rumors that Kardashian gets plastic surgery, though she has always vehemently denied that she's ever gone under the knife for a procedure. At one point, she even had her butt x-rayed to prove it's real, though some have disputed that an x-ray is enough to prove that. But Kardashian does work out a lot, and if she was blessed with a curvy figure, it's definitely possible that she maintains it with intense workouts.
Kardashian recently posted a video of herself working out to her Instagram story — she was using a stair climber with ankle weights (a workout double-whammy), which was targeting her glutes. It's unclear how long she used the machine, but it's definitely a workout that could help improve the size of someone's rear, and it's likely how she maintains her hourglass figure.
Kardashian focuses more on weight training and less on cardio
When Kardashian hits the gym, she focuses on weight training. Her trainer, Melissa Alcantara, has Kardashian focus 85% of her workout on weight training and only 15% on cardio. This also explains how Kardashian has such a curvy figure, since she's clearly building those muscles as much as she can during her gym sessions. At the end of the day, it's nearly impossible to know if Kardashian's booty is actually natural, though that stair-climber workout is definitely a great way to grow it if it is.