Kim Kardashian West Has the Weirdest Christmas Traditions
Fans know that the Kardashian clan doesn't do things like everyone else. And there's no exception when it comes to holidays. These over-the-top entertainers have a unique way of throwing birthday parties and celebrating other milestones, including their totally strange Christmas traditions.
Kim Kardashian West recently shared several glimpses into her family's holiday celebrations and fans were very confused. But this should come as no surprise considering how bizarre Kardashian West's home décor is. Did we really expect her to deck the halls in red and green and buy her wrapping paper from the dollar store?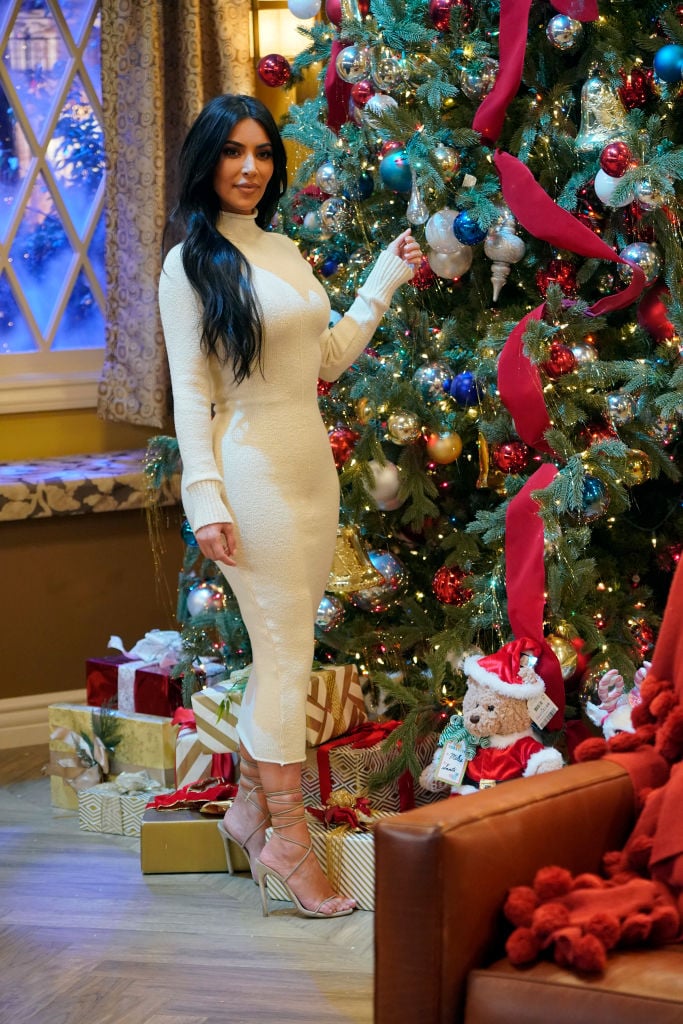 Her Christmas trees don't look like Christmas trees
This all started when Kardashian West showed off some of her Christmas decorations in her Hidden Hills home. While most people argue over colored versus white lights, at the Kardashian West household, weren't lights on some decorations at all.
Kardashian West shared the photos on Instagram in delight, saying the Christmas trees in her entryway looked, "so whimsical, like Whoville." But instead of looking festive and colorful, her trees were colorless and misshapen.
There was also a photo of a more traditional-looking tree decked out in white lights in the Kardashian West living room. But besides the green tree, all her decorations were monochromatic white, just like the rest of her décor.
Kardashian West's wrapping paper is colorless, too
Keeping with the non-colorful theme, it appears the Kardashian West gift wrap this year is also neutral-hued.
According to Today, each year the Kardashian clan family members choose a "color and vibe" for their wrap so everyone knows who the item came from. This year, the Kardashian West contingent is using "creamy velvet." And instead of wrapping paper, they're using fabric tied with a knot.
While some fans pointed out how eco-friendly this method is, others were confused by the look. As one Twitter user wrote, "Who told Kim Kardashian that it was cute to wrap gifts in bed sheets… she really tried it."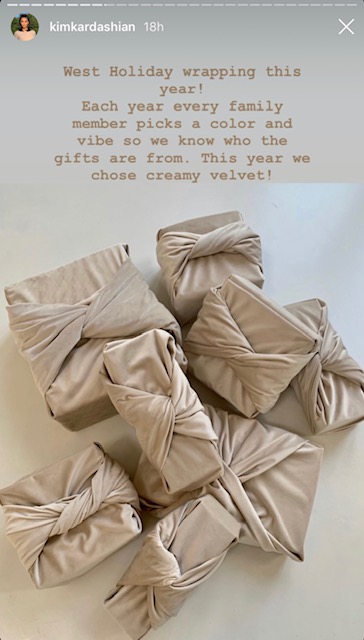 Their Christmas party is guaranteed to be extreme
Kris Jenner used to host the annual Kardashian family Christmas party. But a few years ago, Kim and Kanye took over the responsibility and definitely took their new role seriously. Last year, the couple spent an estimated $1.3 million creating the perfect Christmas party.
The festivities included a twinkling tunnel composed of 10,000 lights and mirrored floors. But the real expense came in with all the fake snow, which coated the yard and even allowed the California residents to go sleigh riding. It all made for a magical night that the family will be trying to outdo again this year.
A Kardashian West Christmas is always unique
It's worth noting that last year's celebration also included all-white Who-ville inspired trees and a white on white color scheme. At least Kardashian West's tastes are predictable.
And these Christmas parties aren't exactly small and intimate. Last year's guest list included 200 Kardashian Jenner friends such as Jennifer Lopez, Alex Rodriguez, Sia, Paris Hilton, Dave Chapelle, Kimora Lee Simmons, Tyler the Creator, and John Legend.
Kardashian West will have a hard time topping last year's party in 2019. But if anyone can do it, she can!