Kim Kardashian West Is 'Upset' With Kanye West for Putting Her on Blast at Campaign Rally, Report Says
As he embarks on a long-shot campaign for the 2020 presidential election, Kanye West held his first rally on July 19 in Charleston, South Carolina. The Yeezy designer, who announced his bid on the Fourth of July, stood in front of a small crowd as he rambled through various topics including abortion.
As West explained his pro-life stance, he revealed he and his wife, Kim Kardashian West, nearly aborted their eldest daughter, North. His remarks not only drew ire from fans who felt it wasn't his place to share that information, but also from Kardashian West, allegedly.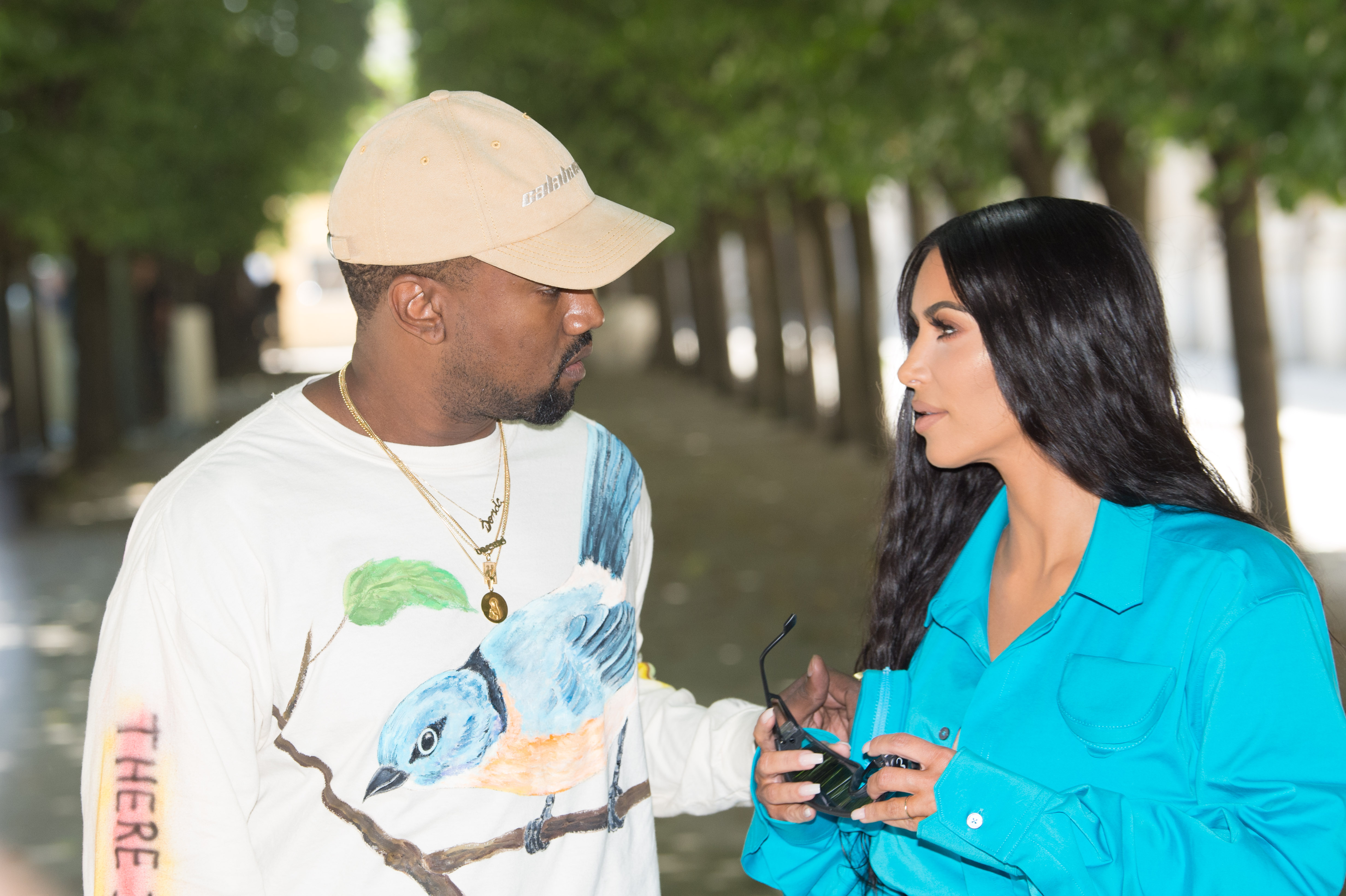 Kanye West's comments on abortion continued
Dressed in a bulletproof vest with "2020" carved into his hair, West made it clear that he does not agree with abortion. However, he noted that he didn't always have such beliefs, explaining he and Kardashian West considered having an abortion when she got pregnant with North in 2012. The couple had started dating earlier in the year when Kardashian West was going through a divorce from Kris Humphries, whom she married in August 2011.
"I remember my girlfriend called me screaming and crying," West recalled (via Billboard). "[Kim] said, 'I'm pregnant' … She said she was pregnant and for one month, and two months, and three months we talked about her not having this child. She had the pills in her hand."
Detailing the days after learning of the pregnancy, West noted he was "in the [Paris] apartment where my wife was actually robbed" when "the screen went black and white and God said, 'If you f*ck with my vision, I'm gonna f*ck with yours. And I called my wife, and she said, 'We're gonna have this baby.' I said, 'We're gonna have this child.'" West broke down as he admitted, "I almost killed my daughter."
The pair went on to welcome North on June 15, 2013 — just days after Kardashian West's divorce was finalized. They married the following June and have since welcomed three more children: Saint, 4, Chicago, 2, and Psalm, 1.
Sources say Kim Kardashian West is not happy with Kanye West's comments
Insiders told TMZ and Entertainment Tonight the remarks left Kardashian West "upset."
"Kanye isn't in a good place and isn't listening to anyone trying to talk him into getting help," the Entertainment Tonight source said, seeming to refer to reports that West is allegedly struggling with his bipolar disorder.
"Kim is upset with Kanye for his rants yesterday, especially talking about the possibility of having an abortion and not giving birth to North," the source continued. "She knows this is something North will see when she gets older and that's heartbreaking."
Kardashian West herself has yet to comment on the matter.
The reality star had previously expressed her support for her husband's presidential bid, quote-tweeting his announcement with an emoji of the American flag. However, the Entertainment Tonight source suggested that may no longer be the case.
"At the end of the day people close to Kanye want him to end this presidential run now before he does more damage to himself, his brand, and the family," said the insider.
West has not addressed the report.