Kim Kardashian West Jokes That She's Done Having Kids After Self-Quarantining With Her Family
Just like many other parents out there, Kim Kardashian West is feeling worn down after spending days in isolation with her husband Kanye West, and their four children.
Juggling four kids on an average day is tough, but doing so while quarantined is just plain exhausting.
Just like many other parents out there, Kim Kardashian West is feeling worn down after spending days in isolation with her husband, Kanye West, and their four children.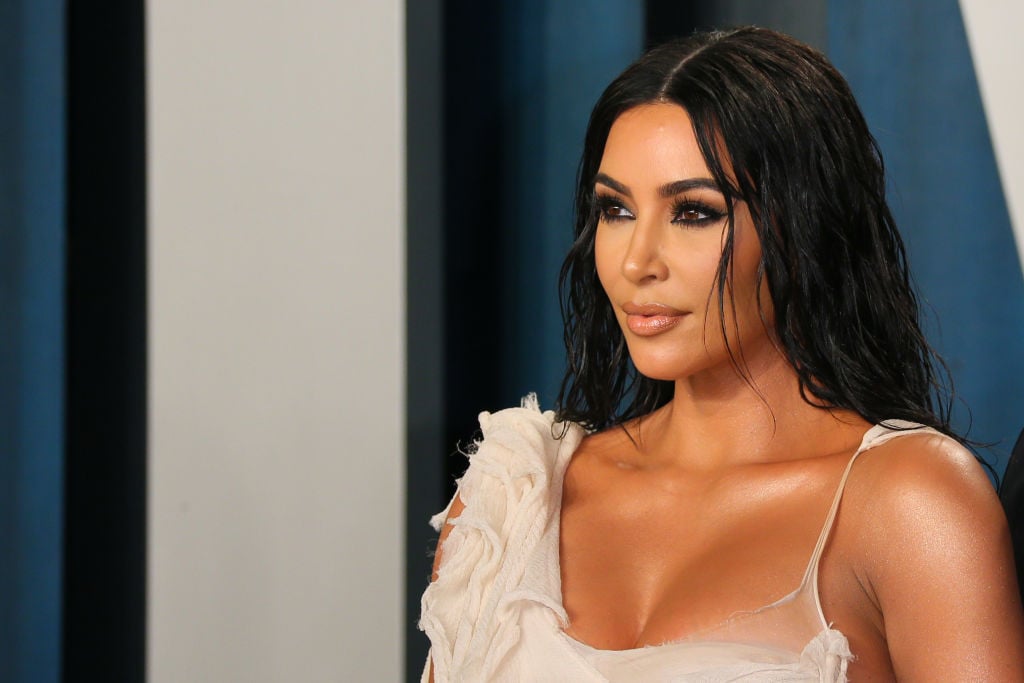 While the reality star has enjoyed spending quality time with her family, being at home all day with her little ones has been tough. So much so that Kardashian's no longer considering the idea of having more children in the future.
Kardashian admits that parenting has been a challenge lately
Kardashian West may love her kids tremendously, but even they tend to drive her crazy at times.
During a recent video interview with The View, the Keeping Up With the Kardashians star opened up about being quarantined with four little ones during this government-mandated lockdown.
She even joked that she's done having kids after spending days in isolation with North, 6, Saint, 4, Chicago, 2, and Psalm, 10-months.
"Being at home with four kids — if I ever thought for a minute that I wanted another one, that is out the door," she told The View co-host, Whoopi Goldberg. "It's really tough. It's really tough."
Though social distancing with four kids is no a walk in the park, Kardashian admits that she's enjoyed the quality time she's gotten to spend with her family during this coronavirus pandemic.
"I actually love that time because we do travel so much in our regular world that this has been [great.] I think the family bonding part of it all — [we're] going on walks outside [and] watched every single movie you could possibly imagine," she shared. "I've been showing the kids all these '80s movies like Harry and the Hendersons and stuff that they wouldn't watch."
Kardashian added, "It's so much fun, so I love all the family bonding stuff. But I've been doing laundry and cooking and the kids just got on spring break, thank god. Being their teacher too … [I have] newfound respect for teachers. They deserve so much. It's been tough juggling it all. You really have to put yourself on the back burner and just focus on the kids."
Kardashian and her kids have been keeping busy
Although being home all day has been a tough adjustment for many people, Kardashian and her family have been making the most out of their time together.
In addition to watching movies and running around in their yard, the West clan has also been having fun doing educational activities together, even though the kids are wearing Kardashian West down.
"To be the teacher to [two] young kids … is, like, insanity," the SKIMS founder said while appearing on The Tonight Show Starring Jimmy Fallon: At Home Edition. "I'm hiding from them. They have to stop for P.E. to go run up and down the backyard. They do this, like, Pokemon yoga or princess yoga. It's insane."
When the little ones aren't learning, they "love to make forts, so every room in the house is a different fort." They also enjoy binging their favorite movies, which lately has been the Disney Pixar film Onward while they wait anxiously for Trolls World Tour to be released.
The reality star admits that being away from the rest of her family's been difficult
Though she loves being able to spend quality time with her children, Kardashian West says it's hard being away from her close-knit family.
While she's had to opportunity to see sister Kylie Jenner and mom Kris Jenner during this period, the KKW moguls says that everyone in the family still misses being around each other daily.
"Our kids haven't seen each other — the cousins haven't played together, so that's been very different for them too," she told Goldberg during their interview. "We're so close, we're so used to hanging out."
Although they are taking social distancing very seriously, Kardashian says that she and her family still see each other often — via video chats.
"We do Zoom dinners where we all make our plate and get on. We're on a group family chat all the time, FaceTiming my grandma, my sisters," the reality star added.
While it hasn't been easy for anyone being separated from their loved ones, many people — especially the Kardashians — continue to follow safe practices to stop the spreading of the coronavirus. And by doing this, hopefully we'll all get back to our normal lives sooner rather than later.