Kim Kardashian West Just Forced Scott Disick To Try One Of Her Vegan Tacos — And Recorded It
The Kardashians care a lot about the foods they put into their bodies. Their fans often joke about the number of salads the women eat on the show. But Kim Kardashian West recently told fans she now only eats a plant-based diet, though it seems that Scott Disick wasn't totally on board. And to prove that her family's vegan tacos are actually as good as she says, she made him try some.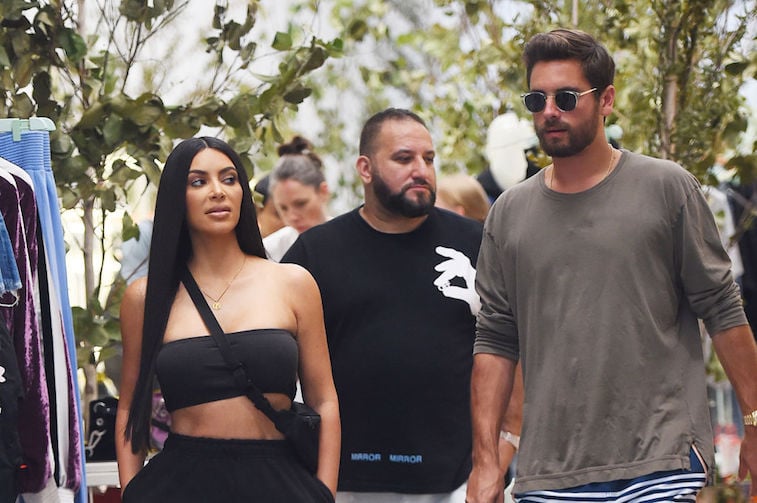 The Kardashians have gone through many diet fads
Since the Kardashians' show premiered back in 2007, their fame has only grown. And the women have worked hard to keep up their physical image in terms of both working out and eating healthy. At this point, they've tried many different types of diets. Kourtney Kardashian has tried cutting out both gluten and dairy, and Kardashian West now only eats plant-based foods.
The women have come under fire for promoting different diet trends and products that are not FDA approved, though those posts have become less frequent since the women were called out on their potentially dangerous partnerships.  
Kardashian West once showed off her plant-based refrigerator
Kardashian West hasn't always been plant based. It's a switch she made fairly recently, but having a personal chef most likely helps her and her kids stick with the diet. Kardashian introduced fans to her personal chef, Marina, when she showed off her massive walk-in refrigerator after fans gave her heat for posting a photo with a refrigerator that only contained milk and very few other beverages.
Some fans accused Kardashian West of not feeding her kids once they saw the photo, which prompted her to give a massive tour of her real refrigerator, which was the size of a walk-in closet and contained all different kinds of healthy foods.
Scott Disick finally tried one of Kardashian West's favorite vegan tacos
Kardashian West has raved about vegan tacos in the past (in fact, they were on the menu the day she gave her refrigerator tour), but there was one person who wasn't convinced: Scott Disick. On Feb. 13, Kardashian finally sat Disick down and forced him to try the tacos — and documented it on her Instagram story. The recipe was posted to poosh.com, Kourtney Kardashian's website, and was created by Kardashian West's chef.
On the surface, the tacos looked no different than any other tacos, and Disick had to admit they were much better than he thought they'd be. "I would have to say this is one of the best tacos I've ever had, Disick said. "It tastes real." Kardashian West was definitely thrilled that he was a fan and told fans to swipe up and find the recipe on her sister's website. The recipe contains Beyond plant-based "beef," and many people who are neither vegetarian nor vegan love the Beyond products; they've become a massive trend. It's clear that Kardashian West has turned Disick, who eats dairy free but isn't a vegan, into a Beyond fan.