Kim Kardashian West Just Posted Some Amazing Throwback Photos For Paris Hilton's Birthday
Kim Kardashian West first rose to fame as one of Paris Hilton's best friends. The Kardashian family gained notoriety from Robert Kardashian's role in O.J. Simpson's murder trial, but the family grew up in a very affluent part of Beverly Hills. This is where Kardashian West met Hilton, and the two have been close friends they were young.
Kardashian West and Hilton have had some ups and downs in their friendship, but the Skims founder just posted some amazing throwback pictures in honor of Hilton's birthday.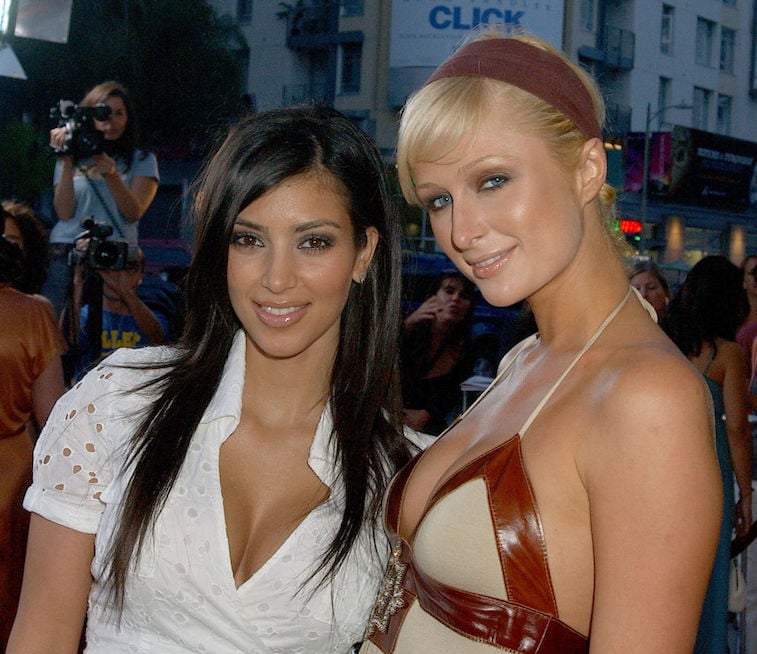 Kim Kardashian West and Paris Hilton met when they were young kids
The timeline of Kardashian West and Hilton's friendship isn't entirely clear because nobody actually knows when they first met. There have been rumors the two went to preschool together, but all Hilton has ever said is that they were introduced when they were "little girls."
Hilton, whose family founded the massive Hilton hotel chain, grew up with the same California lifestyle as Kardashian West. It makes sense that these two crossed paths at some point, though we may never know exactly when.
Some credit Hilton for Kardashian West's fame
Plenty of people have said that if it weren't for Hilton, Kardashian West wouldn't be famous. Robert Kardashian became a well-known lawyer after he sat on O.J. Simpson's defense team in the 1990s, but by that point, Hilton and Kardashian West already knew each other. As the two girls got older, the hotel heiress hired Kardashian West to organize her closet. It was one of the KKW Beauty founder's first jobs, and it essentially set the stage for the rest of her fame.  
Kardashian West posted some great throwbacks for Hilton's birthday
On Feb. 17, Kardashian West honored her first best friend with some hilarious throwback photos from when the two were years younger. The two started hanging out in the early 2000s, and the photos Kardashian West posted are probably from somewhere between 2006 and 2008 — and the outfits make that clear.
In one photo, both women are walking around with matching metallic Louis Vuitton bags. The other photo shows the women wearing shiny dresses and sporting mini handbags. "Happy birthday Paris Hilton!!! Love you," Kardashian wrote in the first photo of the slideshow (the first photo was a present-day image).
The two have worked to rebuild their friendship
Though Kardashian West and Hilton are on great terms now, that wasn't always the case. Sometime around 2008, Hilton made negative comments toward Kardashian, suggesting the two had had some sort of falling out. And three years later, things still weren't patched up. Kardashian West told Harper's Bazaar in 2011 that she and Hilton "don't really talk."
In 2014, though, fans were shocked that Kardashian West posted a photo catching up with Hilton. It appeared the two women had recovered from whatever drama plagued them several years earlier. And these days, they're close friends once more. Hilton even attended the Kardashian family's famous Christmas Eve party last year. It's nice to see that the childhood friends have worked out their problems.