Kim Kardashian West and Pete Davidson's Dinner Has 'Jersey Shore' Fans Saying She 'Displaced' Angelina Larangeira
When Kim Kardashian West hosted Saturday Night Live, she kissed Pete Davidson in an Aladdin-themed skit. Now, thanks to two public sightings, many people think Kardashian West and Davidson are an item. After the paparazzi caught Kardashian West in Staten Island on Nov. 2, Jersey Shore fans had a lot to say about the KKW Beauty mogul de-throning Jersey Shore star Angelina Larangeira from her self-proclaimed title.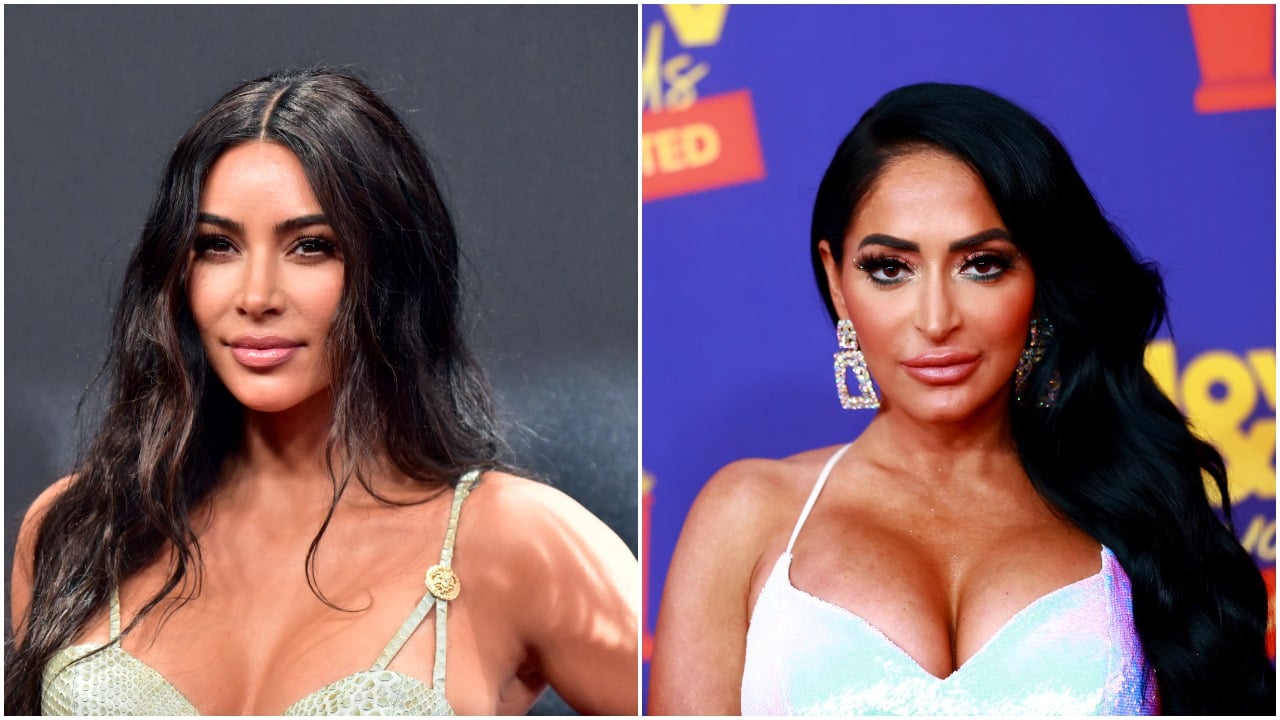 Kim Kardashian West and Pete Davidson's rumored private dinner in Staten Island 
On Oct. 29, the Saturday Night Live comedian was spotted with Kardashian West at Knott's Berry Farm in Orange County, California. Kourtney Kardashian and her fiancé Travis Barker were also present for the Halloween festivities. There, Kardashian West and Davidson were spotted cuddling close and holding hands on a roller coaster. 
A few days later, Kardashian West was seen in New York, where Davidson lives. They had dinner at Campania, a restaurant in Staten Island on Nov. 2, according to Page Six. 
Kim Kardashian West is dubbed the 'Queen of Staten Island' 
On Nov. 3, Vulture published an article titled "Kim Kardashian Is Now the Queen of Staten Island." Jersey Shore fans took notice. 
The Vulture article summarizes Davidson and Kardashian West's evening together, complete with rooftop dining and breathtaking views. But it's the title of the article that has Jersey Shore fans talking. 
"The day I never [thought] we'd ever see: Angelina displaced as the 'Kim Kardashian of Staten Island,'" a fan shares on Reddit. "Kim Kardashian is the Kim Kardashian of Staten Island!!" another fan replied. 
Others cited one of Vinny Guadagnino's infamous Jersey Shore quotes. "Angelina was always the Rob Kardashian of Staten Island anyway," reads another comment. 
Angelina Larangeira calls herself the 'Kim Kardashian of Staten Island' 
When Larangeira joined the cast of Jersey Shore, she described herself as the "Kim Kardashian of Staten Island" to producers and castmates. "Everybody tells me that I look like Kim Kardashian because I have the swagger like her, I look like her," she says in her casting tape for the MTV reality series. 
"More like the Rob Kardashian of Staten Island," Guadagnino interjects in a video where he, Larangeira, and Pauly DelVecchio react to the casting footage. The show's cast often made fun of Larangeira for her nickname, even twisting the term to mock her in the Miami season of Jersey Shore. After sleeping with Larangeira, DelVecchio tells Guadagnino: "We heard you like to visit the Staten Island dump this time of year." 
Are Pete Davidson and Kim Kardashian West together?
Kardashian West nor Davidson has commented publicly regarding their relationship. But according to a source: "Pete and Kim have been enjoying their time together and are having fun. Both are recently single and have bonded over that" (via Entertainment Tonight). 
Another source revealed that Kardashian West and Davidson "like each other" and are "trying to pretend that they are just friends." This source says "it's a little more than that right now," adding: 
"They're having a lot of fun together. Pete makes Kim laugh and makes her feel special. Pete is obviously thrilled and has a major crush on Kim."
Until Kardashian West confirms her relationship status with Davidson, Larangeira remains the "Kim Kardashian of Staten Island." Stay tuned to Showbiz Cheat Sheet for updates on Kardashian West and Davidson's relationship.