Kim Kardashian West's Plastic Surgeons Reveal How the Pandemic Has Impacted Her Appearance
Kim Kardashian West's appearance has changed a lot through the years, and it's in part due to the fillers she consistently receives. Now, though, celebrities have been forced to abide by the stay-at-home order, as most nonessential businesses around the country have been closed. And yes, that includes plastic surgery offices. So how is Kardashian West's face faring during coronavirus?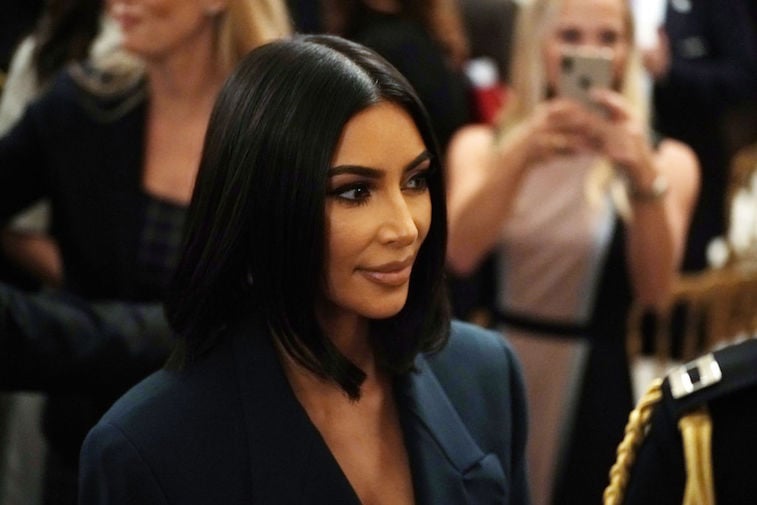 Kim Kardashian West receives fillers in her face to alter her appearance
When Kardashian West first rose to fame, she hadn't had nearly as much work done to her face as she has now. In one early episode of Keeping Up With the Kardashians, Kardashian vowed not to have any Botox treatments until she was 40. But clearly, that hasn't been the case.
Kardashian has been fairly open about her fillers; she receives them in both her lips and face. But she's always denied ever having any alterations made to her butt.
She says she's never technically had plastic surgery
Though Kardashian West is a fan of fillers, she vehemently denies having had any true plastic surgery. She claims she's never gone under the knife (the only daughter to admit to plastic surgery is Kourtney Kardashian, who has breast implants).
Kardashian even once had a butt X-Ray on television to confirm to fans that there were no implants. However, some experts argued that, depending on the type of implants Kardashian received (if any), they might not show up in an X-Ray.  
Kardashian West's doctors said the timing was just right for the pandemic
These days, Kardashian West is staying home just like the rest of us. But that also means that she's not keeping up with the Botox treatments she normally needs to keep her face looking the way it does. And now, celebrity doctors are weighing in.
"… For my patients, we were in the trenches anyway because of the seasons coming up. Awards seasons, the Met Gala, Cannes Film Festival, these kinds of things," plastic surgeon Dr. Jason Diamond told Vanity Fair. Diamond meant that many celebrities had received their procedures just before the lockdown went into place due to the upcoming events, which meant most of them, likely including Kardashian West, wouldn't need another treatment for six to 12 months.
Dr. Harold Lancer, Kardashian West's dermatologist, told Page Six that standard Botox treatments last about four months. Though it's unclear when Kardashian West's last treatment was, should California extend its lockdown another three months (which is on the table), she most certainly would be overdue for a treatment.
If the pandemic lasts longer than planned, celebrities might start to struggle
Right now, the country has been on lockdown for about two months, depending on the location. And Los Angeles has already suggested its lockdown could continue for another three months. That would mean that for celebrities who rely on Botox, the fillers could fade before the lockdown lifts. And that might be when they start to struggle.
It still remains unclear exactly how long the stay-at-home order will last. But for Kardashian West, time will eventually run out unless the lockdown lifts soon.