Kim Kardashian West Posts A Surprising Message for Tristan Thompson's Birthday
Happy Birthday, Tristan Thompson! The NBA star turned 29 on March 13, with many fans and peers reaching out on social media to send him sweet birthday messages.
Among those who spoke out was Kim Kardashian West, who we know hasn't always seen eye-to-eye with her sister's ex-boyfriend. However, she kept it really cute and casual and showed that she has truly moved on from their drama.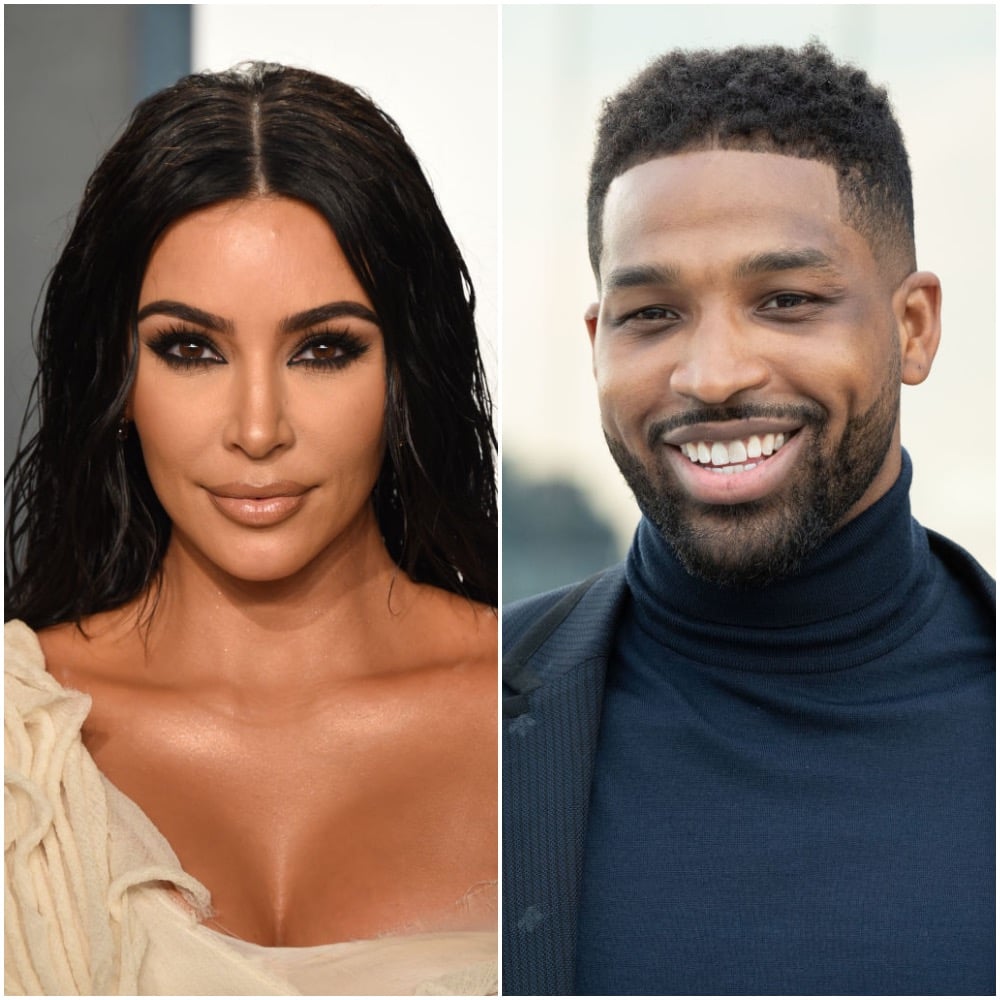 Kim Kardashian West's birthday message for Tristan Thompson
The KKW Beauty mogul took to her Instagram Story to share of photo of herself cheering on Thompson when his team, The Cleveland Cavaliers, played against The Los Angeles Lakers back in January.
"Happy Birthday @RealTristan13!!!" Kardashian West captioned the photo. "Cheering loud for you today! Can't wait to celebrate soon!"
Kardashian West was previously accused of booing Thompson at the game, but she shut those rumors down in a preview clip for the upcoming season of Keeping Up with the Kardashians, which premieres on March 26.
"I was literally up going, 'Go, Tristan! Woo! Go, Tristan, Go!'" she explained in a chat with Khloé, who dated Thompson from mid-2016 to early 2019. "Like, embarrassing myself and like, LeBron James right there and all the Lakers."
The mother-of-four has put her best foot forward to make amends with Thompson following his February 2019 cheating scandal with family friend Jordyn Woods. Initially, she limited her interaction with the NBA star, but once he blocked her on social media, she came to realize how petty the beef was and started trying to patch things up.
Would Kim Kardashian West support a reconciliation between Khloé Kardashian and Tristan Thompson?
While many fans have yet to forgive Thompson for stepping out on Khloé, a source told HollywoodLife on Feb. 14 that Kardashian West and her family have totally moved on. So if he happens to get back with Khloé, they'll respect and support that decision.
"Kim [Kardashian West] and the rest of the family want to send occasional olive branches because, as mad as they all were when he hurt Khloé, they all know that Tristan needs to be in True's life," the source added, referring to Khloé and Thompson's daughter, who was born on April 12, 2018.
"To help facilitate that they choose to treat him well and support him by inviting him to dinners or watching his games," the insider continued. "Kim is all about giving people second chances and, whether or not Khloé and Tristan get back together, she wants to make sure the father of her niece is getting respect from the family, especially if he is trying to be better himself."
Khloé Kardashian is reportedly on the fence about getting back together
When the cheating scandal happened, Khloé stressed that she was done with Thompson, who also allegedly got cheating just days before she gave birth to their daughter. She never faltered from that position publicly, but a source told Hollywood Life in January that they had been "talking more" and trying to get on better terms.
"Khloé and Tristan are taking things extremely slow and just talking more," the source explained. "They are not at all back together, but are taking small steps to see if they can get there. They are not trying for a baby at all right now. Everything they're doing is at an extremely slow pace. They're talking and communicating a lot more and often. It seems they'd both like to try to make things work."
Who knows what the future holds for these two when it comes to a possible reconciliation. But it seems that they will always have love for each other, regardless of the outcome.
Read more: Tristan Thompson Claims That Khloé Kardashian Used His Cheating Scandal as a PR Stunt