Kim Kardashian West Says Daughter North West Is 'Running the House' Amidst Coronavirus Pandemic
North West has officially taken over the Kardashian-West household.
We always knew that the six-year-old was a natural-born leader, and she's currently proving us right by "running the house" while the West clan practices social distancing.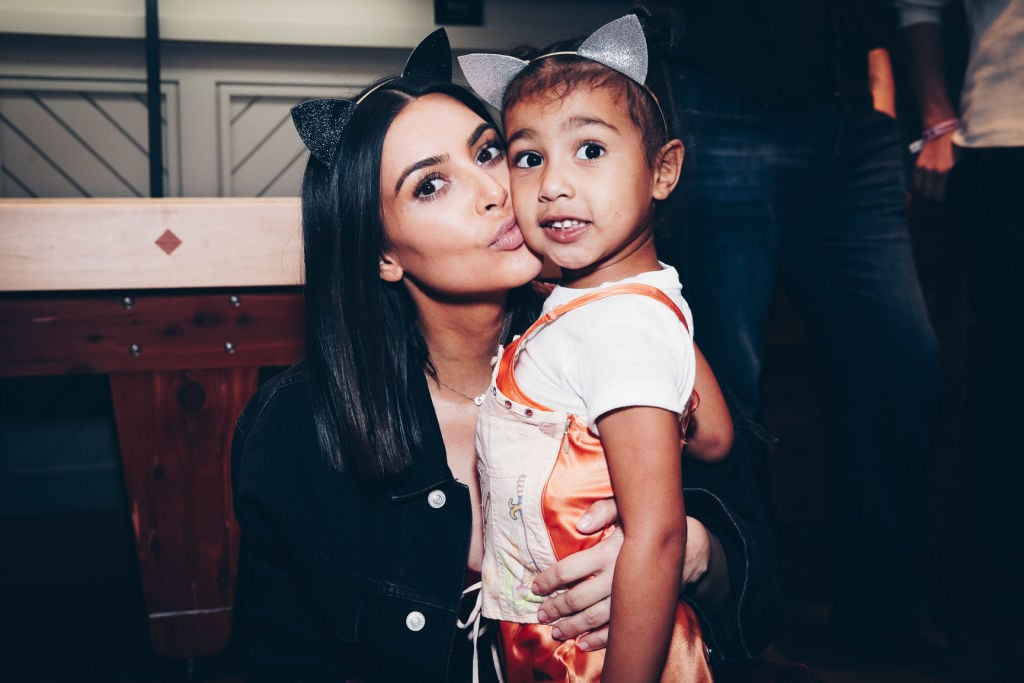 But despite North being in charge during this self-imposed quarantine, Kim Kardashian West still tries to maintain control of her home — you know, when she's not hiding from her kids.
Being at home with her kids has been an adjustment for Kardashian
Being on lockdown with children is no easy task, and Kardashian West can definitely vouch for that.
While self-isolating with her four kids and her husband, Kanye West, the KKW mogul has been pretty overwhelmed.
Though she tries to get away from her little ones for a much-needed breather every now and again, as fans have seen, she hasn't been too successful lately.
But finding time for herself has been even more difficult now that the oldest West child, North, has taken over the household.
During a recent interview with Refinery29, the Keeping Up With the Kardashians star revealed, "I can't get away from her. She's running the house, or so she thinks she is."
Though she loves being a mom and has enjoyed spending quality time with her kids amid the coronavirus pandemic, Kardashian hasn't been able to sneak away from her kids — especially North West — for some "me" time.
And based on Kardashian's "Quarantine Glam" tutorial posted on Apr. 10, it's pretty apparent that she can't do fun things for herself without the fiery six-year-old getting involved.
"I'm hiding in the guest room because my kids will not leave me alone," Kardashian said before North, who was lingering by, said off-camera, "Hey, that's mean!"
Kardashian then pleads with her daughter while also trying not to laugh, saying, "North, can I please just do my little tutorial? It's all I want to do, it's one little fun thing for myself."
North clearly didn't heed her mom's pleas because, just recently, she hilariously interrupted the reality star's PSA about the importance of social distancing.
"Trust me, I want to get out—more than you know. It's really important to always do mental health checks on your friends and your loved ones," Kardashian said with North quipping back, "You should be more busy of your kids, not your friends."
Kardashian's kids are keeping her on her toes
While quarantining with her kids, Kardashian's days have been filled with homeschooling and doing fun activities with the little ones.
Since she's constantly keeping her four children entertained amid self-isolation, the reality star hasn't been able to just enjoy time to herself.
"Being their teacher too … [I have] newfound respect for teachers," the KUWTK star told the hosts of The View in March 2020. "They deserve so much. It's been tough juggling it all. You really have to put yourself on the back burner and just focus on the kids."
But despite not being able to get a break from her little ones, The SKIMS founder says that being on lockdown has allowed her to bond with her family, which is something she's enjoyed.
"I actually love that time because we do travel so much in our regular world that this has been [great]," she explained. "I think the family bonding part of it all — [we're] going on walks outside [and we've] watched every single movie you could possibly imagine."
Though being at home with four kids has its pros and cons, there's no doubt that Kardashian — and all the other parents out there — are ready for this lockdown to be over.