Kim Kardashian West Slammed by Fans for Describing a Solid Black Face Mask on an African American Model as 'Nude'
As the coronavirus pandemic continues, Kim Kardashian West has expanded her SKIMS line to include face masks that can help people stay protected. She announced on May 16 that the masks would come in five nude colors along with a campaign showing the items on models of various skin tones. But fans have a major issue with an African American model being placed in a solid black mask described as "nude."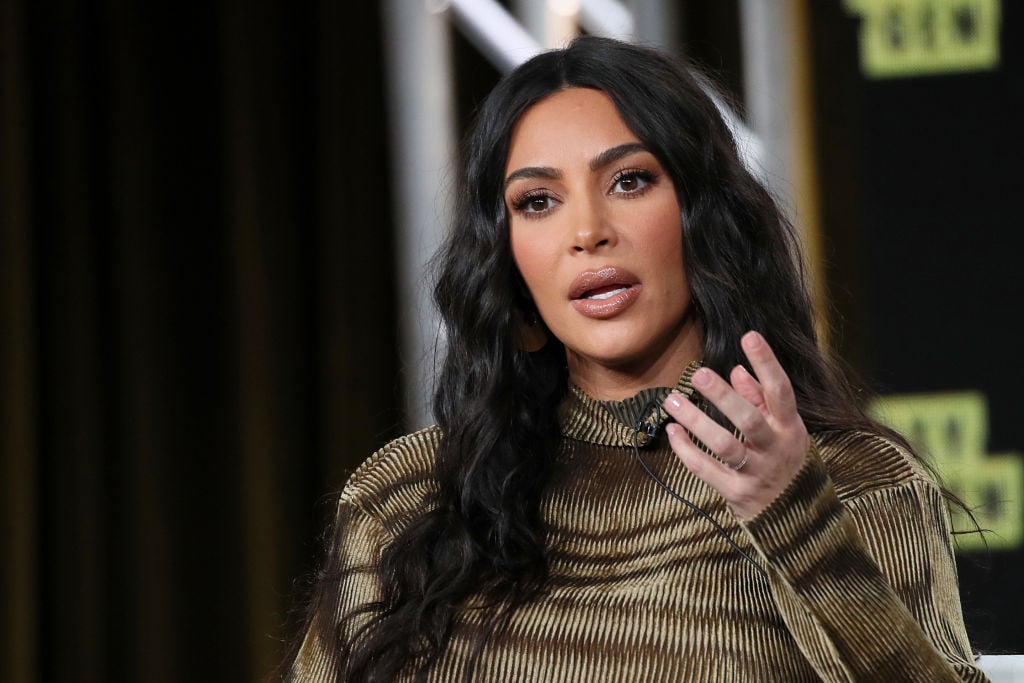 More on Kim Kardashian West's latest SKIMS release
Kardashian West took to both Twitter and Instagram to announce the launch of the masks. The SKIMS website says they are non-medical grade masks, presumably made from the same material as SKIMS' signature shapewear. The items "will not eliminate the risk of contracting disease or infection." However, they can "reduce exposure to dust, allergens, germs, and bodily fluids."
While promoting the garments, Kardashian West shared photos on Twitter of several models wearing them. A lot of the masks are almost the same shade as many skin colors. But one is literally black — and an African American model was used to highlight it.
Fans reactions to the SKIMS masks
As you can imagine, people are seriously enraged by this. Hitting the comment section, critics sounded off and expressed their frustrations with that particular mask.
"The nude shade for the Black model is inaccurate, offensive, and culturally out of touch," read one tweet.
"The color black isn't nude for black people but go off," read another.
A third fan wrote the reality star saying, "You do realize black people aren't the color black like white people aren't paper white? The other skin tones are fine but why couldn't you make a dark brown color?"
But the thing is, there actually is a dark brown color listed on the website.
"They know what they're doing with the marketing because there's a nude closer to the black model's color on the website. But they used solid black just to get people riled up. Crazy," read a fourth tweet.
People then called on Kardashian to do better as the wife of a black man and mother of black children.
"kimberly don't you have a darkskin husband and black kids as you call them? isn't every single black man involved with your family a darkskin? why did no one double check this before you posted it? ditch your yes men they've already let you slip up once," read another tweet.
RELATED: Kim Kardashian West Is on Her Way to Becoming a Billionaire Just Like Kylie Jenner, All Thanks to SKIMS
Related post url: 
But some defended the KKW Beauty star, with one person suggesting the model was merely placed in the mask because it matched her bodysuit. This could be true but as many social media users pointed out, the problem is that the mask was still described as "nude" when it obviously doesn't fit the model's skin tone.
Unfortunately for critics, though, the photo remains on social media and Kardashian West has not offered up any kind of response to the backlash.
This is just one of SKIMS' many controversies
The brand faced backlash before it even took off due to its original name. Kardashian West initially chose the name Kimono, prompting widespread scrutiny and claims of cultural appropriation. She went on to defend herself against the backlash in a June 2019 interview with The New York Times but decided to rename the brand after nonstop criticism.
"When I announced the name of my shapewear line, I did so with the best intentions in mind," she wrote on Instagram back in July 2019. "My brands and products are built with inclusivity and diversity at their core and after careful consideration, I will be launching my Solutionwear brand under a new name. I will be in touch soon. Thank you for your understanding and support always."
She announced its new name, SKIMS, at the end of August 2019.
Read more: Kim Kardashian West Explains Her Two Major Mistakes When Launching Skims Shapewear