Kim Kardashian West to Star in 'PAW Patrol' Movie
Kim Kardashian West is looking to expanding her acting repertoire via a new gig with Nickelodeon.
Those who are fans of her voice and thespian skills will be delighted to learn she landed a role in the upcoming PAW Patrol film. This will be her first voiceover role since 2014 where she had a guest spot in an episode of American Dad!
To quote one of their catchphrases, Kardashian West is ready for action in PAW Patrol.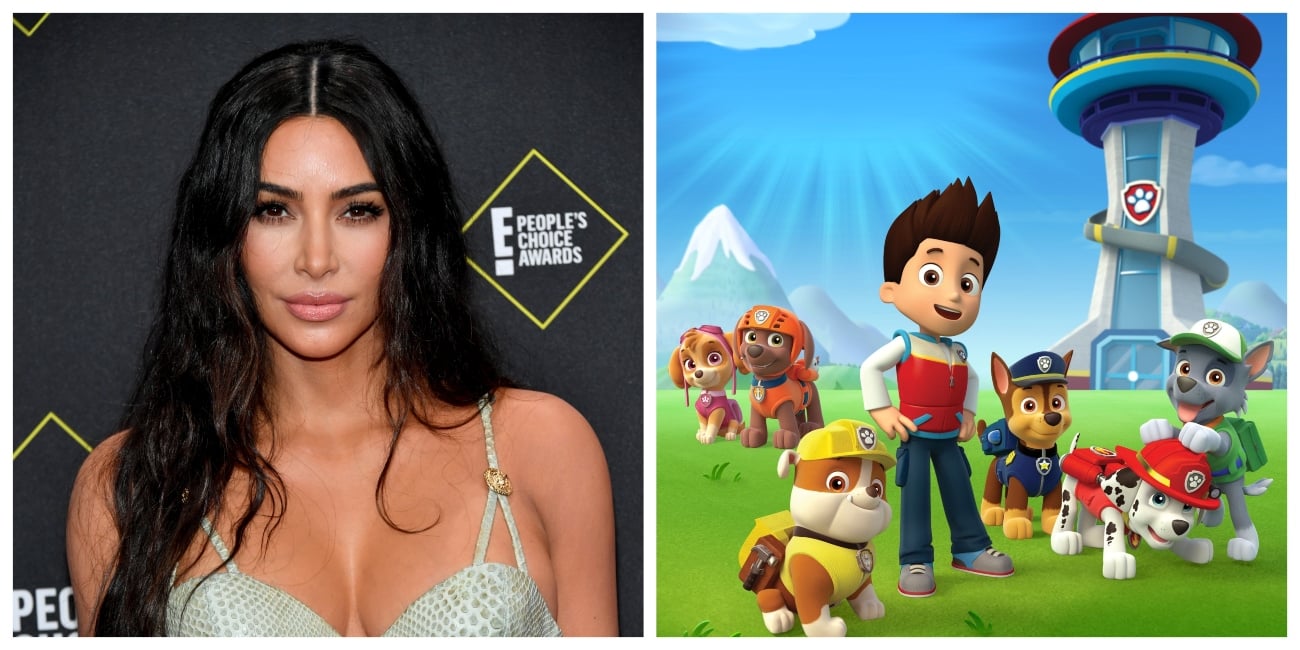 'PAW Patrol' is a popular kids' show
An animated preschool series that began airing in 2013, PAW Patrol is loved by kiddos and sometimes divides adults.
The show centers on a 10-year-old boy named Ryder and a crew of patrol dogs who help out in Adventure City. Ryder is extremely savvy with technology and their missions demonstrate his adeptness and leadership abilities.
Kids love the doggie characters—Chase, Marshall, Rubble, Zuma, Rocky and Skye—who talk, operate decked out vehicles, and always save the day. The "Pups At Work" and Ryder have been a hit on Nickelodeon for years. There's also a vast merchandise line consisting of toys, apparel, and other goods.
For a show with seven seasons under its belt and broadcasts in more than 160 countries, a theatrical film is the next step.
RELATED: 'Schitt's Creek': How Kim Kardashian and Paris Hilton Inspired the Alexis Character with This 'Laziest Thing'
Kim Kardashian West joins other celebrities cast in 'PAW Patrol' film
Nickelodeon announced casting news for the PAW Patrol animated movie and Kardashian West is one of its stars. Titled PAW Patrol: The Movie, the feature film is the series' first and is being produced by Spin Master Corp., Paramount Pictures, and Nickelodeon.
According to a press release from Nickelodeon, the gang goes on the ultimate mission:
"Ryder and the pups are called to Adventure City to stop Mayor Humdinger from turning the bustling metropolis into a state of chaos. Get ready for exciting missions, high-stake rescues, new pups and amazing new vehicles making this the biggest Paw Patrol story ever!"
Kardashian West will star alongside Tyler Perry, Jimmy Kimmel, Marsai Martin, Iain Armitage, Yara Shahidi, Dax Shepard, Randall Park, and Will Brisbin. Her role is yet to be revealed, but with new characters slated to show up, it's possible she'll play a hero pup.
The mom of four is excited about her new gig and posted about it on Twitter. Her fans seem to be surprised but are equally hyped about seeing her performance. Her kids are also known to be fans of the show.
What's known about the movie
Filming is underway and according to Deadline, each actor is working remotely. Nickelodeon and Spin Master announced their plans for the feature film back in February.  
The media release noted that Nut Job 2 Cal Brunker is directing the project which is slated to arrive in theaters in August 2021. Cast members from the original series will play the lead roles. Spin Master Entertainment is looking to grow its award-winning PAW Patrol franchise and this movie is a new milestone for the series.
The tidbit comes after PAW Patrol made headlines in July when White House press secretary Kayleigh McEnany incorrectly stated the show was being canceled due to "cancel culture." Nickelodeon quickly refuted the claim. PAW Patrol is still on the roll.