Kim Kardashian West vs. Taylor Swift: Who Are Fans Siding With More in This Leaked Video Call Drama?
Team Kim or Team Taylor?
Ever since the full video of Taylor Swift and Kanye West's 2016 unedited phone conversation was leaked on the internet, many people have been voicing their opinions about this ongoing drama between the singer and Kim Kardashian West.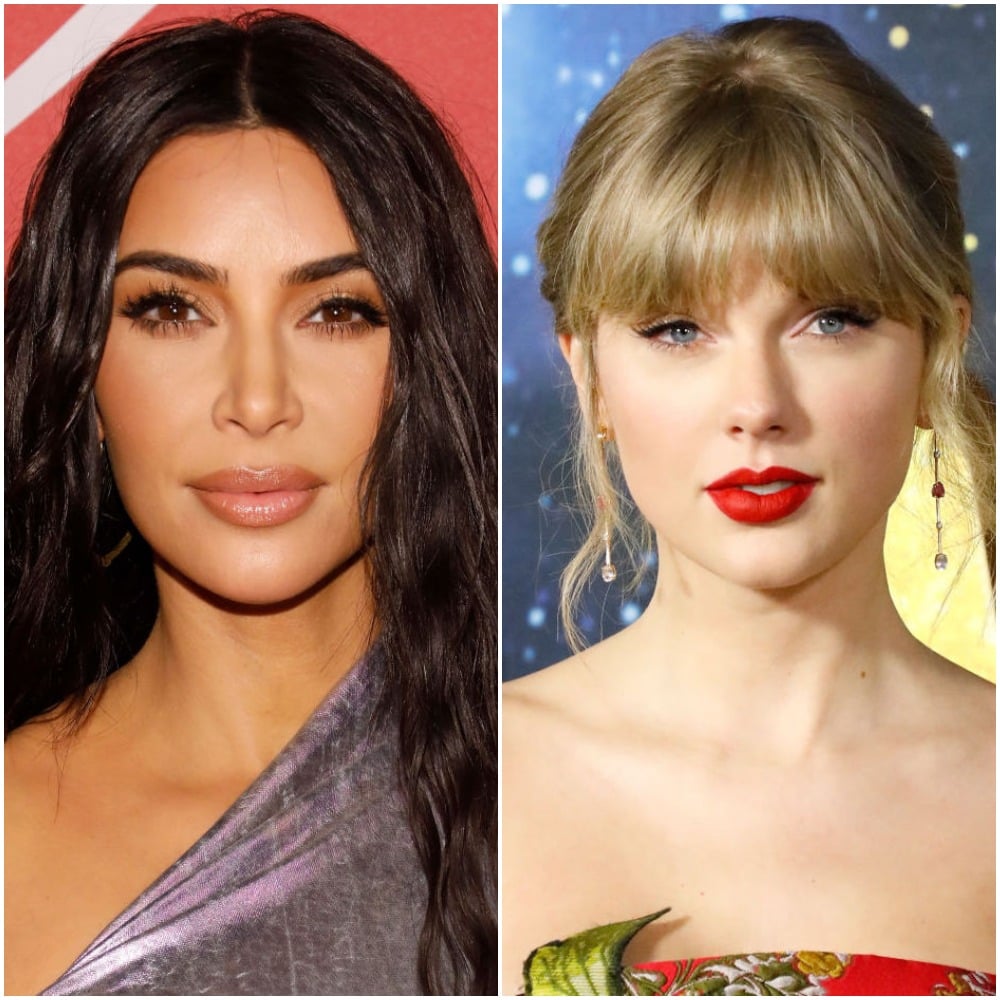 Since two of the biggest celebrities are against one another once again, of course, fans are taking sides. But now that both women have broken their silence on the situation, who is currently receiving the most support?
The drama between Swift and Kardashian was intense from the start
Back in 2016, a video of Swift and West having a conversation about his song "Famous" leaked online. At one point during the call, West can be heard telling Swift that he mentions her in a "controversial line" and that he would like her support on the single.
Once he assures the singer that the lyric is not "going to be mean," he then shares the line, rapping "I feel like Taylor Swift might owe me sex," with Swift laughing and saying, "That's not mean."
After the video was leaked online, it seemed like things were finally copacetic between Swift and West. But the fuel was soon added to the fire once the singer slammed the rapper's claim that he "made her famous" during her 2016 Grammys speech.
Following Swift's speech and the release of "Famous," West was painted as the villain. But after receiving backlash for his "I made that b*tch famous" lyric, his wife Kardashian publically defended him by exposing Swift.
People took sides during the earlier days of the stars' feud
In the weeks following Swift's Grammy's speech, Kardashian claimed that the singer signed off on the line and knew all along that the lyric was going to be featured in West's song.
"She totally knew that that was coming out. She wanted to all of a sudden act like she didn't," the reality star told GQ in July 2016. "I swear, my husband gets so much sh*t for things [when] he really was doing proper protocol and even called to get it approved. What rapper would call a girl that he was rapping a line about to get approval?"
Swift quickly defended herself by claiming that she did not approve of the lyric.
"Being falsely printed as a liar when I was never given the full story or played any part of the song is character assassination," the singer explained in a now-deleted Instagram post. "I would very much like to be excluded from this narrative, one that I have never asked to be a part of, since 2009."
After speaking up on social media about the situation, fans and celebrities began taking sides in Kardashian and Swift's feud.
Although celebrities and fans showed their ongoing support for her, Swift was still met with endless amounts of hate and was even called a snake and a liar for weeks on end.
As for Kardashian, many were certain she was telling the truth and even applauded her for bringing that information to light.
Though the ongoing support for Kardashian and Swift started out pretty equal, it appears that people are siding with the singer now that the unedited phone call has been leaked.
Both Swift and Kardashian have spoken out
On Mar. 23, the rift between Kardashian and Swift reached new heights after a new video of the singer's conversation with West surfaced online.
In the video, West can be heard asking Swift's approval of the "Famous" lyric "I feel like Taylor Swift might owe me sex," but made no mention of his "I made that b*tch famous" line.
After the video started making its rounds on social media, Swift took to Instagram to claim victory as the video seemingly proves that she was telling the truth all along.
She wrote on her Instagram Stories, "Instead of answering those who are asking how I feel about the video footage that was leaked, proving that I was telling the truth the whole time about *that call* (you know, the one that was illegally recorded, that somebody edited and manipulated in order to frame me and put me, my family, and fans through hell for 4 years)… SWIPE UP to see what really matters."
However, according to Kardashian West, the "ME!" singer is still lying about whether or not she ever approved the lyrics in West's song.
"To be clear, the only issue I ever had around the situation was that Taylor lied through her publicist who stated that 'Kanye never called to ask for permission…' They clearly spoke so I let you all see that," Kardashian tweeted. "Nobody ever denied the word 'b*tch' was used without her permission."
The #KimKardashianIsOverParty is now trending on Twitter
After the reality star broke her silence on the situation, Twitter began to flood with tweets from fans voicing their support for Swift.
Now that the video has proven that Swift was always telling the truth, fans are now slamming Kardashian for being the real snake in this situation.
"'I never edited the footage (another lie) – I only posted a few clips.' You posted "a few clips" of a 25 minute phone call to fit your narrative and purposely left out the other 22 minutes because it shows Taylor was telling the truth all along," one fan tweeted.
Some are even calling for the SKIMS founder to be canceled since she made it seem like Swift was always lying and now have the hashtag #KimKardashianIsOverParty trending on Twitter.
Though the support for Swift and Kardashian West was split in the beginning, it now seems like the singer has a lot more people backing her up.