Kim Kardashian's Met Gala Corset Was So Tight, She Couldn't Sit
Kim Kardashian was the talk of the 2019 Met Gala for her 'wet look' dress and impossibly small waist. That waistline didn't come without a huge sacrifice — namely, the ability to stand up or take a bathroom break. It also looked crazy uncomfortable.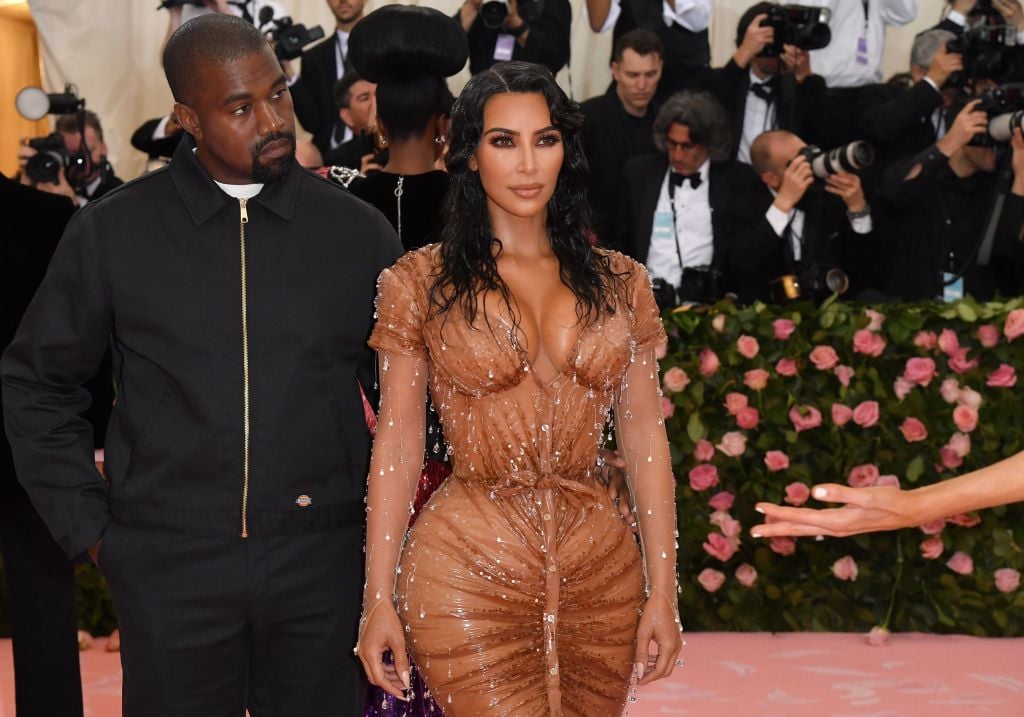 Kim Kardashian takes fans behind the scenes of her Met Gala look
In a behind the scenes video from Vogue, Kardashian shares the much talked about waistline and, no, she didn't have ribs removed to get the look.
Instead, Kardashian was cinched into a corset and it was a huge undertaking to crank it in tight enough to pull off the look. It took three men, in fact, to get her into it and the whole thing laced up super tight.
Kardashian's waist cinching came at a cost
In addition to the discomfort of being cinched so tightly in the undergarment, Kardashian made a confession — there was no way she could completely sit down while wearing the corset.
While she tells the men, "I feel like we can go tighter," it's clearly about as tight as humanly possible! Then she explains, "Anna [Wintour], if I don't sit down for dinner, now you know why. I'll be walking around, mingling, talking, but I cannot hardly sit."
Watch her failed attempt at fully sitting down and you'll better understand what she's talking about. Also, the whole bathroom situation, she explained, was dicey, noting, "Wish me luck, I won't be able to pee for about four hours. We're coming up with a plan for what we do in case of an emergency."
Of course, there was another problem with the tight corset and being unable to sit down — Kardashian had to stand on the way to the event! She explained that she rode in a van with a stool inside and a pole to hold onto. The things she does for fashion!
The inspiration behind her dress
Her dress for the 2019 Met Gala theme 'Camp: Notes on Fashion,' Kardashian explained, involved a silicone Thierry Mugler garment dripping with crystals to achieve a wet look. Mugler, she explained, was the designer of choice because he "invented camp."
Kardashian shared: "We wanted to mix California girl style with Mugler," and the fashion was inspired by Sophia Loren's look in the 1957 film, Boy on a Dolphin.
Why Kanye West didn't dress up for the Met Gala
Kardashian also revealed that there was a very good reason why her husband, Kanye West, went pretty casual for the event — he wanted all eyes to be on her.
She shared: "My first Met year I was just his plus-one. I wasn't really invited yet. This year [Kanye said], 'I'm just your plus-one. You're the cover girl and I'm your plus-one, so I'll just kind of fade out in the background and be your date and let you shine."
Kardashian added: "I used to dream about this night. I used to sit home in bed on my computer looking at all of the pictures of everyone, dreaming one day that I could ever attend a Met Ball and never really even believing that that would ever happen. So, to be the cover girl going to the Met in Mugler is honestly the biggest dream come true and I'm honestly so, like, humbled by the idea that this is my life."