Kim Kardashian's Parenting Style Almost Makes Her a Kris Jenner Copycat, According to Fans
As the saying goes, the apple doesn't fall far from the tree. Indeed, Kris Jenner and her daughter Kim Kardashian do have a lot in common. They are both shrewd and hard-working business-minded women with several children and a focus on appearances, but some fans think their similarities go even deeper than that.
In fact, some people think that the way they play favorites with their children may lead Kardashian to become just like her mother.
Kris Jenner makes no secret about having a favorite daughter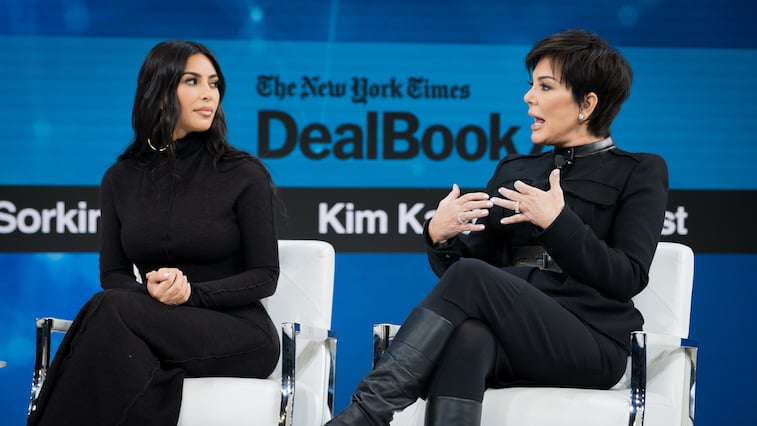 There are ample examples of Jenner making her favorites known, and she seems to have no reservations about doing so. Her daughters are well aware of this fact, and they do take it as just that: a fact. For years, Kim Kardashian was her favorite, but her youngest daughter, self-made billionaire Kylie Jenner, took to the favored spot for a long time.
Just recently, however, Kris Jenner named another daughter as her favorite during her interview with Ellen on February 27th. Ellen loves to have her guests play games so she set up a fill-in-the-blank game for Jenner.
She gave the prompt "My favorite daughter is____," to which Jenner replied, "Oh, man. Of the day? Today, uh, Khloé." She then jokingly added, "I'm going to have to disconnect everyone's TVs tomorrow."
During the game, she also named Kim as her smartest daughter today, and her favorite grandchild of the day? Rob's daughter Dream. It seems, however, Jenner's opinions change on a whim, and she readily admitted it was probably because she just saw Dream before the show's taping that she chose her out of all 10 grandchildren.
Does Kim Kardashian play favorites with her children?
While Kim Kardashian isn't as overt about favoring certain children over others, at least these days, she has made comments in the past saying as much.
Back in season 16, as she and Kanye West were announcing they were expecting their fourth child (the second of their children through a surrogate) she said on KUWTK: "I'm very happy. I feel like the energy is [going] to be very balanced out, Saint happens to be one of my favorite human beings."
She also shared an Instagram post wishing Saint a happy birthday, calling him her "favorite boy." To be fair, he was her only son at the time.
West shared his thoughts on the matter saying: "I don't think it's good when like parents feel like, 'This is my favorite child!'"
Kim Kardashian may have been conditioned to think of this as normal due to her mom's behavior saying in response: "I think it changes. I mean it's reality. I was my mom's favorite for a good decade and now it's Kylie."
What do the fans of 'KUWTK' think and Kim K and Kris Jenner's parenting?
As usual, the superfans of the show took to their dedicated Reddit group to discuss the topic. In a post entitled "Does anyone else think that Kim is turning into Kris Jenner??" fans debated the topic of the two mothers playing favorites as well as their business acumen.
The fan starting the topic wrote: "I feel like in 20 years, she'll be even worse than Kris Jenner. I can see her treating her daughters the way Kris treats the girls. I can see Chicago being the new Kim, aka the golden child."
There was also debate over whether the gender of the children affected how they were viewed. One commenter wrote: "Psalm and Saint are boys so she wouldn't know how to exploit them as well. North is the oldest and she will be more able to reflect and understand the situation, while Chicago will be Kim's apple of the eye."
Other fans defended Kardashian saying she seemed like a loving mother, others said they thought Kylie Jenner would be the one to turn into their mom. One thing all of the fans did seem to agree on however, is that momager Jenner isn't winning any awards for world's greatest mom.