Kimmy Gibbler and Fernando Win Halloween With Their 'I Love Lucy' Inspired 'Fuller House' Costumes
Of all the costumes Kimmy Gibbler and Fernando wore on Fuller House, their Halloween costume for season 2 had to be the best. Here are a few of the costumes that the characters wore on this Netflix original spinoff series.
The Tanners dressed up for Halloween for one 'Fuller House' episode
Fans saw the Tanner sisters grow up on the sitcom Full House. Now, with Netflix's spinoff series, fans can see how these girls are as adults with their own kids. DJ Tanner has three boys of her own, while Kimmy Gibbler had a daughter, Ramona, with her ex-husband-turned boyfriend, Fernando.
There's even a few holiday-centered episodes available for streaming. For the Halloween episode of Fuller House, "Curse of Tanner Manor," each of the characters dressed up.
In true DJ Tanner fashion, she manages to get all the boys in a matching costume with her — Goldie Locks and the Three Bears, based on the nursery rhyme. Stephanie and Jimmy ended up being zombies after landing a job at a haunted house.
RELATED: All the Times That 'Full House' Taught Viewers Lessons About Death, Eating Disorders, Trauma, and Even Child Abuse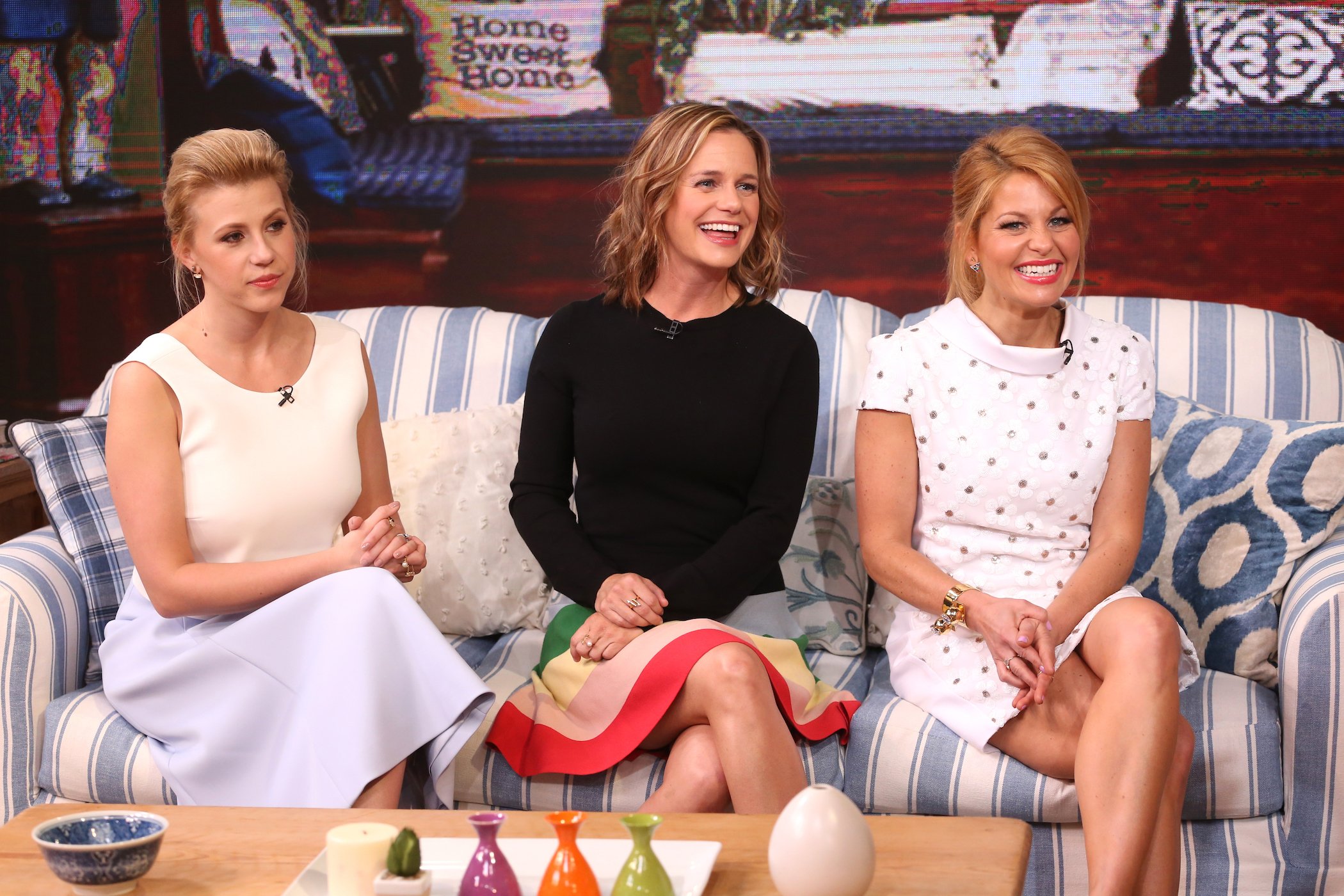 Kimmy Gibbler and Fernando went as characters from 'I Love Lucy'
These two often find themselves dressing up for fun. For Halloween, though, they decided to dress in the ultimate costume. During one episode of Fuller House, "Curse of Tanner Manor," Kimmy and her "ex-husband," Fernando decided to dress up as another iconic television duo — Lucy and Ricky from the sitcom I Love Lucy.
The characters totally fit their eccentric personalities, as Kimmy Gibbler often gets herself into trouble. That's also reflected in their portrayal of the characters throughout the Fuller House episode.
While Fernando put on a show in the backyard for the kids, Kimmy tried to sneak her way in and steal the spotlight. When Fernando apologized to Kimmy for not letting her be a part of it, the whole show turns into a black and white musical, with the duo as the starring characters.
Kimmy and Fernando got into a few funny situations throughout Netflix's spinoff series
Although Kimmy Gibbler is an adult now, she still has plenty of time to goof off with the Tanners and with her ex-husband. When the girls go to Hamilton, they're sure to dress up. When Fernando finally gets his United States citizenship, the two do a few musical numbers with their daughter Ramona.
It wasn't always good stuff with Fernando, though. When the Netflix spinoff series began, Kimmy Gibbler and Fernando Hernandez Guerero Fernandez Guerrero were recently divorced. Fernando still loved her, though, and the two became engaged to be remarried.
The series ends with Kimmy and Fernando getting remarried, writing their own vows and sharing a wedding with DJ and Stephanie. Fans can watch episodes of Fuller House on Netflix, while episodes of the original sitcom, Full House on Hulu.
RELATED: DJ Tanner Is Finally Getting Married on 'Fuller House' – Here's Our Look at Some of Her Less-Than-Worthy Boyfriends