Kimora Lee Simmons Throws Shade at Lori Loughlin After Aoki Lee Simmons Receives Her Acceptance Letter to Harvard
At just 16 years old, Russell Simmons and Kimora Lee Simmons' daughter Aoki has her entire life mapped out. The high school senior is Harvard-bound after receiving her acceptance letter this week, and it's not the only top college the young scion was admitted to. According to Lee Simmons' Instagram story, Aoki also received acceptance letters from Vassar, Barnard and Dartmouth. While all the school she was admitted to are fine institutions, it looks like Harvard was the golden ticket Aoki and her proud parents were waiting for.
Who exactly is Aoki Lee Simmons?
The daughter of Russell Simmons and Kimora Lee Simmons has had an extraordinary life so far. She first appeared on runways as a toddler and went on to star in a reality show alongside her mother and sister for several years. Since the show ended in 2011, Simmons has been busy with school, charity work and travel.
The industrious teen spent last summer in Europe volunteering. Aoki has also been outspoken about social injustice and prejudice; in recent weeks she put her high school on blast for failing to deal with a classmate who regularly aims racial slurs at the famous teen, according to BET.
Aoki's older sister, Ming Lee, is also a college student, although the 19-year-old has not revealed exactly where she is currently enrolled. Ming Lee told Teen Vogue back in 2017 that she was only considering schools in California and New York.
Has Aoki decided on Harvard?
While the college acceptance letters are still rolling in, it looks like Aoki has made her final decision. She will be attending Harvard in the fall and should be graduating in 2023. There is no word on what the 16-year-old plans to study at the elite school, but she is certainly smart enough to pick any major she wants.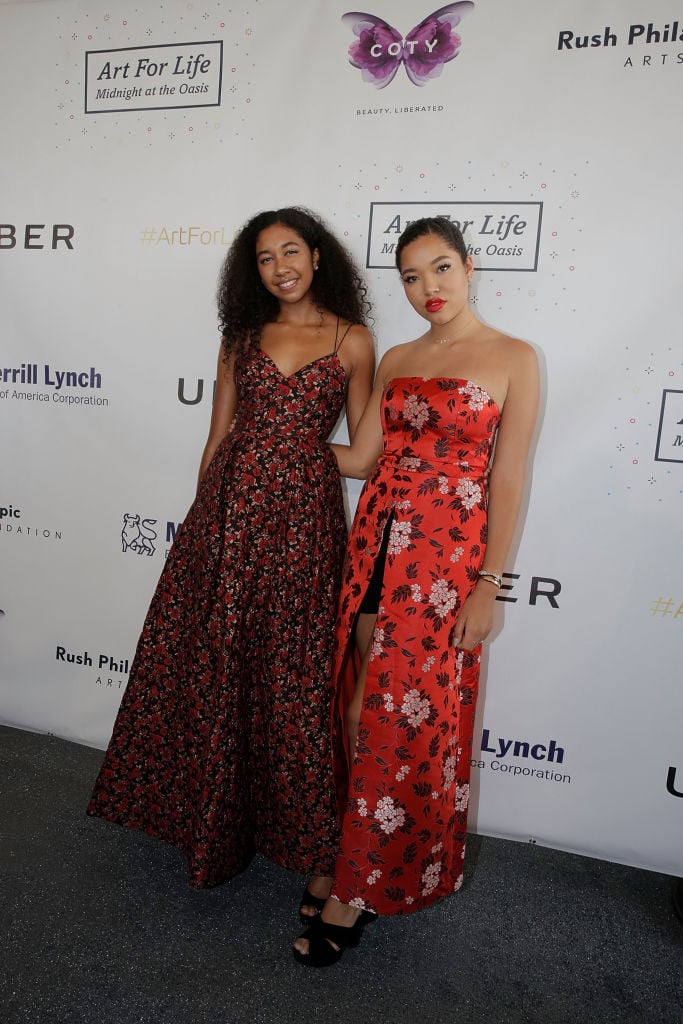 Ming Lee Simmons took to Instagram to help celebrate. In her bio she has inserted Harvard 2023, noting that it counts even if it's her sister. Aoki's Instagram is linked in the bio.
Kimora Lee Simmons took to Instagram to throw shade at Lori Loughlin
Lee Simmons, 43, took to Instagram to tell the world how proud she is of her youngest daughter's Harvard acceptance, but she also took the chance to throw shade at Lori Loughlin. Aoki's acceptance comes amid allegations that several famous faces bought their children's admission into elite schools. The Fuller House actress, along with her husband, is accused of paying $500,000 to ensure their two children, Isabella and Olivia Giannulliadmission into the University of Southern California.
Lee Simmons wrote that she was proud of her daughter for getting admitted on her own merits, noting that she doesn't row or anything. The jab referenced Loughlin and Giannulli bribing a rowing coach to mark their two daughters as crew recruits. Neither Giannulli sister have ever been involved in a crew team.
Lee Simmons is not the first person to throw shade at the mother of two about college acceptance letters. Dr. Dre took to Instagram to tell the world his daughter, Truly Young, was admitted into the west coast school on her own merits, but it didn't exactly work out the way he planned. Swift criticism followed when fans pointed out that Dre had donated $70 million to the school before his daughter's acceptance.