'King of the Hill': Hank Hill and Bobby Hill Could Reunite for Series Revival
King of the Hill is something of a sleeper hit among adult cartoons. Created by Mike Judge and Greg Daniels, the show focuses on the Hill family and their close friends and relatives in the fictional town of Arlen, Texas. Hank Hill represents the center-right everyman, but with a willingness to grow and change as the world evolves around him. The show won over fans for its often warmhearted approach to social and family issues — episodes often see Hank Hill learning about himself, his outgoing and open-minded son Bobby, or people he might otherwise simply write-off as "giblet heads." 
Now, fans are clamoring with excitement after a Reddit AmA with Brent Forrester in which Forrester suggested a revival is on the way. 
Brent Forrester says 'King of the Hill' revival is in negotiations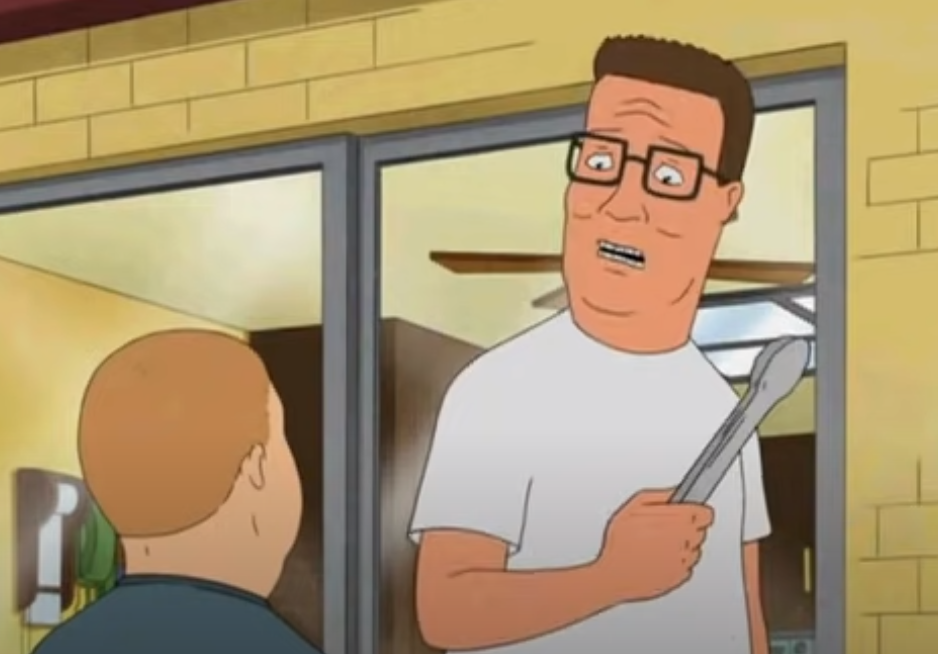 RELATED: 'Beavis and Butt-Head': Everything You Need to Know Before Mike Judge Brings Them Back on Comedy Central
Brent Forrester, executive producer of King of the Hill, took to Reddit to answer a variety of questions about screenwriting and comedy. While many of the questions were specifically about careers in screenwriting, one user had another kind of question in mind.
"Have you heard any updates as to the possible King of the Hill revival? Aging the cast of characters would be a stroke of genius and practically reinvent the show (in an awesome way!)," asked one Redditor.
Brent Forrester's reply will please fans of Hank Hill, Peggy Hill, and Bobby Hill.
"I am sure Greg Daniels and Mike Judge will murder me for sharing this but… HELL YES. They are in hot negotiations to bring back King of the Hill," replied Forrester.
"The Trump administration made it suddenly very relevant again. The characters have all aged 15 years. The project is sooooo good. Okay I've said too much," he added with a smiley face.
King of the Hill has never shied away from modern sociopolitical issues. Hank Hill belongs to a demographic who might normally be resistant to change. However, Hank redeems himself in most situations with his ability to accept and understand other perspectives, so long as they aren't too harebrained — Hank is a very pragmatic individual.
Hank Hill and Bobby Hill may be back, but probably not these two characters
Fans of King of the Hill are especially fond of Bobby Hill, and the dynamic he shares with his parents. They especially enjoy the relationship between Bobby and Hank Hill, who is often confounded by his sons' behavior and interests, but who always winds up doing his best to understand and support Bobby.
While it's likely that the Hill family will remain the focus of the series, including Peggy, Hank, and Bobby, there are two characters who are not likely to be returning — Luanne Platter, voiced by the late Brittany Murphy, as well as Lucky, voiced by the late Tom Petty.
It seems likely that King of the Hill will explain away their absence utilizing the 15-year gap between the previous show and the revival, but this remains to be seen.
'King of the Hill' fans react to the news
As expected, King of the Hill fans were thrilled to see Brent Forrester's answer. Rumors of a potential King of the Hill revival had been circulating recently, but without any real foundation to build upon. Now fans have something more concrete.
Many fans began speculating on how various characters would react to modern problems. Some suggested Dale Gribble would be a full-on QAnon conspiracy theorist. Others suggested Hank Hill would endorse Trump until he discovered Trump likes his steak well-done with ketchup.
"Dale doesn't vote, so I don't think he would be a Trumper. Although, sadly, I do think he would've stormed the Capitol with some of his crazier gun club buddies," posited one Redditor.
"My personal opinion posits that Hank is a Trump supporter out of party affiliation more than a respect for Trump. He comes to question his morality at some point after seeing how things play out," suggested another fan.
"I've always thought that it would work really well now. Bobby as the kid who never really left the nest, Kahn Jr as the successful millennial who lost it all and had to move back home, Hank and Peggy taking care of Luanne's daughter. The set up isn't insane, it's just finding where you go with it I guess," wrote another Redditor.