Kirk Douglas is 103, Here's How Long He and His Wife Have Been Married
Actor Kirk Douglas just celebrated his 103rd birthday on Dec. 9 surrounded by his family. Now regarded as one of the last of the living Hollywood legends, Douglas has had a long and fruitful career with 50 years' worth of acting credits to his name.
In interviews and books he's written, Douglas often recounts the importance of his family, love, and respect. While he's played the leading man onscreen, he's also played one to his wife, Anne Douglas (née Buydens) and the two have quite the love story. Here's a peek into their romance.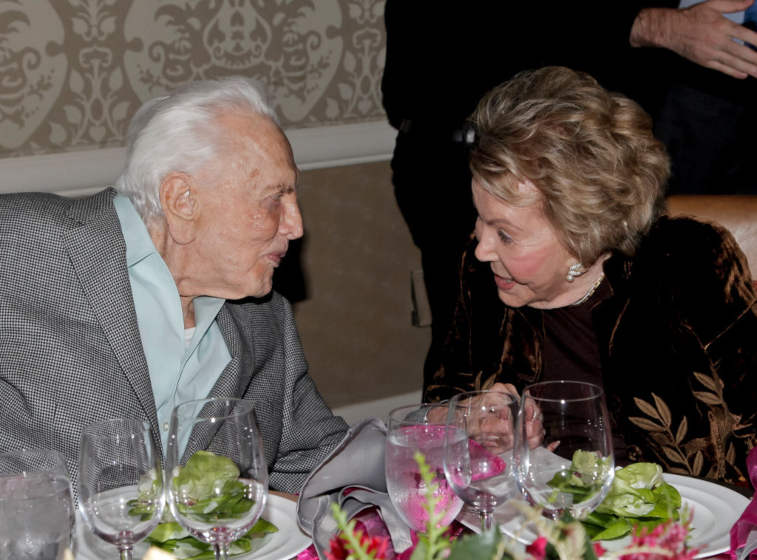 Douglas was married once before
Prior to meeting and marrying his now-wife Anne, Douglas was married to Diana Douglas from 1943 to 1951. While together, the pair had sons Michael and Joel, but later divorced—on good terms. They even ended up working on two movies after their split, including 2003's It Runs in the Family.
Diana passed away in 2015 at age 92, but still spoke highly of her former husband. The Hollywood Reporter noted an old interview where she talked about how well she got along with Kirk and his new wife, Anne.
"I've always enjoyed Kirk's sense of humor, even when I was angriest at him," Diana said in a 2011 interview. "He could always make me laugh, somehow, which annoyed the hell out of me. But then I think we both decided too, when the time of divorce came, that we had to maintain a certain amount of civility because of the children.

I know Michael has said since being an adult that he was always very grateful that we never did badmouth each other. Sometimes we probably wanted to. And also, I think that after [Kirk] got married to Anne, [she] made it very much easier, because she and I cooperated very much in terms of bedtimes and what they could watch on television and that kind of thing."
Douglas met Anne Buydens at work
In his 2014 book, Life Could Be Verse: Reflections on Love, Loss, and What Really Matters, Douglas described how he met Anne Buydens while shooting a film in Paris, France:
"One afternoon, the assistant director knocked on my door. He wanted me to meet the girl who was working in public relations for the film. When I opened the door, I was introduced to a beautiful woman named Anne Buydens. It didn't take me long to decide to invite her to dinner with me. I suggested the Tour d'Argent, a very romantic restaurant in a penthouse overlooking Notre Dame Cathedral. After waiting for what seemed to be a long time for her answer, she smiled and said, 'No, thank you, I'm awfully tired. I think I will just go home and make some eggs and go to bed.' My love turned to anger. I vowed to never speak to her again. But … I did."
Douglas wrote he was able to win her over with a trip to the theater, but he then tried to convince her to come back to the U.S. as he was moving on to another movie project. She was finally persuaded but told him she could only stay 10 days since she had to return to Paris.
Douglas then hatched a plan to get her to stay longer. What was it? To marry her. They duo scooted off to Las Vegas for a quick wedding.
Kirk Douglas has been married to Anne for decades
Anne and Kirk Douglas got married in 1954 and celebrated their 65th wedding anniversary this year. He admitted they've had their share of ups and downs, but she is the only one for him. Anne, who is now 100, can be found right by his side at each of his birthday celebrations.
The two are still inseparable and are very dedicated to their family and philanthropic work. The Douglases can be seen attending charity events where they live. To him, it's the little things.