What Was Kirk Douglas' Net Worth at the Time of His Death?
Kirk Douglas died February 5, 2020 at the age of 103. Fans and celebrities were saddened to hear of the legendary actor's passing. Here's a look at Douglas' net worth, life and career.
Michael Douglas left a heartfelt tribute on Instagram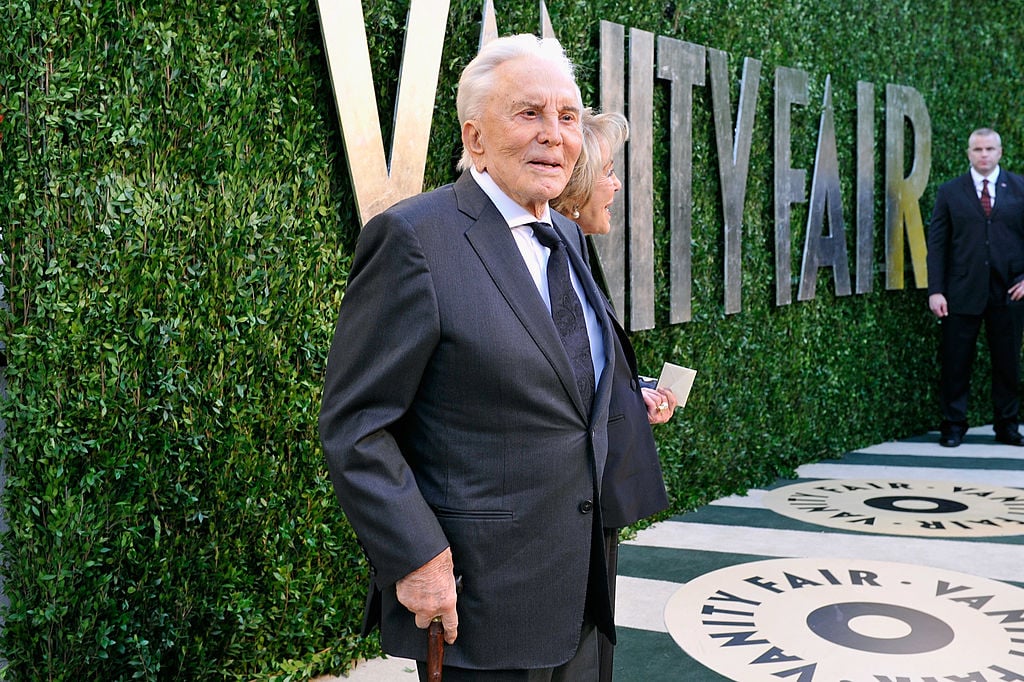 Kirk Douglas' son Michael announced his father's death on Instagram. He recounted how much his father not only meant to him but also the world:
It is with tremendous sadness that my brothers and I announce that Kirk Douglas left us today at the age of 103. To the world, he was a legend, an actor from the Golden Age of movies who lived well into his golden years, a humanitarian whose commitment to justice and the causes he believed in set a standard for all of us to aspire to.

But to me and my brothers Joel and Peter he was simply Dad, to Catherine, a wonderful father-in-law, to his grandchildren and great grandchild their loving grandfather, and to his wife Anne, a wonderful husband. Kirk's life was well lived, and he leaves a legacy in film that will endure for generations to come, and a history as a renowned philanthropist who worked to aid the public and bring peace to the planet. Let me end with the words I told him on his last birthday, and which will always remain true. Dad, I love you so much and I am so proud to be your son.  

Michael Douglas, Instagram
Kirk Douglas' movies and TV shows
Douglas made his acting debut in the 1946 film The Strange Love of Martha Ivers. The following year, he appeared in the film Mourning Becomes Electra. One of Douglas' most successful films is the 1960 movie Spartacus.
The actor made his first television appearance in a 1954 episode of The Jack Benny Program titled "The Jam Session Show." After that, he appeared in a 1966 episode of The Lucy Show titled "Lucy Goes to a Hollywood Premiere." Two years later, he made his third television appearance in the series Rowan & Martin's Laugh-In. Douglas' first TV movie appearance was a 1968 production titled The Legend of Silent Night. His final project was a 2008 TV movie titled Empire State Building Murders. He played the character Jim Kovalski.
Kirk Douglas' honors and awards
Douglas received many awards throughout his career. One of his earliest awards was in 1957, in which he received a Golden Globe Award for Best Actor in a Motion Picture–Drama. He then received a Golden Globe Cecile B. DeMille Award in 1968. In 1981, the actor received the Presidential Medal of Freedom. Thirteen years later, in 1994, he was celebrated at the Kennedy Center Honors. In 1999, Douglas received the Screen Actors Guild Life Achievement Award.
Kirk Douglas' work outside of acting
Outside of acting, Douglas has credits as a producer, director, and writer. He had a total of 32 production credits at the time of his death. Douglas' first production project was a 1955 movie titled The Indian Fighter. Some of his notable production work includes the movies Spartacus and Tales of the Vikings. Douglas had two director credits. He made his directorial debut with the 1973 movie Scalawag. In 1975, he produced the film Posse. Douglas' writing credits include contributing writer for Scalawag and writer for Kirk Douglas: Before I Forget (2009).
Kirk Douglas' net worth
At the time of his death, Kirk Douglas had a net worth of $60 million according to Celebrity Net Worth estimates.
Read more: Kobe Bryant Net Worth and How He Made His Money
Follow Sheiresa @SheiresaNgo.